The Heiken Ashi indicator is an application that has gained in popularity recently after being relatively unknown. It was developed a few decades ago to improve upon the interpretation of Candlestick formations, which have been studied for centuries starting with rice merchants in Japan in the 1700s. Heiken Ashi is said to remove the "noise" from candlesticks and to behave much like a moving average. Traders use Heiken Ashi to determine the relative strength of a trend and to pinpoint key turning points in price behavior.
The Heiken Ashi application tool takes the basic candlestick information, the open, close, high, and low, and then "smoothes" the erratic portions of the chart in much the same fashion as would a moving average. Traders can then make a better-informed decision without the distractions caused by volatile price action.
Heiken Ashi Formula
The Heiken Ashi indicator is common on Metatrader4 trading software, and the calculation formula smoothes pricing information by averaging as follows:
Close = (Open Price + High + Low +Close) / 4
Open = (Average of Open Price and Close Price of the previous bar)
High = (Maximum value of the (High, Open, Close))
Low = (Minimum value of the (Low, Open, Close))
Software programs perform the necessary computational work, and the Heiken Ashi tool produces a more visually appealing chart as displayed below: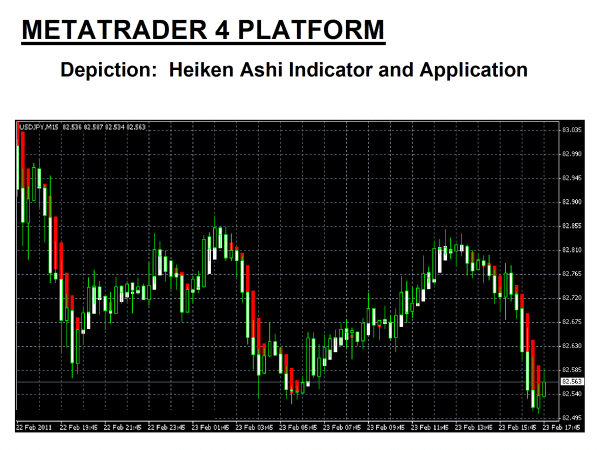 Software platforms generally place the Heiken Ashi indicator along side the existing candlestick formations to give the trader a complete view. In the chart example, the Heiken Ashi "bars" are the red and white images superimposed on the existing green candlesticks. Although it may take time to become familiar with the new chart presentation, one can immediately recognize the price momentum building on each of three downturns that tested the obvious support level at 82.54 for the "USD/JPY" 15-Minute chart.
The benefit of the Heiken Ashi indicator is its visual simplicity. Trading channels appear more tightly formed, and major trends are easier to detect and follow. However, it is highly recommended that the use of Heiken Ashi be combined with another indicator to provide confirmation of interpretations.
The next article in this series on the Heiken Ashi indicator will discuss how this application is used in forex trading and how to read the various graphical signals that are generated.
Next Article >> Heiken Ashi Strategy >>

Forextraders' Broker of the Month
ForexTime (FXTM) is an award-winning platform that certainly has the feeling of being set up by people who know what they are doing. The firm demonstrates an understanding of what helps traders make better returns, and its success can be measured by the fact that it's doubled the number of clients it supports in recent years. The fact that the broker has grown to have more than two million accounts suggests it is getting things right for clients.