Get out your crystal balls and start polishing. It is that time of year again, when so-called experts stick their necks out a bit further than they normally do, if only to establish and confirm their expertise. Forecasting is never an easy art, especially in these trying times. Confucius may have been on the right track centuries ago, but he never had to consider what central bankers across the globe have done to muddy up the waters. Throw in Trump and a few other unpredictable odd balls on the political scene, and you have a situation where most anything could happen and certainly will.
Having re-stated the obvious that forecasting the future is fraught with peril, finding forecasts for the S&P 500 Index or for the USD Index is not that difficult an exercise. The only problem is that they tend to very widely across the map, with each forecaster letting you know up front that his predictions will not hold if thus or so takes place in the market. These caveats then open a revolving door of continuous changes and revisions that occur frequently during the year in progress. As I said, necks were only stretched a wee bit beyond normal. Accountability is not to be had under these circumstances.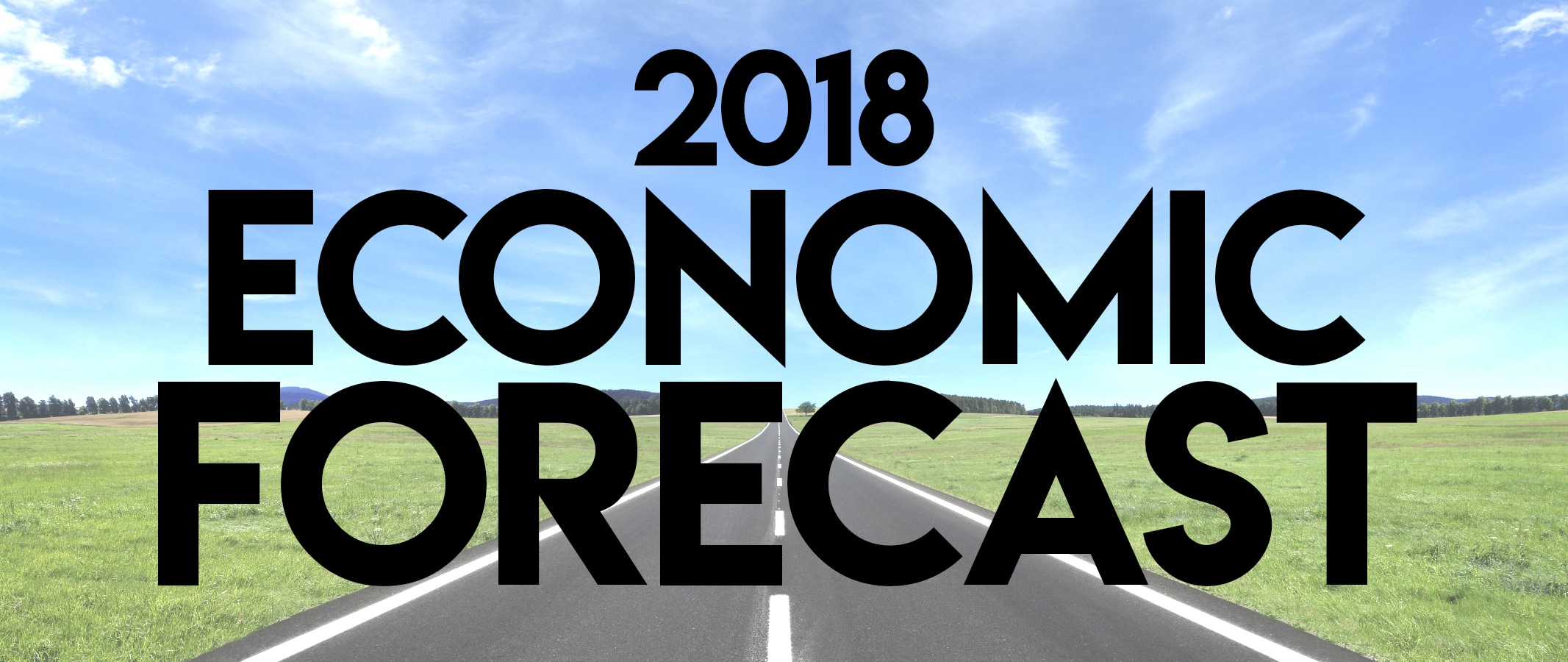 The journey to come will not be as straight as depicted above. It will take many twisting turns before we reach any conclusions. During 2017, most of these prognosticators were shouting that a major downturn, i.e., recession, was definitely in the cards for 2018, but you will not find any of these folks speaking the "R" word at this juncture. Recession models, revered for their technical prowess, are not sending any warnings at present. The major concerns, however, are that inflation may rough us up a bit or the U.S. Dollar may continue its downward path before correcting at some point. If you or your children received one of those black 8-balls, it would unequivocally state that, "It is uncertain."
Read more forex articles and news
What are the Wall Street gurus predicting for the S&P 500 and GDP growth?
The holidays are traditionally followed by each of the major investment houses publishing their best guesses for the coming year. This year is no different. The chief strategist for each of the firms to follow has spent the past month or so studiously instructing his staff to put in the extra effort to prepare an acceptable picture of how the future will unfurl. The primary emphasis is on the S&P 500, since it is our best proxy for the global economy. Participants in the index purportedly derive over fifty percent of their revenue from cross-border commerce of some kind. GDP growth for the U.S. is the next data point, since the U.S. economy is still in the lead and, hopefully, will float all boats going forward.
With inflation and the strength of the greenback being the major caveats, here is a summary of what the "Big Boys" are advising their customers:
Major Investment Firm Forecasts:
Goldman Sachs: S&P 500 = 2850; U.S. GDP = 2.50%
JPMorgan: S&P 500 = 2800; U.S. GDP = 2.30%
Citibank: S&P 500 = 2675; U.S. GDP = 2.70%
BofA Merrill Lynch: S&P 500 = 2800; U.S. GDP = 2.40%
Morgan Stanley: S&P 500 = 2750; U.S. GDP = 2.10%
Federated: S&P 500 = 3000; U.S. GDP = 2.90%
Columbia Threadneedle: S&P 500 = 2750; U.S. GDP = 2.75%
PGIM: S&P 500 = 2925; U.S. GDP = 2.80%
T. Rowe Price: S&P 500 = 2775; U.S. GDP = 2.50%
Yardeni Research: S&P 500 = 3100; U.S. GDP = 3.00%
In case you are curious, the S&P 500 closed out 2017 at 2674. The mean for the above forecasts for 2018 is, if you do the math, 2840. These figures translate to a hefty 6.2% growth in valuations during the year, but the way the first week of 2018 transpired, the high point predicted might occur sooner than expected. The index closed last week at 2743 and showed no signs of weakness for the near term. Will the balance of the year then be a long and slow ride down or will this record-making Bull continue to roll?
These same investment houses are predicting positive earnings growth for the S&P participants for the next four quarter, as well, another reason for the rosy picture of the future. U.S. GDP, according to the same group, will average 2.75% growth, while 10-Year treasury yields will top out at the same figure. For all intents and purposes, it looks like steady as she goes. What happened to the doom and gloomers that were sure that 2018 would be marked by a crash of monstrous proportions? As in the past, the next year, 2019, will now draw the wrath of the prognosticators. For now, however, they do advise to stick with financials and tech, but shy away from consumer staples and utilities.
What are we going to hear from analysts throughout 2018?
If you recall what it was like twelve months back, we were initially told that the Dollar would continue to roll upward, but these guesses quickly lost favor, as the Fed got cold feet on rate increases. The Trump rally never faltered, an amazement to all involved since no major legislation ever passed across the President's desk. There was always hope, but earnings kept pace with the rhetoric. Analysts soon began predicting a market peak month after month. Most investment gurus agree that 2018 will be much the same again. There will continue to be an obsession to call the market top.
The current Bull market is the second longest in history, and, due to its incredible longevity, everyone and their grandmother has claimed that it will stumble in short order. It, however, has stood the test of time, occasionally pulling back as profit-takers recorded their gains and new investors jumped on board the gravy train. Pullbacks have yet to hit the 15% threshold, the defined end stop for market reversals. The S&P 500 has progressed within a fairly well defined channel. Even a 20% pullback would seem warranted, considering the bottom channel border, represented in the following diagram: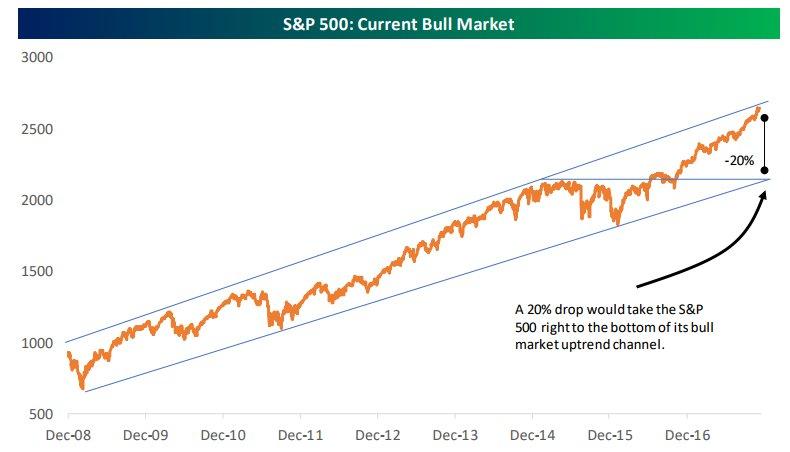 In the words of a technician, the trend is in place. The index has gained 28% since its last visit to the lower boundary. A return would actually be a healthy sign, but then what? As one analyst put it in 2017, "Ladies and Gentlemen, unless this time is different, this bull market is nowhere near death. More evidence tells us there is no recession on the horizon. December data reveals a new all time high in retail sales, a ten-year high in home sales, a three year high in manufacturing growth and a 40+ year low in unemployment claims."
What about a global perspective? Consider this quote: "Every one of the world's 45 major economies tracked by the Organization for Economic Cooperation and Development grew in 2017. The OECD forecasts show more of the same in store for 2018. It has been a decade since the lift to the world economy was this broad. While risks from politics, central bank policies and military threats haven't gone away, investors have recognized that the global economy isn't as vulnerable to these influences as it was during the prior decade."
The concern for the past few years was that the U.S. economy might get too far ahead of the rest of the world, that something might give at the wrong time and place, but the global economy is a far different one than it was back in the fifties. Developed economies accounted for 80% of the global GDP in that era, but today, that share has declined to roughly 50%. The success stories in China, India, and other developing parts of global commerce have changed the dynamics forever and a day.
The investment community has not ignored this simple fact. As investors chase returns around the globe, capital has shifted away from developed to developing economies, the reason why beneficial tax cuts and economic stimulus programs have only led to capital flight. Until reasonable returns are again commonplace in Europe and the United States, the trend in the following graphic will continue unabated: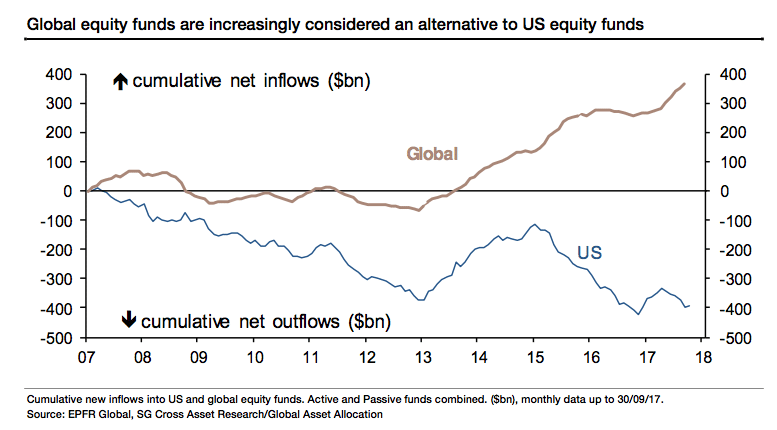 What about surprises from the U.S. Dollar and inflation in 2018?
Initial forecasts for currency pairs are beginning to drift into the public sphere. Analysts are taking their time with these. Forecasting exchange rates one month out is often an exercise in futility, but guessing where they will be twelve months from now is typically laughable, after only a few months into the calendar year. Here is a quick snapshot of a few conservative guesstimates at this point in time:


We have not chosen to weight each exchange rate as might be done to compute a change in the USD Index for 2018, but the simple average here is representative of the thinking on the street at this writing. Analysts expect the USD to weaken more during the coming year. In fact, Citibank analysts go so far as to suggest a five percent decline would not be a surprise for them.
Current thinking, however, follows this summarization: "The consensus view heading into 2018 is that the U.S. dollar will continue weakening and may fall below the bottom end of its three-year trading range. With economic growth in the U.S. still strong relative to the rest of the world and the Fed potentially increasing the pace of its already steady monetary tightening in what is still the global market safe haven, a reversal toward sustained strengthening in the U.S. dollar should not be ruled out for 2018."
What about inflation? Per one analyst: "Every analysis and or prediction for this year has inflation as their number one concern for 2018. Analysts have been searching for a rise in inflation since the Fed embarked on its QE programs." A tightening labor market will help drive this prediction, more so than in years past. Once again, nearly every playbook going forward from the major investment houses has a sentence that reads, "With a tight labor market, we expect wage growth to accelerate, along with inflation."
Concluding Remarks
What is your forecast for the year ahead? Most investment firms have already mailed out their latest client newsletter, espousing the opinions of the best strategists in the industry. As in the past, some will get close, but most will keep adjusting their forecasts on a monthly basis to make it look like they knew what might transpire.
For now, stay cautious and remain flexible!