In quite a few quarters, champagne corks were popping and joyous renditions of "Happy Birthday" reverberated through the hallways of our global investment houses. What was the occasion? It has been nine long years since the market hit its bottom during the Great Recession, and this past Friday was chosen as the appropriate day for celebration. The event also coincided with a very favorable Non-Farm Payroll Report, just one more reason to sing on cue.
Not all was gloriously positive in this market fervor. Analysts have learned to control their exuberance, for fear of retribution at a later date, but here are two comments that reflect the mood of the day:
"Today is the ninth birthday of this equity bull market, a rather impressive run that has generated roughly 5x in returns within an economy that has grown at a yawn-inducing pace. As the third longest bull market in history, this is an impressive day in an otherwise unimpressive week in the markets. Even as the market rallies on less toothy tariffs and a better-than-expected February Employment Report, there are reasons contained inside today's jobs and wage report signaling the all clear on inflation has yet to arrive."
"Today marks the ninth anniversary of the market low during the Global Financial Crisis, but not everyone may be in a party mood. The recent 10% pullback in the S&P 500 Index and the return of volatility has likely startled some investors. Indeed, for some, today's anniversary could be a negative omen, fueling fears that the end of one of the longest bull market's in history is near, rather than heralding continued momentum and strength."
The tenor of these two remarks is indicative of what some have called "controlled exuberance" and others have described as a logical response to the "new normal" of restrained economic growth. Economic results have been positive, but only gradually so, or "boring" by most accounts. But "boring" may be acceptable, as long as the Bull continues its run, and inflation forecasters keeping looking toward a year hence as the time for concern.
These "boring" times have also been the genesis for a common pattern in pundit reporting, always looking for the plausible reason why the market went thus and so, but never really hitting the mark. One analyst's lament is as follows: "Week after week I think analysts say something so stupid that I just want to scream. I keep hoping that some form of sanity will grip pundits one day. I keep hoping that they may wake up and recognize the error of their ways. But, alas, I continue to long for that day. So, whenever the market moves, everyone goes through the exact same thinking process: "Hey, look. The market just saw a big move. Let's go see what news caused this move."
Read all forex news
Is there significant wisdom to be gained from this Bull Market's long journey?
Nine years, nevertheless, is a fact, not something that is shrouded in mystery and subject to speculation. There have been key lessons learned and takeaways that should not be easily forgotten. Nine years ago, the global financial system was in shock. "Stress test" became the new word in our lexicon, an attempt at establishing some kind of arithmetic measure of a bank's ability to respond to dire circumstances that, at the end of the day, would restore consumer confidence in our banking infrastructure.
The recession soon became a depression in several markets, but recovery did happen. We were reminded that recessions that also involve our banking system can take twice as long to recover from, yet such pronouncements were often ignored, as anger, disgust, and a re-birth of rabid conservatism swept the globe. Several financial indices hit single digits related to price versus earnings, and prolonged periods of low volatility became common, rather than the exception to the rule.
Surprisingly, our markets have also become more resilient. Equities have performed better than expected, but the long-term return averages have yet to surpass those from the time prior to the financial crisis. Defensive strategies often won the day, more often than not due to central bank manipulation of market forces. At times, macroeconomic data seemed more important than actual results, and market risk was dispersed quickly without impact: "Concerns turned toward the future of the Euro, Italian elections, Brexit, tariffs and North Korea – all of these events matter but, so far, no single one has had a significant impact on markets long term."
The "net/net" is then: "In short, this anniversary should be a celebration of the fact that the market has emerged from a macro-obsessed, highly defensive environment to one that should favor growth and active investors. For some, it is another tick on the countdown to a bear market." Yes, there will always be optimists and pessimists, but the overriding conclusion at this juncture is that the Bull still has room to roam.
Is "boring", gradual, and slow economic growth necessarily a bad thing?
A guarded acceptance of our "new economic normal" is permeating the rank and file, a conclusion that is supported by the following chart: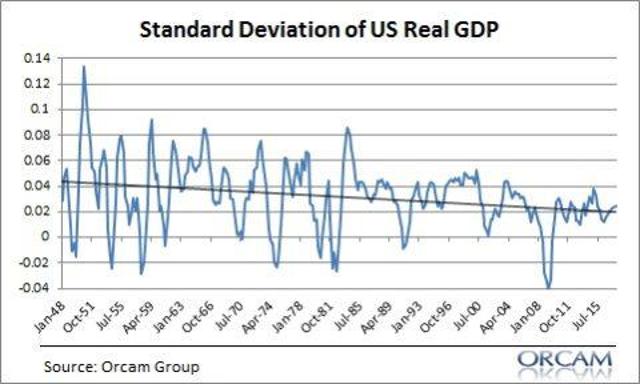 While within the halls of academia, did anyone out there really have a passion for statistics? This subject matter always seemed to be nothing more than laborious calculations to arrive at figures that made no sense from any normal frame of reference. There are, however, times when a statistical overview makes absolute sense in a way that no other method can. The chart depicted above is one such example.
A "Standard Deviation" is nothing more than a measure of volatility, the degree of wavering beyond a computed average. US Real GDP has gyrated back and forth for decades, but its degree of oscillation, i.e., volatility, has been lessening over time. The "wildness", if you can accept that term, has steadily declined since the late eighties, when the impacts of globalization began to hit their stride. The global economy is now more entwined than ever before. Shocks and risks can now be more easily dispersed. The result is stability with slower growth, as opposed to high and unstable growth.
The causes can be summarized as follows:
One aspect achieved over the past few decades is diversity. The US economy is no longer dependent on a single industry or sector. The phrase "So goes GM, so goes the economy", is not relevant anymore, whether for GM or Apple or any other single entity;
Surprisingly enough, government plays a bigger role, but not at the Federal level. State governments have expanded their respective roles and have, as a result, contributed to slower growth, while maintaining a more stable work force. These types of jobs tend to be recession proof, leading to a buffer of sorts, a better safety net, if you will, for the entire economy;
Like it or not, the Federal Reserve has become more active in the economy. Stability in mortgage and other lending rates, for example, has been a great benefit to the real estate industry and to consumer borrowing at large;
International trade has expanded, leading once again to more diversity and less dependence on any single sector. Yes, globalization has cost the US millions of jobs, but demand for US goods continues to bolster US output;
Lastly, we have been living in relatively peaceful times, at least those where war does not dominate decision-making. Without the wildly gyrating demand for the vast military complex flexing its muscles on an unpredictable basis, fluctuations have been greatly subdued, resulting in, once again, more stability.
It now becomes easier to rationalize a low-growth scenario as being a benefit deserving of a bit more gratitude. One analyst in agreement recently stated: "In the era of "new normal" and "secular stagnation" narratives, almost no one is talking about how stable the US economy is. Yes, we're growing more slowly than we have in the past, but we're doing so with increasing stability. This is the portfolio management equivalent of generating lower but more stable returns. In other words, it's as if the US economy is doing better by growing more slowly but with greater stability."
Was the latest Non-Farm Payroll Report something to write home about?
Another month has passed, and another has begun, and, with it, we have a new Non-Farm Payroll Report to dissect, analyze, and ruminate over. When the week started, there was unrest in the trenches: "We entered the week with fear and trepidation around trade tariffs, upheaval in the White House, a reduction in monetary ease abroad, and a possible overheating job market. The pundits were raising red flags that the market was going to test its most recent lows so their recommendation was to hunker down." Now that the week has passed, it seems that this heightened anxiety was unwarranted.
As for the actual payroll release: "The U.S added an astounding 313,000 jobs last month with the two prior months revised up by 54,000. The unemployment rate did not budge as the labor participation rate rose substantially meaning more people are re-entering the work force. The key number reported was that average hourly earnings rose only 0.1% from the prior month and 2.8% from last year. Fears that a tightening labor market would lead to a sharp acceleration in wage inflation evaporated immediately."
The overriding concern of late has been increases in the hourly wage data, a harbinger of inflation trends to come, but the major issue lurking back in the shadows has to do with the Participation Rate, especially as it applies to potential wage earners between the ages of 25 and 54 years. The troubling trend is depicted below: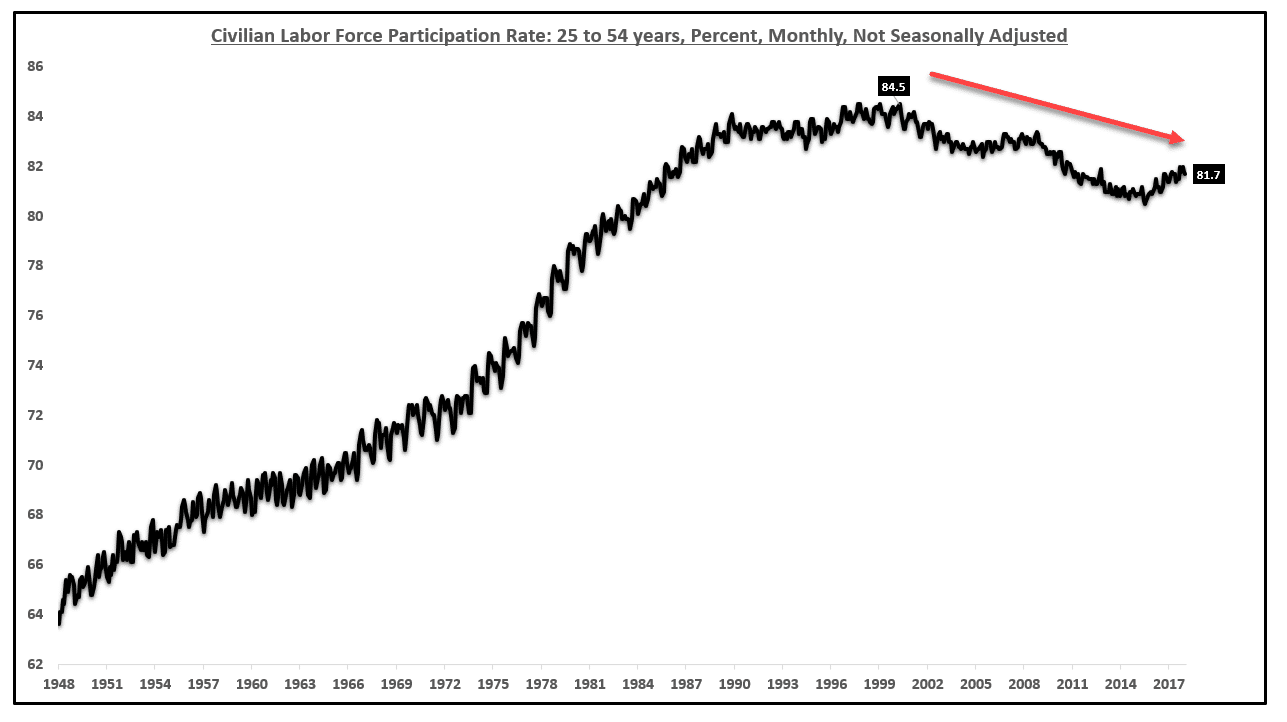 This curve began to flatten when Globalization swept the planet, but it has been in decline since the millennium crossover. Once again, the issue is one that will come to haunt us later down the road: "The labor force participation rate for prime age workers, 25-54, is declining. That is a very troubling sign to have prime age workers out of the labor force. As more prime age workers leave the labor force, government social benefits increase, and these are costs that are not factored in to the economic impact of a lost job due to global trade."
Concluding Remarks
The Bull is still up and running after nine years on the trail, and it shows no signs of letting up, at least not so in 2018 or even sometime beyond, if you trust the judgment of many folks on Wall Street. Caution will, however, remain the watchword of the day.