As we have already noted, if you like roller coasters, then 2017 will be a fun ride for you. In keeping with this statement, the first wave of predictions for the New Year has come and gone. There were no surprises or gut-wrenching guesttimates offered up by financial pundits. The storyline was simple and straightforward – expect uncertainty and volatility in big doses, in other words, a roller coaster. The more contemplative crowd, however, has chosen to wait a bit, let the first wave pass, and then prepare more detailed responses as to what might prevail during the first year of a Trump dominated agenda.
This second wave in the ride, if you will, comes after the long pull up a steep incline. You can almost hear the chains straining with each foot of elevation. If the first wave was buffeted by Trump-phoria, then how will sober reasoning deal with the irrational exuberance that preceded it? Will the winner be optimism or will the snows of cynicism fall down upon us all? It is easy to grab for metaphors to describe the current musings, but many of the newer forecasts have a mysterious optimistic ring about them for now. Everyone, or nearly everyone, accepts that uncertainty and volatility will rule, but a consensus is forming that paints a rosy picture where timing is the only real issue.
Any meaningful forecast of fundamental drivers for our foreign exchange market typically begins with a discussion about the U.S. Dollar and how it might impact the S&P 500 index, the accepted proxy for the global economy since half of the revenues of its participants is derived from foreign sources or operations. As our last article highlighted, analysts are currently going both ways on the USD, with a range of predictions that span the minus 3% to positive 3% territory. As for stocks, here is one pundit's take: "The number of risks for the U.S. stock market are sufficiently large and the magnitude of these risks sufficiently meaningful that attempting to predict where stocks will be 12 months from now is folly." Since when has "folly" stopped an analyst in his or her tracks?
This time a year ago saw a trifecta of major themes for 2016 – central bank policy divergence, China, and commodities, with an underlying unknown influence thrown in  for Europe and whatever curve balls it might hurl into the mix. In many respects, these same themes will bleed into 2017, as well, but with a degree of maturation added to each one, including the "fickle maiden" behavior of the EU. Analysts, however, are more concerned that additional themes, of which there are quite a few, will create a situation where there are so many moving parts that probable outcomes must embrace a host of possible scenarios, not a good thing. Monte Carlo simulation enthusiasts will gain favor.
What are the details for this evolving framework of major economic themes?
Let's go down the list, starting with our familiar threesome:
#1 – Central Bank Policy Divergence: The Fed has spoken again, raising its benchmark target rate by another 25 basis points and announcing its intention to make three more hikes in 2017. Although surprised, analysts are already discounting three down to two, if even that many. The current guess is that the Fed will pass in March, change in June, pass again in September, and then end the year with another hike, as in the past two years. Yes, economic indicators seem to be on a good track in the U.S. market, but the same is not true around the globe. The recent bout of Trump-phoria may have bolstered the S&P 500 index, but global indices have floundered, as depicted below: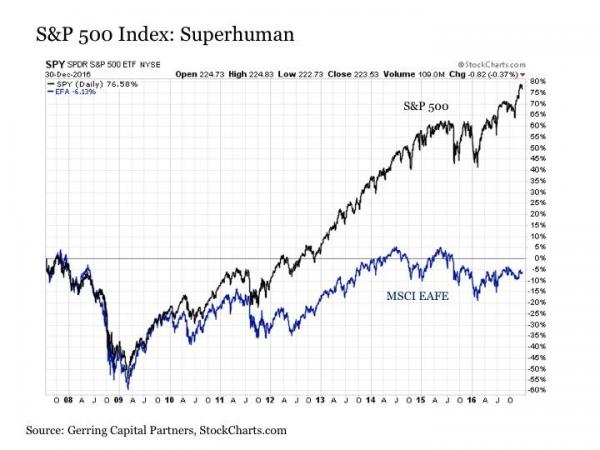 The Fed has begun its long trek for interest rate normalization, but the rest of its central banking brethren are mired in various stages of QE, ZIRP, and NIRF. There is no historical precedent for how all of this entanglement will ever be resolved, a cautious walk may not be an option, if and when Trump policy directions drastically change the existing landscape. Monetary solutions have failed. Fiscal measures are needed.
#2 – The Chinese Experiment is still an Experiment: Chinese officials survived another test of their resolve to achieve a soft landing. Equities took a beating on the Shanghai Composite. Credit and liquidity markets were strained. The Yuan came under pressure, despite PBoC intervention and the draining of over $700 billion in foreign exchange reserves. Has a bottom been reached? Does a financial crisis loom on the horizon? How will the conversion to a consumer-driven economy react, if Trump protectionism results in massive trade wars? There are no easy answers to these questions, but standing still will not suffice. China will definitely be a wild card in 2017. As one pundit put it, "The world's second largest economy is chock full of bubbles and distortions from debt to real estate to bond yield volatility to capital pouring out of the country. The risk of a major policy accident coming out of China is rising dramatically, and any such impacts would not be limited to the U.S. stock market but would likely be felt negatively across various asset classes around the world, including bonds such as U.S. Treasuries, and commodities such as gold and oil."
#3 – Commodities are back, but cautiously so: After appreciating like gangbusters after the turn of the century, commodities went into a prolonged downward spiral for the last five years. Oil prices finally bottomed early on in 2016. Gold went up, as well, especially after the Brexit referendum, but has since retreated during the recent Trump rally. Precious metals have also made a grudging comeback. Copper prices, the bellwether for good times to come, have spiked from $2.20 to $2.70 in the past few months, most likely in anticipation of heavy infrastructure spending in the U.S. and elsewhere. Copper has recently pulled back to $2.52, but signs are positive. Emerging markets are holding their collective breaths, hoping that all goes well in China, as fiscal policy changes in developed markets make their mark.
And then we have a few newer fundamental forces to consider:
#4 – Trump-onomics – Boom or Bust? The general consensus at this point is that tax cuts, infrastructure spending, and selective deregulation will kick the U.S. economy into a higher gear. While intentions have been expressed, there is very little in the way of details, as to how and when these specific changes will gain support and ultimate implementation. Issues related to revising international trade agreements are also up in the air, without specifics to guide one's assessment in that arena, although protectionism seems to be foremost on the agenda. Will Trump run into resistance when policy directions require more deficit spending? Has the market overreacted? Time will tell.
#5 – Will King Dollar put a damper on the proceedings? The strength of the U.S. Dollar has already had negative impacts on the export-trading sector, while shifting global capital flows to U.S. Treasuries and other safe havens, to the detriment of all developing economies, including China.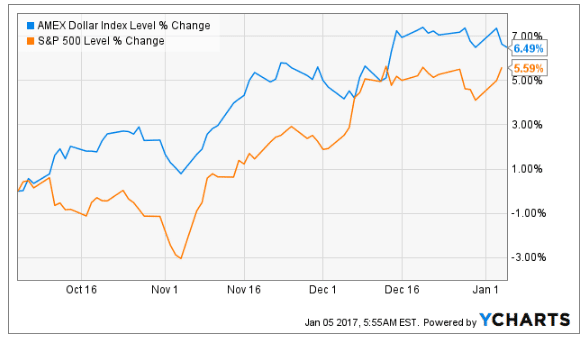 The USD and stocks have been in tandem for most of 2016, a positive correlation that runs counter to historical norms. The last time this pattern was strong was 2002. The dance may or may not continue in 2017. Yes, returns and safety are the present issue, as foreign investment capital pours in, but the export trade and many of Trump's policies will only succeed if a weak Dollar returns. As noted earlier, predictions are mixed going forward. An expanding deficit will favor depreciation, which will help exports, but so much depends on a host of variables related to trade agreements and central bank policy that it is far too soon to fix the random walk ahead for the greenback.
#6 – Populism in the EU may spoil the party: Europe continues to be a huge question mark. Per one local reporter, "We have a slate of major political elections across Europe that, depending on how they play out in the coming months, could increasingly point to the eventual unraveling of the European Union. The Dutch are up first in March followed by the French in April and May and then by the Germans anytime between August and October. And the Italians may also end up holding an election of their own in the coming year as well with a banking system in the country that is teetering on the brink of contagion sparking crisis." Brexit proceedings are in the mix, as well.
#7 – Transition from monetary to fiscal stimulus: Following the Great Recession, central banks across the planet engaged in a coordinated policy shift to flood economies with liquidity, in the hopes that investment would follow. We now have an entanglement where a clear exit strategy does not exist. This so-called era is coming to an end. The monetary tools have been expended. Global bankers are now in hopes that "austere fiscal policies will be rescinded in favor of fiscal stimulus and structural reforms," but will politicians have the resolve to make it happen. The absence of cheap money will definitely weigh on equity values, suggesting that a correction is due. Are economic models beginning to forecast a recessionary outlook?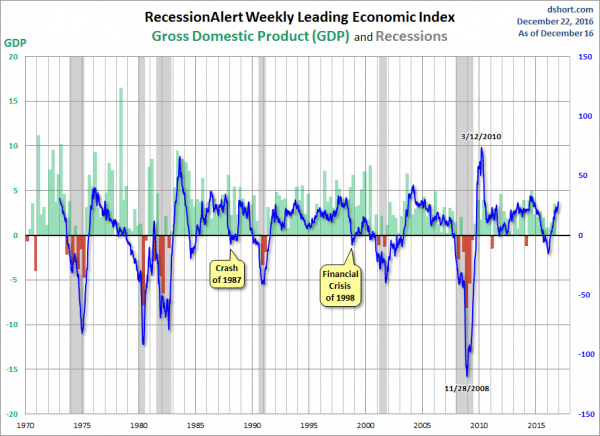 There are several good economic models that take several indicators to arrive at fairly accurate forecasts as to whether an economic slowdown is imminent. This chart is showing clear sailing for the foreseeable future, as due other credible models. Recession may not be in the current tea leaves, but late 2017 and early 2018 are still in doubt. Financial markets have gone far out on a limb, such that any hiccups after Trump takes office could be magnified enormously and prove fatal in an instant.
Concluding Remarks
We are nearly two weeks into the New Year, but uncertainty persists. The known quantities related to central bank policy, China, and commodities have morphed to a degree, all to be impacted by the new Trump administration, the strength of the U.S. Dollar, elections in Europe, and the arrival of fiscal stimulus programs to revitalize our economies. Geopolitical events will also factor in, as well, such that bouts of volatility will cluster more often than in 2016.
Predicting the future is often an exercise in "foolish folly", as quite a few analysts have noted. As for the S&P 500 index, it "wrapped up 2016 at 2,238, which has its price-to-earnings ratio at a much more remarkable 25.8 times earnings, which is among the highest levels in the recorded history of the U.S. stock market." Optimists see 2,500 as a likely target, but timing is everything.