What a difference a week makes. Last week analysts were all over the map, clearly distracted by a multitude of possible problems on the horizon, while at the same time trumpeting how wonderful the current record-setting Bull market truly was. Perhaps, a weekend of sober thought led them back to square one, because this week, their focus was back. The plight of Emerging Market (EM) countries, suffering from capital flight and having to bend evermore under the growing burden of U.S. Dollar denominated debt obligations, was once again top of mind. Some reporters claim that denial had set in, as evidenced by this one headline that appeared: "Everybody Knew This Was Coming."
There have been several recent economic lessons that everyone seems to have forgotten. We noted in our last article that memories have been short, when trying to retrieve the distraught of the Thai Baht Debacle, i.e., the Asian Financial Crisis of 1997. The reporter with the above byline went on to say: "Emerging markets have continued to melt down amid the crisis in Turkey and amid ongoing questions about the unwind of the carry trade in the face of Fed tightening. It's important to note that large asset allocators knew this was coming, but they had no choice but to contribute to the conditions that made it inevitable. Let's face it: In the frantic QE-inspired hunt for yield, nobody cared."
Major central banks injected a ton of liquidity into their respective developed markets, but investors took that capital, at least a substantial part of it, and went chasing for yields in emerging markets. The result can be observed in the following graphic: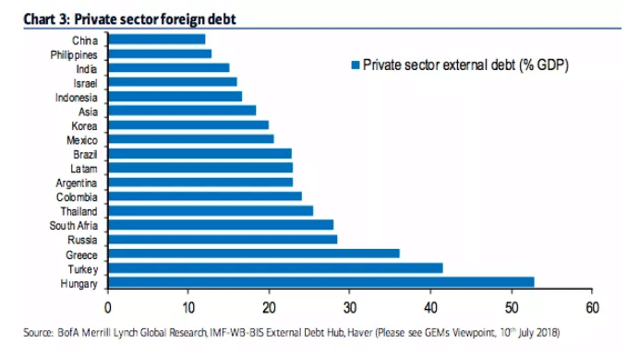 If you listen to the latest babbling of institutional hedge fund managers, they opine that they did not have a choice. They had to invest a portion of hedge fund assets in carry trades across the planet or risk being at a competitive disadvantage to funds that did take the plunge. As every forex traders learns in his first tutorial on the craft, the potential for gain with a carry trade depends upon interest rate differentials, exchange liquidity, and, most important of all, foreign exchange rate stability, especially with respect to the USD. Turkish bond investors were reminded of this tutorial last week. Return potentials may have hovered around 25%, but a dip in the Turkish Lira to the Dollar of over 30% suddenly wreaked havoc with that investment strategy.
One more compelling chart tells the story for the entire EM sector: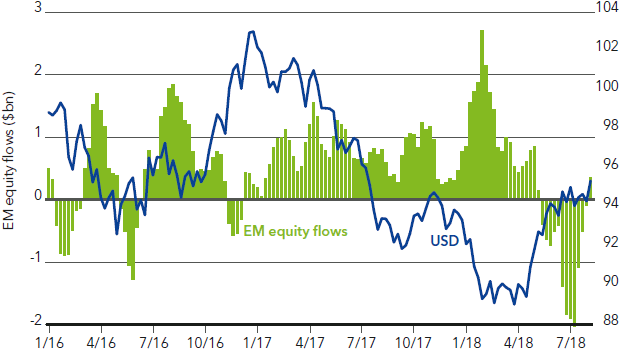 When the greenback began its fall from the upper atmosphere in early 2017, the race was on to push capital into the emerging market sector, whether by purchasing local bond offerings or corporate equities, which have an intrinsically higher risk/reward probability. Once again, our carry trade tutorial advises that returns can be enhanced, if and when the USD takes a tumble, which it did until February of 2018. As the chart indicates, the race to unwind foreign carry trade positions ensued. One to two billion per week can add up. Estimated outstanding EM carry trade positions are $2 trillion.
The future does not look brighter when you take into account that our Fed has been taking a persistently hawkish stance when it comes to future rate increases. Jerome Powell is well aware of the EM capital crisis, but it is only one factor that influences the future direction of the Fed's normalization program. The U.S. Dollar has flattened of late, toying with the 95 level and refusing to have the steam to fly higher. Experts claim the technicals forecast a small decline, possibly below 94, since the flow of foreign capital to safer havens may be on its last legs.
Another insightful reporter summarized the last eighteen months as follows: "The big trade during the years of QE and zero rates has been out of cash and into just about anything. Returns in 2018 are proving nothing like as good as in 2017. Rising volatility and meager YTD returns are suddenly being complemented by renewed awareness of how single-name blow-ups can at a stroke wipe out months of carry. That sucking sound is the irresistible lure of 2.5% on $ cash – risk-free – pulling money from your asset class." You might also want to remember that this "money pulling" exercise has been while liquidity was high. If everyone were to run for the exits at the same time, then the potential for a global liquidity crunch would be suddenly back on the table, as in 2008.
What are other considerations about capital flight this time around?
As many reporters have noted, capital flight is nothing new. It has its own cycle that repeats, as can be easily discerned from the chart above. Although the cycle may be a "known known", so to speak, there are always extenuating circumstances that influence the severity and speed at which the pattern moves across the planet. Unfortunately, this time around we have something new – ten years of central bank meddling that has distorted asset allocations and wound economic market forces into a tight spring.
What could possibly cause this contorted spring to suddenly unwind? There is a subset of the analyst community that sincerely believes that global central bank tightening could be the catalyst for just such an event. The withdrawal of global liquidity in a coordinated fashion is something that would truly be an experiment. No one knows for sure what the appropriate "Goldilocks" formula (not too quickly or slowly, but just right) might be. The Fed, however, is determined to raise interest rates and normalize its balance sheet. The rest of the major central banks are prepared to follow in suit. In fact, the withdrawal of liquidity has already begun in earnest, as the diagram below attests: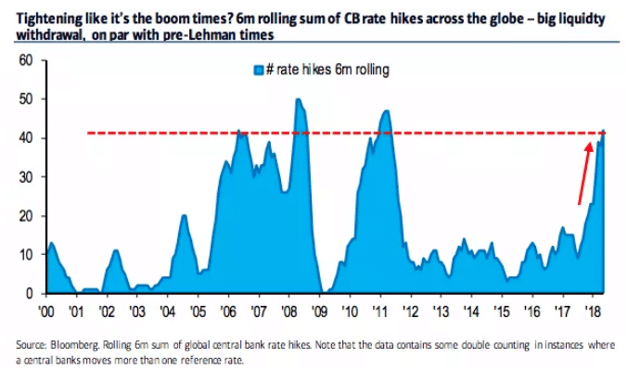 Rate hikes are already in process. Unwinding various QE programs will be next. Investors have not been asleep at the wheel during this coordinated normalization process. If there is hesitancy, it is because EM countries will typically have their central banks raise rates to ensure that favorable rate differentials remain in place. Turkey is already in the 18% range, with very little appetite for going any higher from their autocratic and arrogant president. Reserves are the only route left to protect forex rates, primarily for the investing crowd with weaker hands. There are limits when this tactic is employed. As can be seen below, Turkey has been first to move. Will others follow is the major concern at the moment: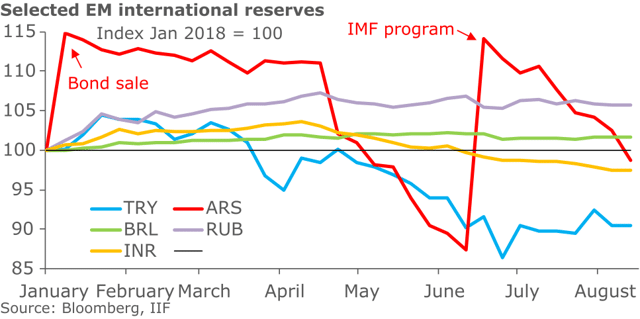 Rising oil prices, buffeted by a strengthening U.S. Dollar, has not helped the situation either. As EM exchange rates weaken, the slide only amplifies the cost of oil from an inflationary perspective. Will the USD reverse and remove a bit of the pressure that is building? We have already noted that the prevailing opinion is that a brief respite, a modest decline, may be in store for now, but many analysts believe that the long-term trend suggested by the quarterly USD chart depicted below is disconcerting: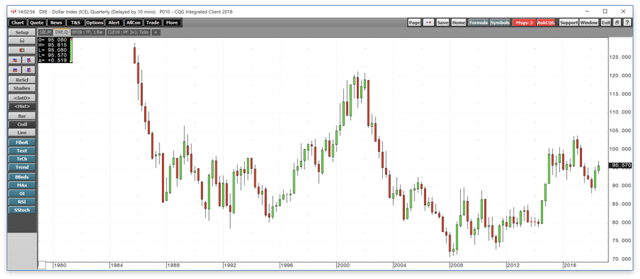 While institutional investors may prefer to buy into foreign debt securities, those with a higher risk appetite have gone the equity route. Just a few decades back, investment advisors were pontificating that a 10% limit should apply to foreign equities in a stock portfolio. That limit has ratcheted up to between the 25% to 50% range in some cases, as the flood of liquidity provided by major central banks ignited the chase for returns. Trade tensions have risen lately, due to Trump's penchant for tariff wars, and the result has been reduced earnings expectations going forward in the EM sector – see below: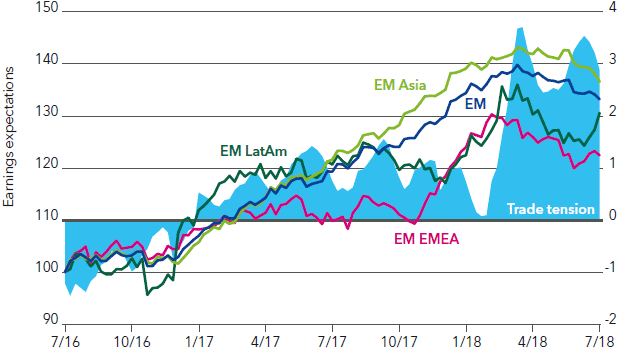 And, as earnings expectations decline, a sell-off in EM equities ensued: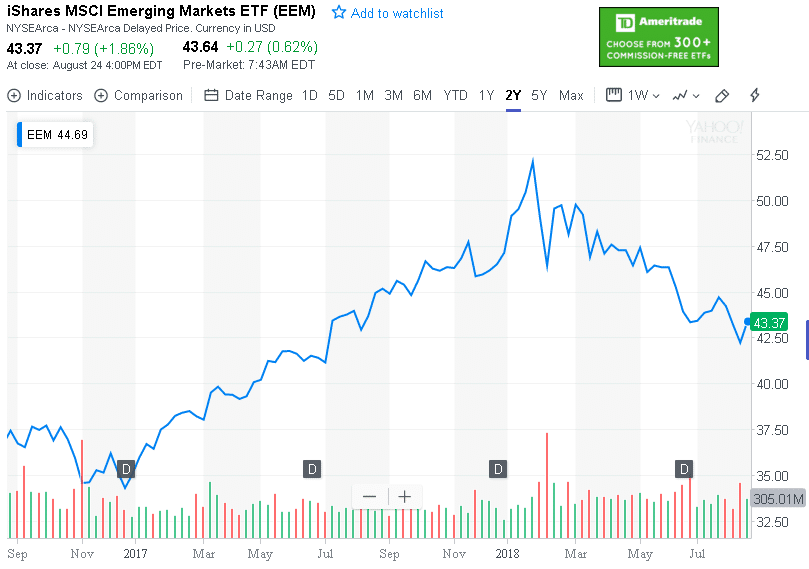 Trade tensions are rather broad in their implicit implications. Tariff wars with China will not bode well for EM countries that are dependent upon China's appetite for their respective commodities. This single fact alone has led at least one analyst to suggest that, "The biggest risk to emerging markets isn't Turkey — it's China. China represents 25 percent of the MSCI Emerging Markets Index, so what happens in China doesn't exactly stay in China. It has a more outsized impact than Turkey on investors; Turkey accounts for just 0.5 percent of the index." In case you missed this headline: "The Shanghai Composite Index is officially in crash mode – down over 24% since its highs in January." When China coughs, emerging market countries get a cold.
Lastly, the current outlook is grudgingly adjusting to an argument that a combination of factors could be enough to cause a tectonic shift in our shaky economic foundations. Per one analyst: "While everyone was well apprised of the inevitability of an unwind, what no one was quite prepared for was a scenario where that unwind would coincide with a series of geopolitical headwinds that have served to meaningfully exacerbate the situation and heighten the risk that the well telegraphed reversal of the carry trade will mushroom into something that turns systemic."
This analyst goes on to cite that the threat of sanctions on Russia, in addition to trade wars and Turkey's imminent meltdown, could be the proverbial straw that break's our Bull's back. The Russian Ruble is currently sitting upon a precipice and could tumble out of control, if the EM crisis continues. What needs to happen to prevent this additional meltdown? One of three things must happen: 1) The Fed backs down and delays rate increases; 2) The U.S. and China resolve their trade differences to an acceptable degree; or 3) The IMF rescues Turkey from its current dilemma. Don't hold your breath on any one of these.
Concluding Remarks
And so, the world turns another day, but anxiety is running high that recent EM capital flight could mushroom into something bigger. Yes, EM capital flight is a repeating cycle, but this time around, it appears that there are many more moving parts that could upset the global economic apple cart. As concerned as everyone seems to be, the general conclusion of insiders is that, "None of the above should necessarily be construed as an overtly bearish call in the near term."
There is one more conclusion, as well. Analysts have begun shouting from the rooftops that the Fed must reconsider a near-term course correction. The sanguine advice from the group: "This is playing out a lot like it did in 2015 and I think it would be wise for Powell to try and learn something from Janet Yellen's caution in September three years ago when turmoil in EM prompted the FOMC to delay "liftoff"."
The time is now to place your bets.
Are you ready to trade?
Sign up with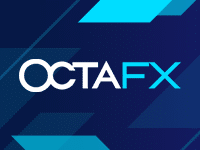 Your capital is at risk