The summer holiday season has come and gone. Analysts and investors will soon return in earnest, polishing off their respective PCs and giving their present investment and trading strategies a thorough review. History tells us that sudden changes in market direction can occur after such bouts of retrospection, but the general consensus at the moment is that this Bull market has more room to run. Yes, concerns are high regarding quantitative tightening, the ongoing crisis in emerging markets, trade renegotiations, and geopolitical tensions, but, by and large, no one is quite ready to throw in the towel and shift to cash. Quite to the contrary, hedge fund managers may push markets higher.
Occasionally referred to as the "Holiday Phenomenon", this quirky phrase, like many others, denotes a high probability that historical trends have meaning and can be used to effectively predict future directions of our financial markets. This axiom, if you will, posits that analysts may be enjoying time away from the office, but their minds are never totally off topic. They suddenly have time to step back and re-think their current strategies, and the result of this re-examination more often than not is to reverse direction, as soon as they are back at their respective trading desks. The impact may be delayed for a few weeks, but a reversal is highly probable.
Articles are beginning to appear in this vein, but the irony is that many hedge fund managers missed the boat on this continuing record-breaking Bull market. Pardon the pun, but many of these so-called experts had hedged their bets before taking off for a change in scenery and a more relaxed pace of living. While they were sipping cool drinks in a beach cabana, the market made an unexpected run to higher highs. If these guys are changing direction anytime soon, it may be to get back what they missed. The time is now to correct mistakes before the all-important September quarter end close.
There is also another old adage at play here, the one that says to sell in May and go away, and "come on back on St. Leger's Day." I doubt if many of you have ever heard that last part, but the origin of this phrase had to do with the English tradition of aristocrats, merchants and bankers escaping London for the countryside to avoid the summer heat. St. Leger's Day, in case you are curious, referred to a thoroughbred horse race held every year in mid-September. Curiously enough, stock market returns have historically been greater during the November to April period than for the "go-away" time.
It usually takes a modicum of time to shake out the cobwebs and get the brain to regain high level functionality, but the first thing on everyone's agenda is to assess the current state of market risks. Geopolitical concerns, both foreign and domestic, top the list, but quite a few other topics and contingencies exist, as well. Here is one analyst's recap of the current situation:
Wall Street returns from the summer doldrums next week and there's a lot to digest headed into autumn.
The divergence between U.S. equities and everything else has never been so pronounced and emerging markets continue to teeter on the brink.
Some pros think a September rally is in the cards as hedge funds scramble to play catch up to a market that's left them behind.
But looming large on the horizon are myriad domestic and geopolitical risks.
September also means that the Fed will meet at the end of the month and, once again, create a bit of angst that could send investors scurrying back to the drawing boards, as an updated narrative for the road ahead is announced from on high. Will the Fall connote a fall, if you will? Speculation will run rampant until the 25th, but what else is new? In the meantime, let's spend a few moments discussing the worrisome topics noted above.
#1 — There's a lot to digest headed into autumn
The current narrative presumes that interest rates rise and QE tightens, creating an "October QE to QT Hangover", so to speak (See below):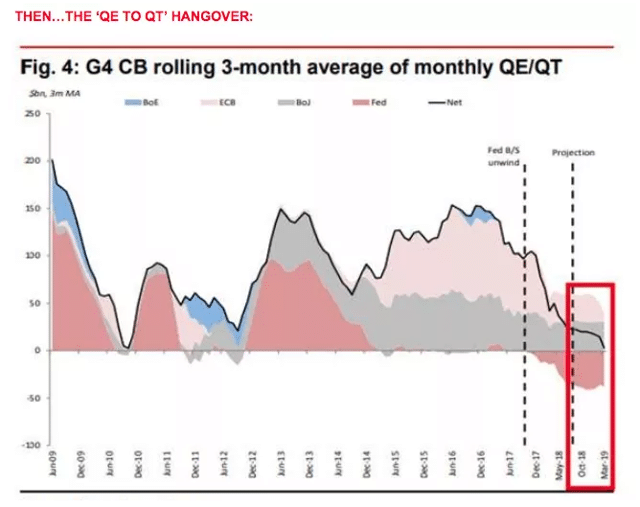 Expectations are firm that the Fed will raise its benchmark interest rate by 25 basis points at its September 25-26 meeting. Liquidity withdrawal will also proceed on other fronts, as well: "Do note that the ECB will taper asset purchases to €15 billion/month from September. Meanwhile, the Fed's balance sheet rundown is proceeding and on Friday, the Bank of Japan announced they will reduce the frequency of purchase operations this month."
Each tick up in rates adds to banking profits, but it also deprives the private sector of funds that could go to the purchase of goods and services. The question is always at what point will debt service burdens become the tipping point for economic peril? As per one analyst: "Each movement of the Fed Funds Rate upwards moves the economy towards the greatly feared yield curve inversion where the short end of the curve is greater than the long end. Historically, a recession has followed each time this has happened after twelve to eighteen months after the inversion."
Various quantitative easing programs promulgated by major central banking authorities have been a decade-long addiction. These liquidity infusions were supposed to be temporary, an experiment that went wrong somewhere along the way. Removing the "drug" could trigger a host of unforeseen dependencies across the global economy. Yield curve inversions notwithstanding, the damage to the global economic infrastructure is happening now, as a lead up to the dreaded inversion of short and long-term rates.
#2 — Emerging Markets continue to teeter on the brink
The Emerging Market (EM) capital flight crisis grabbed the headlines once again when Turkey became front-page news. This crisis, however, has been ongoing for quite some time, resulting in major declines in respective foreign exchange rates as the Almighty Dollar marched to new highs. Some notable examples in 2018 alone: Venezuelan Bolivar – Down 97.3%; Turkish Lira – Down 44.5%; Argentine Peso – Down 36.4%; Brazilian Real – Down 14.2%; Indian Rupee – Down 8.0%. Investors have not been waiting around for any shoes to drop. A strong U.S. Dollar inspired capital withdrawal.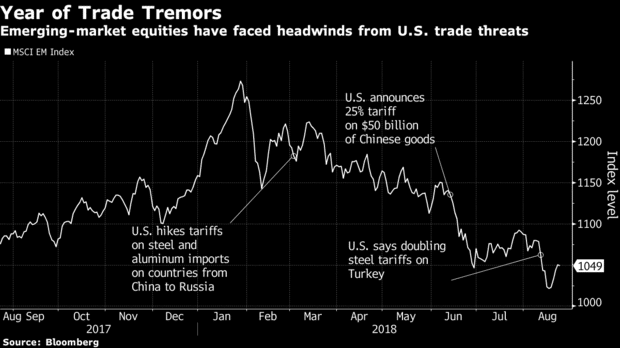 EM equities have also been enduring a severe downdraft in market valuations during 2018, as depicted in the above chart. Per one analyst: "Emerging Markets are down 20% from their January highs, coming very close to bear market territory. They will have some headwinds to combat, such as tighter liquidity from the central banks, weak commodity prices, and a stronger dollar. But emerging markets will be fine in the longer run. Demographics are on their side. Younger populations create growth."
While the long-term outlook may appear favorable, the near-term crisis and a possible spillover into developed markets are top of mind at the moment. Dollar denominated debt from external sources will become more burdensome. Loan defaults will occur. Commodity prices will dip, if the USD experiences an upsurge, but trade wars and accompanying tariff assessments will only exacerbate the current meltdown. Another analyst quipped: "Jerome Powell has been proven at least partially wrong when it comes to his contention that EM economies would be resilient to Fed tightening."
#3 — Hedge Funds scramble to play catch up
Despite the concerns expressed above, the general consensus of the experts is that the stock market will rally going forward, at least for the S&P 500 index, our best proxy for a barometer of global economic health. Earnings expectations remain strong, and corporate stock buybacks will continue to bolster demand for equities. This argument improves, when you consider that hedge fund managers guessed wrong a few months back (See charts below):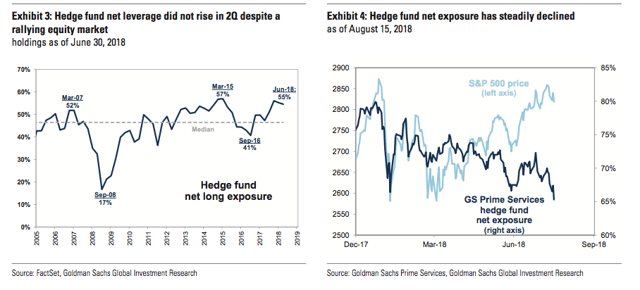 In a phrase, hedge fund managers "blinked", when they stared into their crystal balls after first quarter results were posted. As can be seen in the charts above, hedge funds began reducing their long-term and overall market exposures, in line with the direction taken by the S&P 500 index. Trump's Tax Plan of reduced corporate rates and a low-cost bridge to repatriate foreign profits boosted earnings/buyback expectations and caused the disconnect observed in the right-hand chart. The thinking now is that hedge funds must play catch up, thereby adding even more fuel to the flames of demand.
What could spoil this overly optimistic picture for the months ahead? The Dollar's recent weakening respite allowed emerging market currencies to recover somewhat and for volatility to take a breather. If the Fed maintains its current hawkish bent, however, all bets could be off. One analyst recalls that, "The market risk is massive, as the central bank and political worlds collide. Such collisions tend to escalate risk exponentially."
#4 — Looming large on the horizon are myriad domestic and geopolitical risks
Politics in the U.S. and Europe could also rock the economic boat. In the U.S., "As far as the U.S. midterms are concerned, the risks are myriad and for investors, there are two key considerations when it comes to assessing the implications for market volatility. First, it is likely that the House will flip to Democrats. That's not me speculating, that's just what prediction markets say. Second, if the House does flip, it would likely prompt a series of investigations that could cause headaches for markets, if they cloud the domestic political picture further." As far back as 1954, market reactions to mid-term elections have been positive, but the situation this time around is very different.
Across the pond, the political climate in the EU is not encouraging. Italy and Spain are set for contesting existing budget rules. Immigration remains a hot button, and Mario Draghi just keeps dragging along with his tired rhetoric. An earlier missive conceded that there had been "a loss of momentum that is pretty broad based across countries and all sectors". Even his best use of "spin" cannot disguise the moderating scenario depicted below: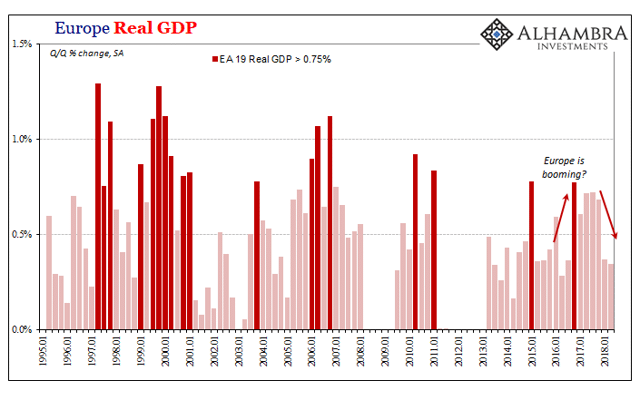 Facts are facts. Real GDP growth in 2018 has been receding, moving one analyst to remark: "The ECB is at a familiar crossroads." Purposeful mischaracterization of results borders on illicit shamelessness.
Concluding Remarks
Summer is over. Analysts and investors are back at it, assessing current market risk and evaluating new positional strategies. Will the Fed and King Dollar be accommodative? Will Emerging Markets rebound? Will this Bull market keep on chugging along? Will geopolitical tensions reach a tipping point and send markets into chaos? These questions require insightful answers.
Vacation and holiday pursuits have concluded for the powers that be. From a trading perspective, expect escalating volatility, and keep a keen eye on USD movements.
Read more fx forecasts and news