Bond markets have been in turmoil. Stocks have been down for weeks, but only rebounded when the Fed hinted at a rate cut. The USD index dropped last week, and Gold prices fell this week. What is an investor to do? One analyst chimed in: "We see the market rejecting everything, except BTC." The last comment may be a bit unfair, since it was made by Max Keiser, a noted Bitcoin investor and manager of Heisenberg Capital. Keiser's dominant thesis has been to invest in Bitcoin for the long term, but short-term types have already fastened on the notion of BTC as a "safe haven" hedge.
For those traders that have focused solely on major foreign exchange pairs, the world of cryptocurrencies has been on fire since February. After establishing a firm bottom of $3,150 in late December, Bitcoin has been on a meteoric rise for the past four months, only to pull back in June to take a breather. The chart below speaks to recent action: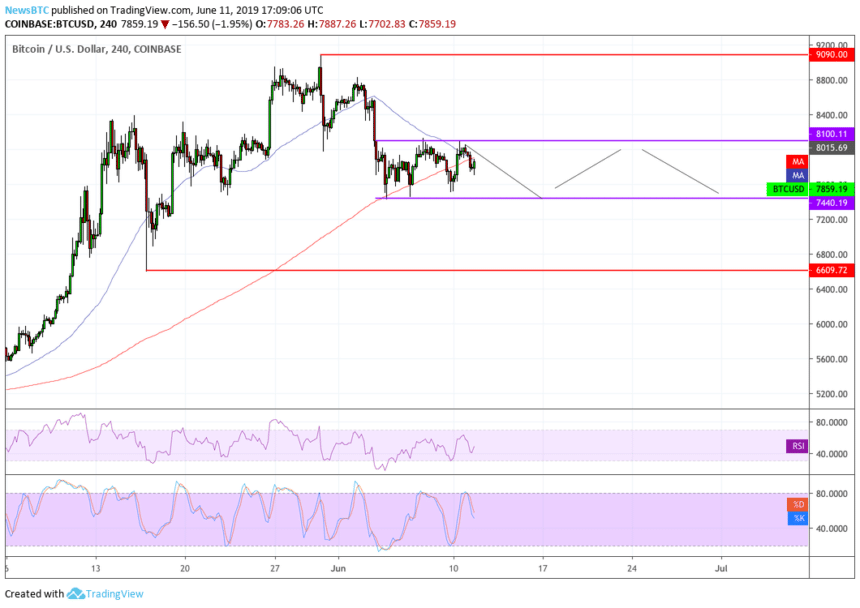 For the past week or so, Bitcoin has been range bound between $7,500 and $8,100, as denoted by the two purple horizontal lines on the chart. Indicators have settled down in their mid-ranges, while BTC consolidates its current position. If you do the math, Bitcoin has appreciated nearly 150% since late December, an almost unheard of return in this day and time and one that every serious investor cannot ignore.
The latest narrative in the analyst community has been that the world's favorite crypto cannot keep going full bore ahead. Its current "parabolic" path is unsustainable, and it is time for a healthy, major correction to the tune of 30%+, a general figure that has been repeated ad nauseam. There are several technical reasons for this 30%+ figure, but one simple one pertains to the obvious "Head-and-Shoulders" formation in the chart. The present thinking is that BTC must hold above $7,400, the "Neckline", or face a major decline down towards $6,000 or just below.
What are creditable crypto analysts saying about Bitcoin and its future prospects?
As you might expect, a 150% gain in five months has sparked a great deal of enthusiasm in the crypto analyst community. BTC blew past $4,000, then $5,000, then $6,000, and then $7,000, each level having been considered "formidable resistance". Enthusiastic forecasts began to border on "irrational exuberance", hitting six figures in some quarters, but "sane" members within the group tried to explain each leap, speculate on fundamental drivers, and then predict the next target and timeframe.
When Bitcoin peaked twice over $9,000 and was driven back forcefully on each occasion, a wisp of anxiety swept through the crowd. Cynics came out of hibernation to blast away at all things crypto, as if their protestations of "no value here" were ever to be taken seriously again. Let's just say that analysts returned from their celebrations and began to have a more cautiously optimistic view of the future.
One of the saner minds of the crew is Josh Rager, a respected crypto trader. His memory is long, as they say. His analysis of the historical record provided this insight, which he shared on Twitter and which has been cited several times in the crypto press: "If history repeats, there should be plenty of strong pullbacks on the way to the next peak ATH [All Time High]. There were at least nine 30%+ pullbacks from last cycle accumulation & uptrend." GULP! At least nine 30%+ pullbacks? Ouch!
After the severe tumble on the third of June, analysts greeted the fall with mixed reactions, freely admitting that the sobering experience had moderated their outlooks. Here are a few samples of the "group-think", if you will:
Timothy Tam, co-founder and chief executive at CoinFi, a cryptocurrency research firm in Hong Kong: "It just got a little bit extended, this is a healthy retracement. There's quite a lot of volume going through, this is normal Bitcoin volatility. At the end of the day it still doesn't take a lot of money to move these markets compared with traditional markets."
Ali Martinez, CryptoSlate's market analyst, "Bitcoin could be preparing for a correction that could take its market valuation down to around $6,000. A reversal candlestick pattern that formed last week and a combination of the TD Sequential Indicator, the RSI and the StochRSI are all indicating that a pullback is likely."
Crypto Quantamental, an experienced Wall Street portfolio manager: "For those that weren't around in the bull market in 2017, these sorts of drawdowns are normal and to be expected. Bitcoin is insanely volatile and will test your will. I'm not saying we are in a big "BULL", but if it is, expect this."
One anonymous trader: "I'd be a lot more confident in the markets after a hard reset. Price action is starting to feel quite lethargic. I'm not strong bearish, but I'm also not feeling particularly bullish up here. It's not a bad time to risk off from this rally."
TheCryptoMonk, an analyst with a large Twitter following: "Too early and trapped with a fakeout. Overall I still believe BTC is going for $9k. As explained by many, the weekly candle marks an indecisive market. Not specifically bearish or bullish."
What has changed in the past week?
Bitcoin is stuck in a tight range for the moment, taking a breather from its exhausting ride. The question as always is what will happen next? There is a belief that "Whales", those BTC "hodlers" with millions in a single account, are accumulating and jerking the market about at will. They supposedly are the ones with large sell orders just above $9,000, apparently waiting to drive prices down, and then, in the mayhem that ensues, they plan to gobble up bargains in the market before the major assault upward, if you buy into this storyline.
Analysts can point to as many as a dozen fundamental reasons that Bitcoin will surge over the next 18 months, but the latest discussion has focused on geopolitical tensions due to trade wars and prolonged negotiations, whether between the U.S. and China, or the U.K. and the EU for that matter. The thinking now is that serious investors are fleeing to BTC as the next greatest "safe haven", which can also offer a potential for gain on the long haul. As for the "long haul", this chart surfaced last year and is quite compelling: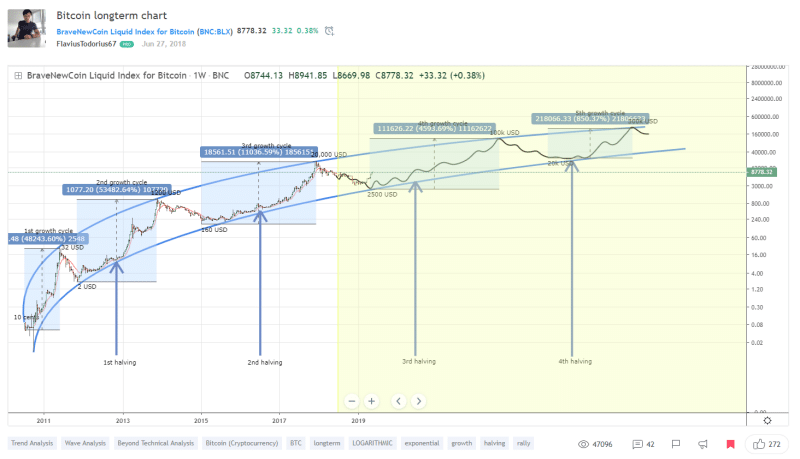 The "yellow" highlighted portion of the right side of the chart denotes the time period following the chart's preparation. Bitcoin's price behavior, recently inserted, has mirrored the forecasted path fairly convincingly. If you follow the forecast out to 2021, then suddenly a six-figure valuation for Bitcoin does not appear to be out of the realm of possibilities. Logarithmic scales do have a way of making huge leaps of faith look reasonable, but, if you are a long-term investor and want to put a small portion of your portfolio in a high-risk/high-reward type of speculative investment, what other investment could possibly be better than Bitcoin?
Concluding Remarks
Not everyone is convinced by this clever presentation of Bitcoin's future. There are at least two Nobel Laureate economists that have decried Bitcoin and all of its altcoin brethren as "shams" and "Ponzi Schemes", which will end badly for investors when values plummet to zero one day.
Other commentators proclaim that Bitcoin has arrived. Its market capitalization is nearly $125 billion, and that figure does not include other token programs, miners, exchanges, and other support entities. The crypto-verse is immense, and, as long as central bankers continue to dilute fiat currencies, it will be a strong "safe haven" by default. At the end of the day, use your best judgment, risk only what you can lose, and don't bet the farm.