With Fed machinations and OPEC deliberations behind us, investors are scurrying about searching for a new goblin on the horizon. Quarter end is also quickly approaching, a time when everyone, from fund mangers to their clients, clean up their portfolios and re-think their outstanding positions. It is also a time to look out over the next quarter and ponder the appropriate strategy for the situation at hand, especially in the foreign exchange market. At present, trade war tensions and escalating oil prices are top of mind for determining how the next three months, perhaps even the next six months, will play out.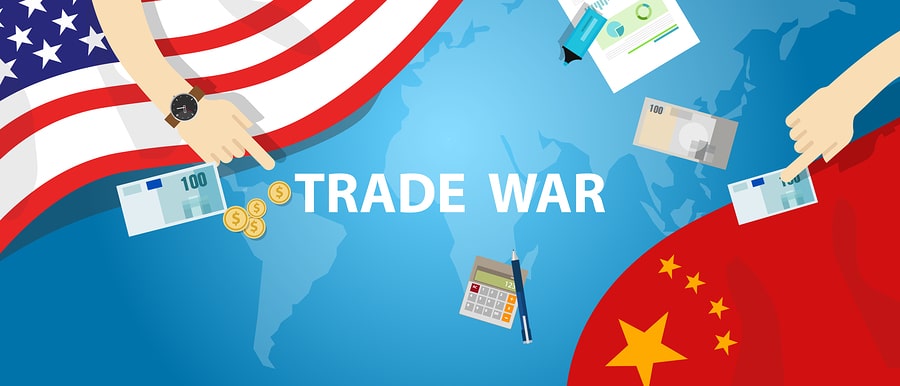 As many economists have noted, the global economy is now more interconnected than ever before in mankind's history. Add to that fact that central bankers across the globe have held market forces at bay with a Gordian Knot of QE, NIRF, ZIRF, and any other kind of central banking tool at their discretion, and you have a very tenuous mix of variables that could react to the least of all provocations and deliver yet unpredictable consequences that would know no national boundaries.
Read more forex trading news
Trade wars in the form of tit-for-tat tariffs could disrupt this teetering apple cart, while oil prices represent another more potent form of a market driver just sitting on the sidelines, waiting to join the fray and wreak havoc. What is the latest thinking in these two arenas and how could potential changes impact the forex market going forward? Let's take a look.
Are we in a Trade War yet? What is actually going on at the moment?
Equity markets were in turmoil, as this week opened. Sanity has returned, but analysts could see a breaking point on the horizon, as if Mr. Market stepped up, peered down into the abyss, and came away white as a ghost. Yes, it is that time again, when abject fear grips that part of an investor's mind that suspects a major downturn is just around the corner. The current saber rattling between President Trump and Chairman Xi and just about every other trading partner on the planet is creating fear in the streets. No one can see the end game, only an arduous and chaotic path to some new equilibrium.
Quite a few analysts, the sane ones out there with more than a decade of experience under their belts, have not accepted that we are truly in a trade war, at least not yet. The counsel from this group follows this line: "Recent trade negotiations have failed and tariffs are now going into effect, with threats of much larger escalation from all sides flying fast and furious. Current tariffs will slow the economy, but it would take a very large global trade war (more than a tripling of average tariffs) to actually cause a recession. While trade war risks are rising, we're not in one yet and so will likely face slower but still positive economic and earnings growth. This means investors should stay calm and continue with their long-term investment plans. Remember, time in the market is far more effective than attempting to time the market."
Is it that simple? Just keep your head down and continue what you are doing? But then what is causing such a stir in the hearts and minds of the other folks? The thought line here begins with how radically markets have reacted to only a few skirmishes. Consider these two facts:
"The Dow Jones was up Friday, avoiding it ninth consecutive down day. Such a long stretch of declines is pretty rare. Eight straight down days has only happened 43 times since the Dow launched in 1896. The last time we had nine straight days of Dow Jones decline, Jimmy Carter was president. Is another Carter-era phenomenon on the horizon – stagflation."
"The Shanghai Composite logged its sixth losing session in eight, and for all intents and purposes is falling into a bear market. Hong Kong shares were similarly hit, and notably, the Yuan (CYB) fell to its weakest against the dollar since December as the currency attempts to digest the trade war threat, which could ultimately entail a devaluation once Beijing runs out of options to retaliate."
For this group, their concern rests with how global supply chains and anything else having to do with global trade and commerce is inexorably interconnected. Any kind of an "America First" strategy is therefore doomed to failure from the get go. Negative market reactions will quickly re-distribute and re-allocate supply and demand demographics to meet actual market needs. Tariffs will not dictate the action, but only clutter the playing field until the more appropriate solution is established.
Analysts at Goldman have attempted to model the current environment and project the scenario with the highest potential, although their work notes a myriad number of assumptions and just as many caveats. Per one account: "If you game out possible worst-case scenarios for what an all-out trade war would ultimately mean for global growth (and, by extension, for multinationals), you end up with a less-than-benign picture. A Goldman chart effectively represents what happens when you roll up all proposed tariffs, assume a 10% correction in global equities, and assume everybody levies an across-the-board 5% tariff on everybody else." Merrill Lynch and others have produced similar simulations.
And so the beat goes on. Protagonists in favor of protectionism continue to battle with tit-for-tat tariffs, with no signs that negotiations are progressing or that hostilities are lightening up. Current simulations also speak to a modest slow down in GDP growth, but nothing startling. None of these models is forecasting a recession, perhaps another reason why deliberations are continuing as they are. In the meantime, expect volatility.
Oil prices are rising – Is it time to get used to it?
Behind this backdrop, oil prices have been gradually inching higher. OPEC has decided to increase production, but losses in Iran and Venezuela will more than likely offset any additional supply considerations. At the end of the day, oil prices are tied totally to supply and demand demographics. Any forecast must delve down into each component separately to divine a reasonable estimate of future action. Correlating oil consumption with global GDP growth also provides helpful insights, as this chart reveals: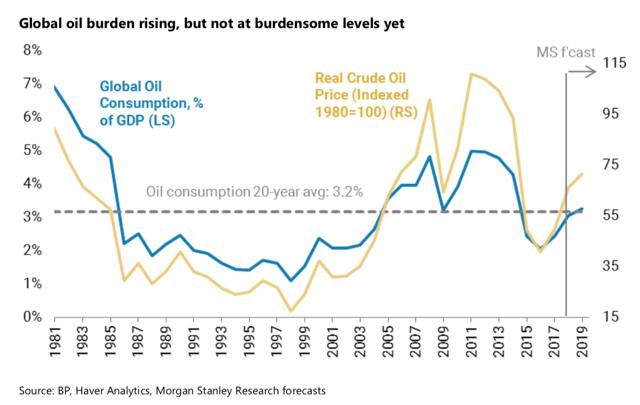 As Morgan Stanley asserts, current global oil consumption is only at its 20-year average for the past two decades, and it is decidedly heading north. These same analysts do not see how supply can catch up, even if OPEC opens full throttle, along with other producers. The deficit can only expand under these conditions, leaving the oil industry and the global economy precariously close to running out of options. The result? Morgan Stanley sees the possibility of a repeat of the previous cycle, with oil prices accelerating past $100 a barrel and beyond.
Verbal translation: "Game over, there's no avoiding this now. The scenario of an oil price spike is unavoidable. Supply/demand forecasts indicate that sometime in the next one to two years, oil prices will have to move to a level where serious demand destruction takes place. The global economy looks like the Titanic right now. The iceberg is the incoming oil price spike and the complacent investment community won't even know what hits them." You might want to consider potential positions in commodity currencies.
How will foreign exchange markets react over the next quarter and beyond?
Yes, commodity currencies might be a good bet going forward, if the presumptions in the above analyses hold up when market forces begin to work on them. There will always be the "Unknown Unknowns" to worry about, but one thing is certain: the forex market will sort everything out. In that regard, forex experts have been sharpening their pencils or polishing up their Excel spreadsheets in attempts to guess what happens next with major currency pairs. As we have written before, the U.S. Dollar is at a crossroads – Will it crack through the $95 barrier or will it descend again? The jury is still out. Here is a current chart for the USD Index: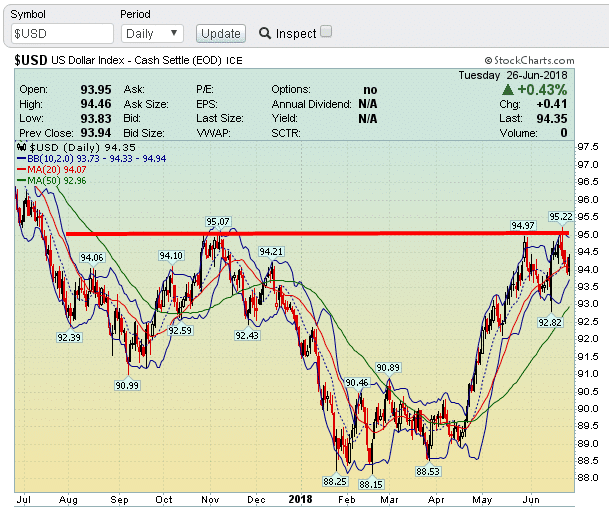 The Dollar recently poked its head above the $95 resistance level, only to be driven back down to $94. The rise since April has been extraordinarily steep, suggesting a pullback was imminent, but the force of the move is what lingers in analysts' minds. There are also a number of other technical reasons that support a higher growth trajectory scenario, but trade war tensions have created a temporary cloud on the proceedings.
Forex traders, however, are more interested with how major pairings with the USD might react over the next three months. We have already discussed how commodities, primarily oil prices, could influence the near term, but the primary question on everyone's lips is then whether or not Mr. Market has already factored these forecasts into current valuations? There is one group of forex experts, Splendid Exchange, that goes through a rather painful exercise, as they describe it, to dig deep into whether a currency pair is either overbought or oversold.
Per their own words: "As you know, once in a while, Splendid Exchange looks at seven major currency pairs in search of the evidence of popular delusions and the madness of crowds. The idea is to find anomalies and bullish or bearish divergences that will break the trend, not prolong it. It is a painful exercise, but also highly rewarding."
In order to ascertain, as they call it, the "psychological state of the market", they attempt to calculate numerical values for five econometric data points: Over-extension analysis, secular performance analysis, oil correlation, economic divergence, and traders' positioning. The results of their various analyses are presented in the following chart: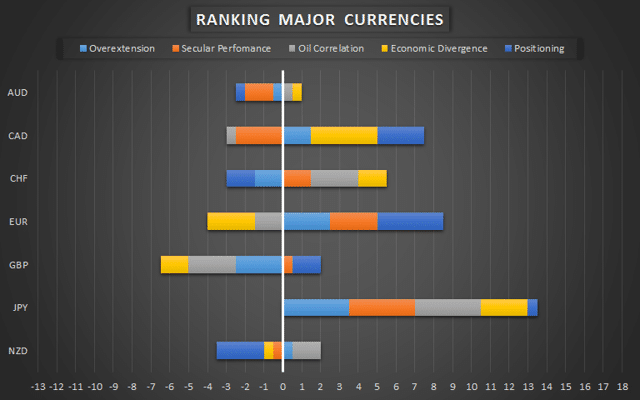 Undervalued components are to the left of the "Zero" demarcation line, overvalued, to the right, and the net of the two suggests where current valuations sit on the curve. For example, this analysis posits that the Yen is overvalued, while the British Pound is undervalued. The valuation of the Loonie may have already baked in the news that oil prices may rise beyond expectations, but the Aussie and the Kiwi, the other two commodity currencies in the list of seven, may still have room to run.
Concluding Remarks
Trade war tensions and rising oil prices are spooking markets, causing chaos at every turn. The forex markets, however, will take everything in stride, perhaps enduring above average volatility, which can be a good thing. Will currency pairings react as the firm of Splendid Exchange predicts? You might want to check their track record before jumping onto that train, but their logic does seem reasonable. Happy Trading!
Are you ready to trade?
Sign up with

76% of CFD traders lose