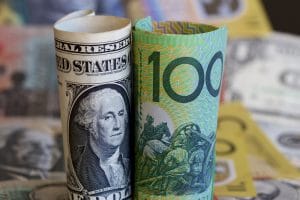 The Australian dollar continued to suffer in the global forex markets today after the Reserve Bank of Australia said that it would consider cutting interest rates later in the year.
The Bank's announcement, which came on Wednesday, was a surprise to many – and knocked a lot of value off the currency over the course of the week.
In fact, it suffered its worst decline for over 12 months – dropping 1.8% in total. As trading began today, it was down to $0.7103 in the AUD/USD pair.
Elsewhere, the euro saw a 0.45% value dip on Wednesday following suggestions from analysts that the European Central Bank (ECB) is still planning to keep rates low.
The British pound went up slightly to $1.2930.
Pound traders will be hoping for some major news from Prime Minister Theresa May in the coming days as she speaks to leaders in both Europe and the Republic of Ireland over the issue of Brexit.
The dollar index remained firm at around 96.35 and approached its highest point for two weeks as trading got underway.
With the trading week now drawing to a close, it is time to look ahead to see what is happening in the foreign exchange markets tomorrow and into next week.
First of all, today (Thursday) sees a Bank of England interest rate decision at 12pm GMT. This is expected by analysts to remain unchanged at its current rate of 0.75%.
Following this, there will be a speech by the Bank's Governor Mark Carney, in which he is expected to outline the Bank's rationale for the decision.
Tomorrow will see a number of key Japanese data releases. The country's current account figures for December will be out at 12.50am GMT, while its overall trade balance is expected at the same time.
Canadian average hourly wages for the month of January, meanwhile, are expected at 1.30pm GMT. Also, due out then is the net change in employment figures for the same month: this was last recorded at 9,300.
Looking ahead to Monday, China will be back in action following the end of the Chinese New Year holiday. Japan, however, will be less active due to the National Foundation Day holiday which is expected to close banks across the nation.
British manufacturing production figures for December are expected at 9.30am GMT. Month on month, these were last recorded at -0.3%.
At 10am GMT, the German ZEW economic sentiment survey covering February is expected.
Later in the day, there will be Canadian import and export figures for December.
On Tuesday, the key event will be the Reserve Bank of New Zealand's interest rate decision. This is expected at 8pm GMT and will be accompanied by a report.
This rate is currently at 1.75%. It is not clear whether or not the bank plans to change it.
On Wednesday, the key announcement will be the British consumer price index's year on year change for the month of January. It will be announced at 9.30am GMT and was last recorded at 1.9%.