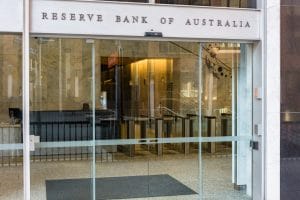 The Australian dollar posted significant rises in the foreign exchange markets on Tuesday after the country's reserve bank decided to hold interest rates as they are.
The Reserve Bank of Australia said that it would keep rates at their low level of 1.5%.
As a result of the developments, the Australian dollar rose 0.4% against the US dollar – placing it at $0.7255 less than an hour after the announcement.
Elsewhere, the US dollar index, which measures the performance of the greenback in proportion to other key currencies around the globe, remained relatively still at around 95.846.
The euro, meanwhile, held constant at $1.1438 in the EUR/USD pair. The British pound was also unmoved, remaining at $1.3038 in the GBP/USD pair.
This came in part over renewed questions over how exactly Britain would leave the EU. On Monday, Michel Barnier, the EU's chief negotiator on Brexit, said that the so-called Irish backstop would have to remain in place and that there was no scope for renegotiating the withdrawal agreement.
The US dollar saw some success in the USD/JPY pair, which rose a little to 109.93 yen.
With a substantial chunk of the trading week still left to go, there's plenty to watch out for on the economic calendar.
Chinese markets are likely to be slow today as Chinese New Year is celebrated in the country, meaning that banks will be closed.
Other economies, such as the US, will be more active. The country's Institute for Supply Management will release its Non-Manufacturing Index for January at 3pm GMT. This is expected to show a drop from 58 points to 57.1.
This will follow a series of Canadian trade balance figures, including import and export figures for December. These are due out at 1.30pm GMT.
Looking ahead to tomorrow, the Chinese New Year holiday will continue. Banks in New Zealand will also be closed due to the Waitangi Day holiday.
Several significant speeches are due to take place tomorrow as well. US President Donald Trump will give his State of the Union address, while the governor of the Reserve Bank of Australia Philip Lowe is due to give a speech at 1.30am GMT.
There will also be a speech from the Bank of Canada's Deputy Governor Timothy Lane. This is due to take place at 1.35pm GMT.
Looking ahead to Thursday, more Chinese New Year celebrations will mean that banks there remain closed.
At midnight, chair of the US Federal Reserve Jerome Powell is due to make a speech.
Japan's preliminary leading economic index for December is expected at 5am GMT. It is due to show a drop from 99.1 to 97.9.
British house price data from Halifax covering the month of January is expected at 8.30am GMT. Month on month, this is expected to move from 2.2% to -0.5%.
The Bank of England is still expected to hold interest rates at 0.75% when it meets at 12pm GMT.
Japanese bank lending figures for January will round off the day at 11.50pm GMT. It is forecast that these will remain steady at 2.4%.