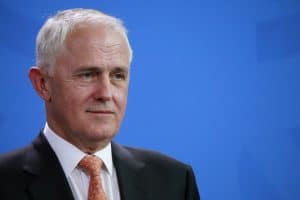 The Australian dollar was a major victim in yesterday's forex market after significant political crises hit the country's leadership.
Prime Minister Malcolm Turnbull of the centre-right Liberal Party has survived one challenge from a colleague in recent days, but his future relies on whether or not his challenger, Peter Dutton, can now muster a majority of Liberal MPs to support him.
If they can, Turnbull says he will quit and let a leadership race with Dutton and two others take place. The AUD went down by 0.8% to $0.7294 as the crisis unfolded.
Unlike currencies in most democracies, the Australian dollar is usually almost immune to domestic political problems.
The country regularly experiences political upheaval, and it's relatively common for sitting Prime Ministers to be challenged by their own parties within just a few years of taking office. Turnbull himself assumed his position after challenging his predecessor, Tony Abbott.
As a result, political drama is largely priced into the Australian dollar market. On this occasion, however, that appears to be changing.
The Australian dollar is also under threat from international trade issues.
Australia and China have deep trade ties. When China suffers, as it is currently in the face of significant trade barriers imposed by the Trump administration in the US, then the Australian currency also tends to suffer.
It looks like there will not be any respite on the horizon for China and its trading partners, either. Yesterday, a range of new tariffs between the country and the US kicked in, and there are now an additional 25% of tariffs in place on around USD $16bn of items traded between the two nations.
Later in the day on Thursday all eyes will be on Japan where a variety of major data releases are expected.
National consumer price index information for July is set to come out at 23:30 GMT alongside corporate service price information covering July.
Looking ahead, Friday will see a range of news items and economic data releases for forex traders to watch out for.
Germany's gross domestic product figures for quarter two will be revealed at 06:00 GMT, while in Britain there will be a mortgage approvals release for July out at 08:30 GMT.
Early next week also looks busy on the forex markets. Key data releases from Germany, such as the consumer confidence survey for September to be released on Wednesday and the import price index data to be released on Tuesday, will be closely watched.
Germany plays a key role in Europe-wide economic decisions such as the European Central Bank's interest rate moves, so German economic figures are often closely observed to see if they reveal any clues about the future.
British pound traders, meanwhile, may see a slowing down in activity on Monday due to a bank holiday. A key inflation report will be out on Tuesday at 10:00 GMT, however, so there won't be a slowdown for long.
Japan will be back in the forex news on Wednesday when its consumer confidence index for August is released at 05:00 GMT.