As is always the case, bank forex analysts have been busy revising their critical forecasts of key elements of the foreign exchange industry. It is now custom to discard previous estimates in favor of newly minted guesses for how various exchange rates will play out for the remainder of the current year, and, in some cases, for all of the next year, as well. How accurate were their guesses just three months ago? Each bank will have its own story, but a simple composite reveals that the scenario for the U.S. Dollar has radically changed, if 4% qualifies as "radical" these days (See chart below):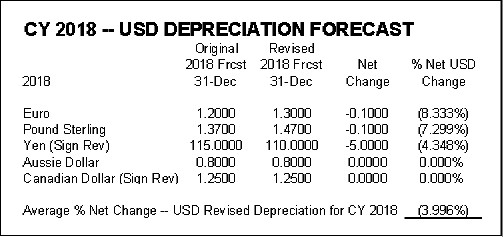 What does this mean from now until the remainder of 2018, if these guesses hold (If you believe they will hold "as is", then you are a rare bird, indeed!)? If we insert current exchange rates for each of the major pairs depicted above, then we could expect a five percent dive over the remaining seven months of this year. Respectively, that works out as follows: EUR/USD = Down 8.3%; GBP/USD = Down 8.9%; USD/JPY = Up 0.9%; AUD/USD = Down 6.7%; and the USD/CDN = Down 2.3%.
See more forex trading news
What happened to the recent hoopla that the Almighty Dollar was soaring again?
Everyone loves a good storyline, but in today's Internet environment of pure immediacy, your "hook" had better be a good one, if you want anyone to slow down for a second, select your piece, and even read 400 words before exiting. If you Tweet, there is a reason the number of characters is set at such a low bar. As for our USD, the jury now believes the show of late has been, at the very least, just a brief show, no legs, no staying power. The USD Index has soared from the high eighties to 92.4 in the last seven sessions, but, if the analysts are on point, which could happen, we might see a figure of 87.8 in months to come, a low point we have not visited in over three years.
What new and revised scenarios have these banking gurus created? Bankers tend to be a very conservative lot and very tenacious, when it comes to backing away from an internal group consensus. Revisions to generally accepted plans going forward are often couched in vague terms that imply that a change in conditions is unwarranted and that the overall conclusion will end up the same. Occasionally, this approach works, but, more often than not, they are off the mark, failing to accept accountability, and moving on to the next period, as if the past were never an issue from their perspective.
While investment analysts were viewing the recent U.S. Dollar appreciation run as a return of basic fundamentals, banking types were describing the action as merely a temporary situation where shorts were being squeezed in the T-Bill market. According to them, their end-game thesis had never changed, i.e., the global economy is charging ahead and overcoming any advantages that the USD may have enjoyed due to interest rate differentials. The effects of Trump's tax plan to broaden stimulus efforts and re-do trade agreements would surely expand the deficit and thereby "trump" any benefits of central bank policy divergence.
On the investment analyst side of the ledger, however, opinion-makers are now taking note of a changing technical picture to bolster their arguments (See chart below):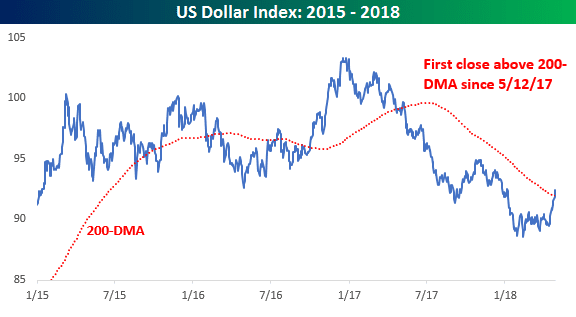 Crossing the 200-DMA has been a year in the making, and it is also easily visible with the eye that, once crossed, it has generally taken six months or more to correct itself. Why is the 200-DMA so important? According to one analyst: "Major MAs such as the 200-day are tough levels to cross – usually – so for the DXY to break so easily above its 200-day MA is a very bullish signal for the Dollar. The reason major MAs present so much resistance is because they are popular indicators amongst both institutional and private investors and thus attract substantially more orders around their vicinity, which markedly changes the balance of supply and demand around them." The only thing to add to this quote is that the "DXY" is the trade-weighted version of the Dollar index. It crossed the 200-MDA ahead of the more moderate USD Index, another strong sign.
It appears that we have a standoff at the moment. Is the U.S. Dollar positioned to go higher, using the last two weeks as a launching pad, or will recent gains melt like snow in the desert, as the greenback jumps off a cliff and plummets to new lows, not seen in over three years? Let's take a look at individual major pairings and see if we can glean any better insights on the question of the day:
EUR/USD – Is the Euro a good buy or is it time to say Goodbye?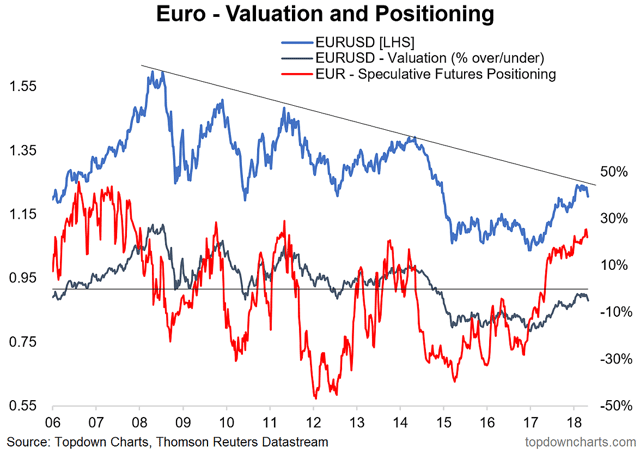 When the road ahead is difficult to discern, it often helps to review longer termed trends to see if something is being missed. With respect to the Euro, it is readily apparent that it is bumping up against formidable resistance in the form of the declining boundary line depicted above. The folks at Topdown Charts developed the Red and Black lines, as noted: "Firstly, that red line is speculative futures positioning (standardized by open interest, shown on the right hand side). Second, the black line is our valuation indicator – showing the extent to which the Euro is over/undervalued against the US dollar."
For those that need a history lesson, the common currency reached its nadir in 2008, peaking at 1.60. It has been downhill ever since, as indicated by the "glass ceiling" downward diagonal line. Yes, the Euro has rallied, whenever exuberance reined and its supporters felt good times were coming. An excellent economic message, however, has never materialized. Major structural issues remain unaddressed by the body politic, and Mario Draghi keeps promising that things are on track without any material follow-through. Analysts are left to ponder that the "technicals" above are problematic.
GBP/USD – Is the story any different with Pound Sterling?
The Pound, across the channel, has taken the brunt of European populism, having had to bear up to a Brexit referendum, now reaping the uncertainty that goes with long and drawn-out negotiations. The picture is not pretty. Yes, there were the old glory days when Cable was soaring around 2.0 versus the USD, but for years, it seemed to be locked between 1.45 and 1.71, until the votes were counted in June of 2016. The support at 1.45 vanished, and we were left to ponder if "parity" with the Dollar was a real possibility. The same had been said about the Euro, but it recovered from the depths.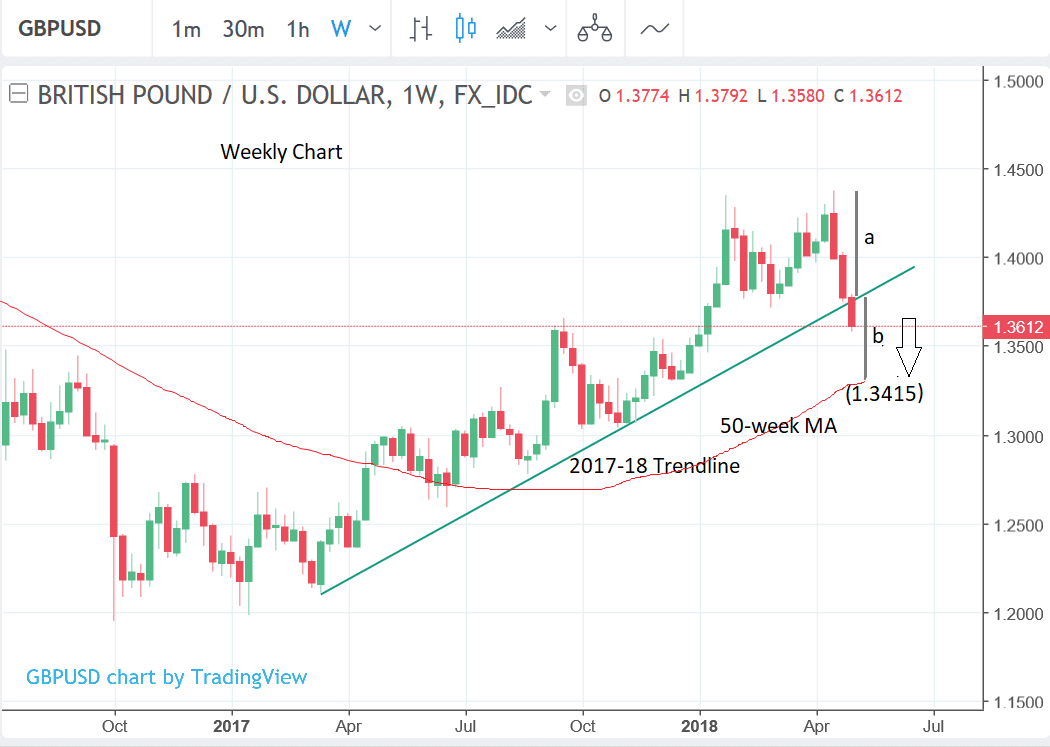 Pound Sterling did eventually bottom out, as is shown in the above chart, a weekly one that starts back in 2017. It, like the Euro, has gradually climbed from the pit of despair to a more respectable level, bouncing off diagonal support, as evidenced by the Green line. Economic data of late has been tepid, and, with Brexit negotiations ongoing, there was nowhere to go but down. Where will it end? Per one analyst: "The outsized decline appears to be running ahead of itself but with no sign of stabilization just yet, further weakness would not be surprising. That said, it is unlikely GBP would be able to maintain its current torrid pace of decline. From here the next level to aim for is 1.3540"
USD/JPY and AUS/USD: Is the storyline more favorable in Asia?
Majors in Asia tend to beat to the China "drum" more so than any other fundamental driver. Japan has always been a unique situation, stuck in neutral since the nineties, forever trying to restore some semblance of economic prosperity and growth. In many respects, Japan has been dealing with the current world conundrum for decades without much success. "Abe-nomics", as it was called, ushered in a breath of fresh air in late 2016 with major QE programs to beat the band. The Yen quickly devalued from 110 to 119. It is currently stuck at the 50% Fibonacci level of that run, eyeing weaker regions.
As for the Aussie, this commodity currency is fully dependent on China's development plans, which seem to be contracting after a year of stimulus, backed by mounting death in the Middle Kingdom. Even Chinese banking authorities have their limits. The Aussie did break through 0.81 in January, but it has been a slow ride down to 0.75, where it presently sits. The outlook is not that favorable, according to this analyst: "The Australian dollar has recovered from the brief push through $0.7480-$0.7500 area which had held last December. That put the Aussie at its lowest level since last June. It is possible that area corresponds to a neckline of a double top pattern (Sept 2017 and Jan 2018 ~$0.8100). If valid, that would suggest a measuring objective near $0.6850 or where it bottomed in 2016."
USD/CAD: With oil prices booming, will the Loonie be the lone wolf?
Canadians are tiring of hearing, "So goes oil, so goes the Loonie", but the maxim is true. Oil prices have been escalating, although plateau-ing of late and taking a breather, as major participants assess their next moves. As you might expect, bankers see a decline coming, while industry insiders are screaming $85 per barrel by yearend. Crude currently sits at $70. The USD/CAD pairing reflects this uncertainty: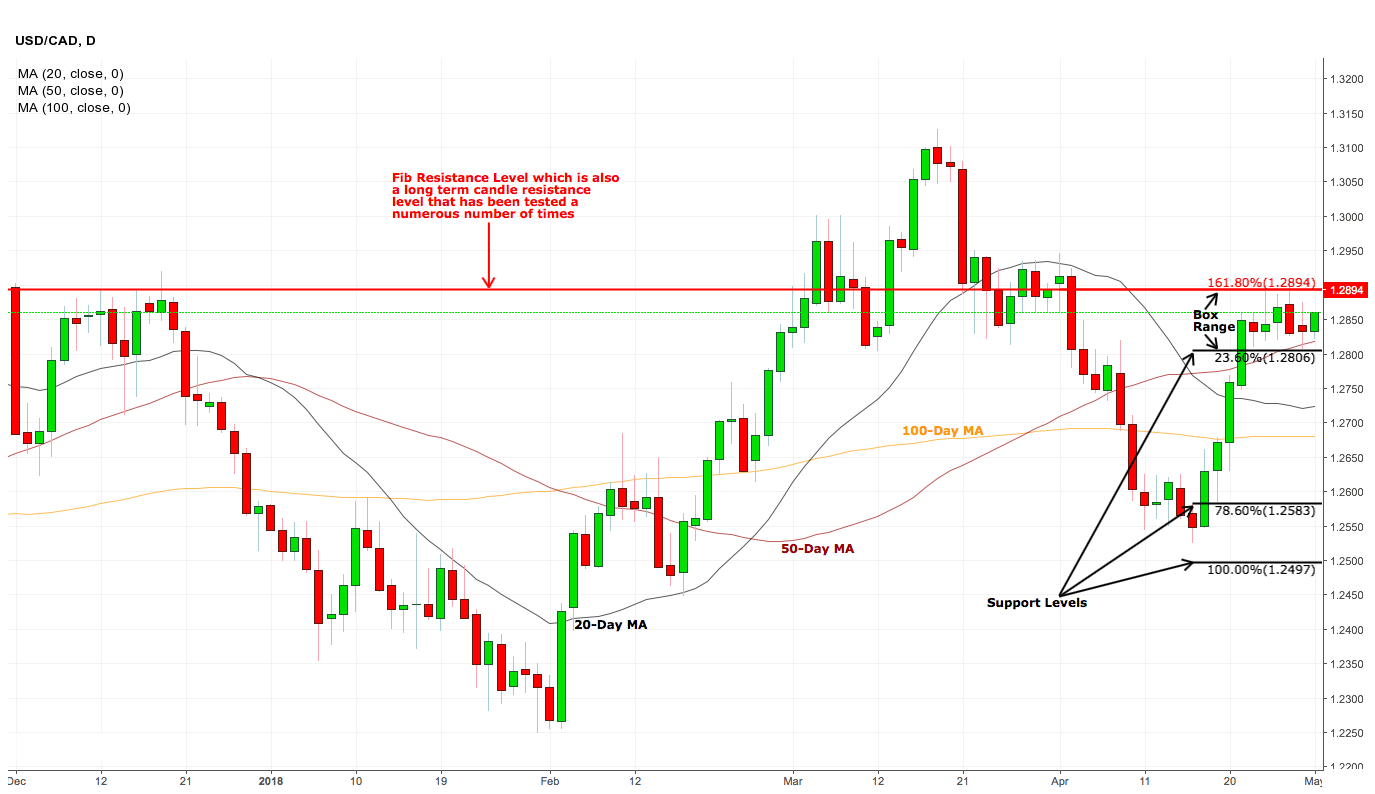 The general direction of moves for the past few months have been to solidify strength versus the USD. It may be that the Loonie is the only major pairing that looks like it can withstand the bluster of greenback support. One insider is positive for the fate of the Loonie: "Overall, I am leaning towards the bears taking the US Dollar for a downward ride soon, and this is fueled by the fact that the technicals and fundamentals support a Canadian Dollar ascent. I say this as we see that there is a large expectation that the Canadian economy shall be rebounding by 0.3% in the February period."
Concluding Remarks
And there you have it – Conservative Bankers are betting that the U.S. Dollar will return to its weakening ways, rewarding Trump with better trade figures while driving commodity prices higher. Investment analysts, however, are in the opposing camp. They do not see a way that any other major, except for possibly the Loonie, can overpower the greenback and send it packing. What will the verdict be? Uncertainty breeds volatility and opportunity, the "perfect storm" of sorts in the trading world.
Get ready for a fun ride!
Are you ready to trade?
Sign up with


80.5% of retail investor accounts lose money when trading CFDs with this provider. You should consider whether you can afford to take the high risk of losing your money.