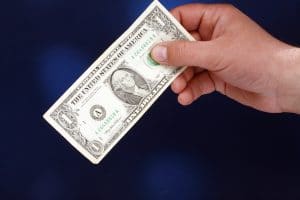 The US dollar appeared to be experiencing a small rise as trading began on Monday – despite seeing significant lows last week.
The dollar index, which measures its performance compared to a variety of other major global currencies, went up by 0.12% as trading opened on Monday morning.
While last week's fears of increased trade barriers did not appear to encourage investors to go for the "safe haven" of the US dollar, it appears that this long-established foreign exchange market phenomenon may now be coming back into play.
On Monday, new 10% tariffs from the US against China on $200 billion worth of goods came into force. China responded by placing tariffs of between 5 and 10% on a whole host of US items, although not nearly as many as in reverse.
Other currencies also returned to form as the week got underway.
Despite a positive run last week, the Australian dollar, which is in many ways a proxy for China given the strong economic ties between the two, lost ground as Monday's trading opened.
The outlook is perhaps worst, however, for the British pound. It went down by more than 1% against most of its major competitors on Friday after Prime Minister Theresa May issued a defiant statement to European Union leaders in the wake of difficulties in the ongoing Brexit negotiations.
Further significant activity from the Prime Minister and the government may be delayed, however, given that parliament is now in recess during the political party conference season. Theresa May's Conservatives will hold their event from Sunday onwards.
More broadly, this week looks set to start slowly and then get increasingly busy.
Three major economies – China, Japan and Australia – have public holidays today, suggesting that activity in the main pairs may be somewhat less buoyant than usual.
The minutes from the Bank of Japan's monetary policy meeting will be out at 11.50pm GMT, though, while month on month Canadian wholesale sales data for July will be out at 12.30pm GMT.
Tuesday, however, marks a return to business as usual on the economic calendar. There'll be an indicator of the state of the US housing market with the S&P/Case-Shiller Home Price Indices for July coming out at 1pm GMT.
With New Zealand's trade balance data scheduled for 10.45pm GMT, Wednesday looks set to be a busy day too.
The most important event of the week, however, looks set to be the US Federal Reserve's interest rate decision, which will come out at 6pm GMT on Wednesday.
Some analysts believe that the Fed may press ahead with a rate rise as indicated in recent months. However, it's not guaranteed – and with increased interference in the Fed's workings from President Trump, any decision made is likely to have political consequences.
On Thursday, preliminary data on Germany's harmonised index of consumer prices for September is out at 12pm GMT, and to round off the week on Friday, information about the country's unemployment rate will be released at 7.55am GMT.