Bitcoin enthusiasts are ecstatic again, as their beloved cryptocurrency is in the midst of printing one more green candlestick for a month. The hue and cry of late had been that a 30%+ correction was imminent. Even Bitcoin's most ardent fans were preparing for the worst, after four brilliant months of positive gains in a row. Bitcoin, however, was having none of that negativity. Over the past weekend, it bolted from its doldrums, bursting through $9,000 several times and knocking down a persistent set of profit-taking orders in the process. The BTC "mojo" is back, and analysts are gaining confidence once again.
The recent assault was a surprise to the crypto community. The group had only just become comfortable with the notion that Bitcoin had finally bottomed out last December at $3,130. January seemed to be shaping up as a return of Crypto Winter, but suddenly Bitcoin was off to the races again, scoring four straight months of gains and now setting a new high for the current year of $9,409. If June continues to be positive, the world's favorite cryptocurrency could post its fifth green candlestick in a row, a feat not accomplished since its Herculean rise in mid-2017 – see chart below:

The crypto analyst community has been enamored with Technical Analysis and the convincing charts that can be drawn from a very limited database of experiential pricing behavior. Cryptos are still in their nascent stages of development. Their digital nature does allow for immediate data collection, but the industry is plagued with issues of fake and over-reported volume from its family of 250+ global crypto exchanges.
As beautiful as many charts can appear and as exacting as their predictions might seem, Bitcoin beats to the sound of its own drum, unlike any other asset class before it. Various chart formations, line configurations, and Fibonacci ratios may suggest time-tested probabilities in opposing asset classes, but Bitcoin and its altcoin brethren rarely follow through as forecasted. Its pricing demographics are unique, and analysts are only beginning to find their way through the "fog", so to speak.
Having said all of this background information, the above monthly chart actually did produce creditable signs of what might come. The "Falling Wedge Pattern", depicted by the two golden lines in the chart, enclosed the period known as Crypto Winter. The "odds" in this situation suggested that a breakout was near, and, due to the length of time that BTC prices had been confined within the wedge, the move would be a very forceful one. The breakout eventually came about in April, a forceful one, indeed.
The inevitable question now is the proverbial "What's next?" The last time Bitcoin went "parabolic", from late 2016 through 2017, there were still three separate months of pullback, a healthy occurrence when old investors exit the fray and new investors, hopefully energized, enter the market to provide fresh blood for the next assault down the road. Why should 2019 be any different?
What are the top analysts saying about the current mood of the Bitcoin market?
In our last article on Bitcoin in May, we highlighted seven individual fundamental forces that were driving the newfound momentum forward. Over the past month, a few more have been added to the list. Trade tensions have re-ignited global fears of an economic slowdown, which could lead to a recession. Chinese investors, impacted by a devaluing yuan in the face of rising tariffs, have sought refuge for their capital.
These geopolitical tensions have revived the notion that Bitcoin is a "store-of-value" and an excellent "hedge" for stock portfolios, as well. Chartists have revealed positive correlations of capital flight with Bitcoin price rises to support this line of reasoning, as well. At the same time, investors, who have been chasing returns for years due to low interest rate environments, have suddenly accepted that Bitcoin is for real and offers an excellent return "hedge" for equities, while also providing a convenient speculative opportunity for the long term. At $9,400, BTC has literally tripled from its December bottom.
Jon Pearlstone, publisher of the newsletter CryptoPatterns, follows the futures markets for insights on future moves in the BTC market. XBT futures, which are cash-settled contracts for Bitcoin, reflect growing institutional support: "The XBT Bitcoin futures were showing some bullish patterns not seen in recent months, and these patterns broke out above the $8600 mark. This is a good indicator that larger Bitcoin traders and investors are showing bullish sentiment which has set Bitcoin up for a test of the key $10,000 level." Bakkt futures contracts that settle "in-kind" are scheduled to begin next month, too, and offer institutional investors the security of leading edge custodial services.
Grayscale Investments, the cryptocurrency asset manager backed by Digital Currency Group and which acquired CoinDesk in 2016, released a report, arguing that bitcoin's potential as a hedge against global liquidity crises has only just begun to be realized by the investment community.
The authors' proposition is that, "Bitcoin ought to be considered a strategic position within long-term investment portfolios considering its transparent, immutable and global liquidity. Bitcoin has a distinct set of properties unlike any other asset, the paper says, which allow it to perform well over the course of normal economic cycles as well as market disruptions".
The "hype" of Facebook's entry into the crypto cross-border payment arena has been stepped up recently, after the social media giant publicly released its plans for "Project Libra". Steven Eliscu from DMG Blockchain explained how FB's Libra would be complementary for the entire crypto industry: "Libra is a boost for the cryptocurrency sector, as it brings to the mainstream its use as a medium of exchange. While bitcoin remains an excellent store of value, bitcoin – as well as most other cryptocurrencies used on public blockchains – are not ideal to be used as a medium of exchange. [But] they will be an ever important asset class that hundreds of millions of people will hold."
From another perspective, Joshua Frank, cofounder of digital analytics platform TheTIE.io, has developed a proprietary measure of investor sentiment. His process is rather complicated, but he essentially collects daily information on social media channels, distills the data down to positive and negative sentiments, then records a "net-share" for the day. To smooth out data anomalies, he then computes a 100-day moving average, thereby producing the following "leading indicator" of sorts: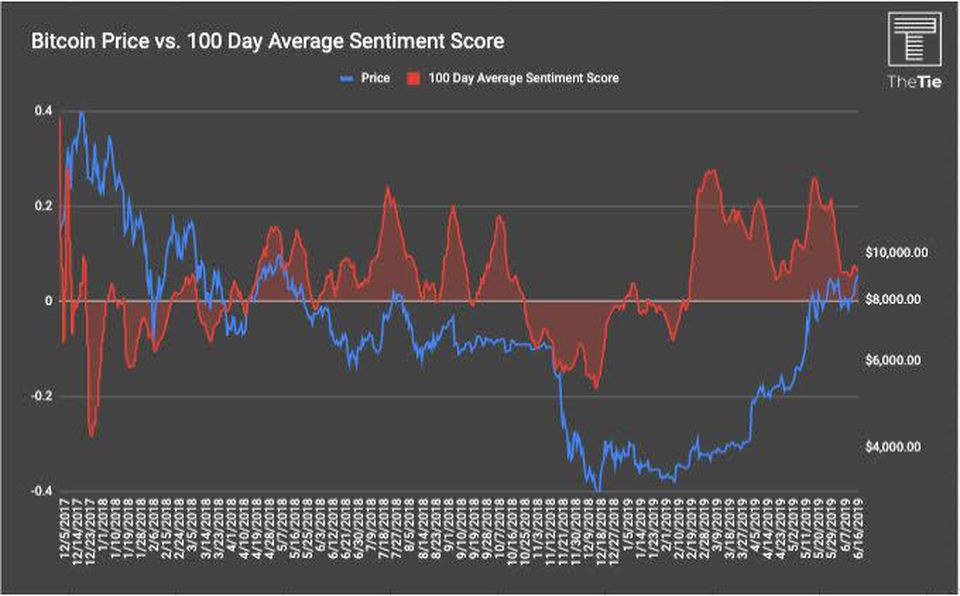 Per Frank: "We are currently [experiencing] the most prolonged period of positive long-term sentiment (100-day moving average) since mid-2017, which led up to Bitcoin hitting $20,000. Bitcoin's 100-day average sentiment score turned positive on February 17th 2019 when Bitcoin's price was at $3,673.11 and has remained positive for 120 consecutive days. Since turning positive the price of Bitcoin has more than doubled."
What about the possibility of a 30%+ correction or setting a new "All-Time-High"?
There are two respected crypto analysts that have spoken to both sides of this question – Josh Rager and Tom Lee. Josh Rager, a respected crypto trader and analyst, was among the first of his breed to note a glaring insight from the Bitcoin historical record: "If history repeats, there should be plenty of strong pullbacks on the way to the next peak ATH [All Time High]. There were at least nine 30%+ pullbacks from last cycle accumulation & uptrend." At least "nine 30%+ pullbacks" you say? Ouch!
Rager has also expressed these additional insights in early June: "If Bitcoin can hold and close above $8200 on the daily chart there is hope that it could continue to push up to $9400+ but I still believe that a strong correction is due. And at this time after the distribution pattern in upper $8ks, the spring above $9,000 with sharp downturn would be a clear sign to me that people have started taking profit prior to the $9400+ level. Everyone was watching $9400+ to start taking profit and because of this, the move came early and it seems that many were front run by whales."
From the other prospective that posits that Bitcoin has miles to go before it sleeps, we have Tom Lee, an accomplished Wall Street strategist and the Head of Research at Fundstrat Global Advisors. As was reported back in April: "Lee was one of the first to assert that BTC had formed a bottom and would eventually take out its all-time high in 2020". He is back in the news, re-asserting his prior forecast and more: "I think bitcoin is easily going to take out its all-time highs of $20,000, and has the potential to run to $40,000 if its use cases grow. We're deep into a bull market, and people are pretty silent about it."
Tom also views Facebook developments as bullish for Bitcoin: "The Facebook announcement is a complete validation that mainstream is now focused on cryptocurrencies. I think it really destroys those arguments that say, 'I believe in blockchain, not bitcoin'. I think it is more targeted at stablecoin and creating a new kind of banking system, and it's very complementary to bitcoin. So I think this is actually a really bullish development for bitcoin. I think it's really bad for stablecoins and anyone who's been trying to do decentralized finance."
Concluding Remarks
Bitcoin pricing behavior continues to astound, amaze, and confuse both its firmest advocates and the analyst community that follows its every move on a daily, if not hourly, basis. Technical analysis seems fruitful at some times, but bereft of accurate predictions the next. After a few more years of trading, a more diverse ownership base, and greater awareness and acceptance, then the historical database may be robust enough to yield more creditable predictions.
As for now, Bitcoin has penetrated the $9,000 level. It continues to chip away at the supposedly large block of profit-taking orders that rest below $9,400. If that thinking is correct, then we are in an accumulation phase, which typically, after the phase is completed, will result in a greater push upward, perhaps to $10,000 and then to new All-Time-Highs in 2020, or so that narrative goes.
The opposite is always a possibility, as well. Regulators are lining up to challenge the anonymity nature of the crypto blockchain, and that issue must be resolved favorably for all good things to happen in the crypto-verse. Crypto exchange executives are headed to Japan later this month to discuss this very issue with G20 financial ministers to attempt to reach some accommodation that is acceptable for all market participants. There will be no "breathing easily" until this primary issue is handled effectively.