Bond markets are on fire, a clear sign that trade tensions are escalating with uncertainty being the watchword. Trade wars have a history of getting out of hand and beyond the ability of the combatants to rein in the chaos that they can cause in global commerce. There is also another major concern. As yields fall, especially on the long end, the fear of the inverted yield curve arises once more from the ashes, signifying that diminishing global GDP growth is a reality and that a recession might be imminent.
Analysts are already talking about 10-Year Treasuries hitting "fresh new lows since 2017" and of the possibility that yields could fall beneath 2% by June, depths that have not been traversed since 2016. A global bond rally is in process, and it has been relentless. Rates recently hit 2.21%, nearly 50 basis points below where they ended last year. The spread between 3-month and 10-year yields has also shrunk to an inverted level not witnessed since 2007, a recession signal that has been spot on in the past.
History demonstrates that GDP growth and 10-Year Note rates are tightly correlated: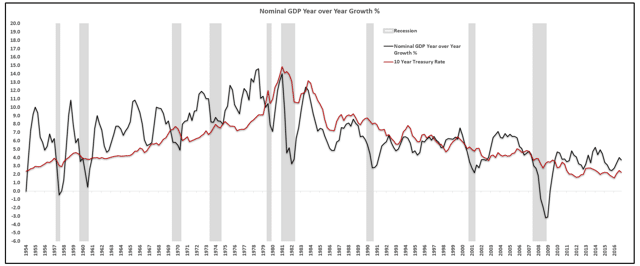 Our bond markets are definitely delivering a clear message that a global business slowdown is in progress. There are other measures that are sending similar messages. Oil prices are off highs. Stock prices are deteriorating. Goldman Sachs recently noted: "As breakeven inflation closely follows market measures of global growth, it has now taken the lead for the recent decline in US rates, which moved lower alongside equities."
And then we have our illustrious central bankers, betwixt and between a monetary policy conundrum – do they raise rates and normalize, or drop rates and become more accommodative? Analysts are expecting Australia's RBA to drop rates multiple times in anticipation of weakening demand for its commodity exports. No one is expecting the Fed's 2% inflation target to be hit either, a sign that a softening is needed. Futures markets have already priced in no less than three cuts in the Fed's benchmark, beginning in Q4 of this year, with two more cuts slated for 2020. The market is speaking, but is the Fed listening?
What fundamental forces are driving this recent price behavior in our markets?
When bond markets react as they recently have, the general message is that there are overarching growth worries. The shift from "risk on" ripples through both stocks and bonds, as capital rushes to change position, with typically a large swath moving to safer havens. The U.S. Dollar and Japanese Yen have been beneficiaries. The reasons most often cited are rising geopolitical tensions related to trade negotiations, whether they be between the U.S. and China or due to Brexit delays.
A few quotes might convey the true flavor of the moment:
John Mason, economist and CEO and founder of New Finance: "Investors in the bond market seem to be forecasting slower economic growth, slow inflation, greater uncertainty in the world, and destabilizing international money flows. And, the bond yields seems to be capturing the investor mood that economic growth is slowing, risk averse money is flowing into safe havens like the United States bond market, and expectations for inflation are falling."
Subadra Rajappa, a strategist at Societe Generale: "The market is coming to the realization that U.S.-China trade negotiations are likely to be protracted. Too much optimism was priced in for a positive outcome, and we are now seeing a gradual unwind of that." She also added that an extended period of capital seeking safe havens could put 2% yields on 10-year notes within "the realm of possibility".
Ray Dalio, famed hedge fund manager, billionaire, and philanthropist: "As I have explained for a while, the US-China conflict is much more extensive than a 'trade war.' It is an ideological conflict of comparable powers in a small world. It's about 1) China emerging to challenge the power of the US in many areas and 2) these two countries having two different approaches to life­ – one that's top down and one that's bottom up. History shows that countries in conflict have seen that such conflicts can easily slip beyond their control."
The Heisenberg Report: "All of that said, and while completely acknowledging that the standoff between Washington and Beijing now threatens to spiral, undercutting the global economy in the process, I would still note that even if things do continue to deteriorate, the recent bond rally has run a long way in a short period of time. Simultaneously, rampant expectations for Fed easing and bets on multiple rate cuts from, for instance, the RBA suggest many market participants are now expecting the worst for the global economy."
So what can be done, knowing that things could "spiral out of control"? Investor sentiment is speaking loudly, almost begging the Fed to take note and reduce interest rates quickly. We are just a few months past its last "pivot", when it heard similar signals and backed off its "hawkish" plan to raise rates even further. The fact that the futures market is already assuming at least three future reductions in the mix may not be enough, however, to goad the Fed governors into action.
Back in February, just three months ago, we wrote: "All bets are off on future interest rate increases, as the Fed takes a wait-and-see approach going forward. Central bankers had recently been changing their collective tone regarding future rate changes, slowly pivoting away from previous hawkish commitments. The message now is to pause, a move welcomed by Wall Street and investors across the globe, but once again the Fed appears to be in a stuck place, without a good roadmap on what next steps should be."
Will a "wait-and-see" approach also mean to "take-action-if-needed"? The yield curve is also speaking rather loudly, as well, our most consistent indicator over decades for predicting an impending recessionary trend. Here is a more sensitive presentation that compares 5-Year versus 3-Month spreads, which is already inverted to the negative: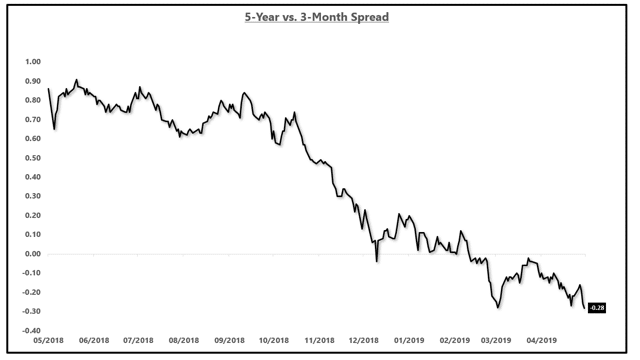 At least no one has to educate the Fed and Chairman Powell about the issues surrounding trade talks and Brexit. His words back in February were already on point: "Financial markets became more volatile toward year-end, and financial conditions are now less supportive of growth than they were earlier last year. Growth has slowed in some major foreign economies, particularly China and Europe. And uncertainty is elevated around several unresolved government policy issues, including Brexit and ongoing trade negotiations."
Concluding Remarks
Stocks are down; bond markets are in turmoil, and yield curves are flattening, if they have not already done so. The messages, if we are listening, are that economic growth is slowing down more rapidly than thought, the possibility of a recession is also higher than once surmised, and central bankers need to act in haste, if they have any hope of controlling the situation. Global trade wars and uncertainty will most probably last longer than anticipated, and their consequences may be broader than previously perceived.
As if it is "déjà vu" all over again, the same that was true three months ago can still be said today: "Something needs to change, but for now the leading central bank of the world has chosen to be "patient". In Powell's own words: "We're in no rush to make a judgment about changes in policy. We're going to allow…the data to come in." Financial markets had been worried for months that the Fed might overshoot the mark in its rush to implement its normalization plans. These concerns now seem to be part of the distant past, as the Fed now appears more than accommodative. And now we wait…"