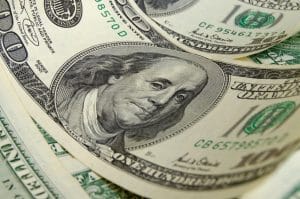 The US dollar continued to flop during trading on Wednesday despite fears around a potential trade war continuing to persist.
Having reached an almost two-month low of 94.308 on Tuesday, the dollar index, which assesses the performance of the currency compared to other major world currencies, rose only by a tiny amount.
Ultimately, it dropped 0.2% and hovered around 94.410. This comes despite the move by the US earlier this week to hit China with more sanctions – a development that usually leads to heavy dollar investment by worried traders.
The victors of yesterday's currency markets were largely the European alternatives to the dollar.
Sterling rose 0.2% against the US dollar on Wednesday, giving pound traders some welcome relief.
Across the sea in Norway, the crown hit its highest point in seven weeks or so against the dollar. This was largely due to suggestions that the central bank in Norway, the Norges Bank, could boost interest rates for the first time in seven years when it meets on Thursday.
Even the euro, which has seen instability in recent weeks, beat the dollar yesterday. It went up by 0.2% and hit $1.17.
Outside of Europe, the Australian dollar also managed to hold water against the dollar. Yesterday, it reached a healthy level of $0.7268 – a sign of growing confidence in the currency, even in the face of problems for its trading partner China.
There's still plenty to keep the forex markets occupied for the remainder of the week too.
Today sees a number of major US data releases, including initial and continuing jobless claims out at 12.30pm GMT.
The Philadelphia Federal Reserve's Manufacturing Survey for September is also out at 12.30pm GMT, and it is expected to show a rise from its last position of 11.9 up to 17.0.
Preliminary consumer confidence data for Europe, meanwhile, will be out at 2pm GMT. It is believed that this could show a slight change from -1.9 to -2.0.
This will be followed soon afterwards by a speech from President Jens Weidman of the German central bank, the Bundesbank.
To round off the day, a series of major Japanese releases will come out between 11.30pm and 12am GMT. The country's national consumer price index for August will be out, and it is expected to show a healthy year-on-year rise from 0.9% to 1.1%.
Data on Japan's foreign bond investments and foreign investment in Japanese stocks will follow shortly afterwards.
Germany will be back in the spotlight tomorrow will a series of data releases scheduled for 7.30am GMT. These include the Markit PMI Composite for September, and specific PMIs for services and manufacturing.
At 8am, these will be followed up by the Europe-wide versions.
Canadian retail sales information for July will make an appearance at 12.30pm GMT. Analysts expect that the month-on-month change will be relatively high, rising from -0.2% to 0.4%.
Expectations for the Bank of Canada's consumer price index, which is out at 12.30pm, go the other way – with the level of change expected to go down from 1.6% to 1.4%.