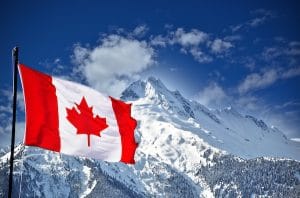 The Canadian dollar saw new highs on Monday after the country finally managed to secure a trade deal with its neighbour the US.
According to the deal, Canada has agreed to in practice place a limit on the number of cars it sells to the US. In return, American farms will be able to reach the Canadian dairy industry more easily.
The Canadian dollar went up by around 0.7% after the announcement and touched its highest place for four months.
The two countries have been stuck in a deadlock for months after the issue of replacing NAFTA, or the North American Free Trade Agreement, showed no signs of resolving itself.
The US and Mexico, which was the other major participant in NAFTA, agreed to a new deal several weeks ago.
Recently, President Trump said that Canada may find itself "out" of the new agreement.
"There is no political necessity to keep Canada in the new NAFTA deal", he said last month. "If we don't make a fair deal for the U.S. after decades of abuse, Canada will be out."
However, CNBC is reporting that one Mexican official now confirms: "We have a trilateral deal."
The new deal suggests that Trump is perhaps more willing to strike deals on thorny issues than his public persona may indicate.
More broadly, the foreign exchange markets are looking as busy as ever as October begins.
Monday afternoon will be dominated by a variety of important data releases, including Markit and ISM manufacturing purchasers' manufacturing index data from the US.
Later in the day, President Rosengren of the Federal Reserve Bank of Boston will give a speech at 4.15pm GMT.
Today is, meanwhile, the first day of the fourth quarter of 2018 – meaning that third-quarter data releases are now on the cards. To that end, a business confidence survey covering the third quarter of the year will come out at 9pm GMT in New Zealand.
Tomorrow's big event, meanwhile, will be the Reserve Bank of Australia's interest rate decision – which comes out at 4.30am GMT. The Bank is expected to hold firm at 1.5%. Australia will also release commodity index data covering September, which is out at 6.30am GMT.
In the afternoon there'll be more US Federal Reserve public events, including a speech from Randal Quarles, the Vice Chair for Supervision, at 2pm GMT, followed by a speech from President Jerome Powell at 4.45pm GMT.
Looking ahead to Wednesday, more Markit PMI data will be out in Europe. Composite Europe-wide data for September will come out at 8am GMT, while information for Britain only will be out at 8.30am GMT.
Australia will be back in the forex news on Thursday with trade balance data, which is out at 12.30am GMT. US factory orders information is out at 2pm GMT and it is expected that the month on month change will rise from -0.8% to +0.9%.
On Friday, finally, US nonfarm payroll data will be released along with average hourly earnings information for September.