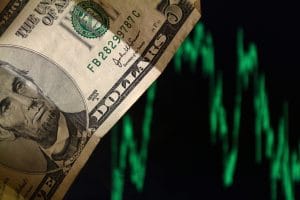 The dollar's spell of positive performance in the forex markets appeared to have come to an end on Tuesday.
The currency saw a decline after global demand for commodities appeared to surge following a rise in the price of crude oil. This often leads to a rise in the value of particular currencies which are linked to the performance of the commodities markets, including the Australian dollar.
However, the US dollar is not one of them. It was also hit by a data release which indicated that durable goods orders were down last month. As a result, the US dollar index – which tracks the currency compared to six other major ones worldwide – saw a small drop in value of 0.05% to 97.001 this morning. Yesterday, it saw a drop of 0.35%.
In other economies, the Canadian dollar went up by over half a percentage point over the course of the night.
Thanks to the performance of the crude oil market, the Australian dollar saw a rise of just under a third over the course of Monday
There's a lot coming up on the economic calendar in the forex markets over the next few days.
Today (Tuesday), there will be a number of important data releases. There'll be one covering British like-for-like retail sales in March, which is due out at 11.01pm GMT. Year on year, this was last recorded at -0.1%.
The day will be rounded off by machinery orders information out of Japan at 11.50pm GMT, covering the month of February. This is expected to show a year on year change from -5.4% to +2.5%.
In terms of central banker speeches, there'll be one from the US Federal Reserve's Richard H. Clarida at 10.45pm GMT. He is the Vice Chairman of the Board of Governors at the Fed.
On Wednesday, French industrial output information for the month of February will be out at 6.45am GMT. Month on month, this is forecast to show a change from 1.3% to -0.5%.
British manufacturing production levels in February will be made public at 8.30am GMT. These are expected to show a change from 0.8% to 0.2%.
Mortgage applications information from the US covering the days around April 5th will be released at 11am GMT.
The European Central Bank will release its interest rate decision at 11.45am GMT. It is widely predicted by analysts that this will not be changed from its current position of 0%.
US consumer price index information for March is due out at 12.30pm GMT. Several versions of the measure will be released, but it is expected that the overall measure will reveal a year on year change from 1.5% to 1.8%.
Later in the day, there'll be several more central banker speeches. At 3.50pm GMT, for example, there'll be a speech from Randal Keith Quarles. He is the vice chair for supervision at the Federal Reserve Board of Governors. At 6pm GMT, Benoît Cœuré – who sits on the European Central Bank's Executive Board – will speak.