There was carnage in the streets. Sellers were in abundance, but buyers were running for cover. No, we are not talking about the British Pound and the ongoing saga of Brexit negotiations. Cryptocurrencies across the board, including Bitcoin, took it on the chin last week, falling nearly 15% in value, as volatility returned after several months of calm. There is a reason why cryptos have been called the most volatile asset class in history, and worldwide investors and crypto zealots were reminded of that fact in quick haste.
The crypto arena has been hot ever since traditional investors jumped in with both feet in early 2017. Virtual currencies are unlike any other tradable item. In some cases, they behave like a security, while at others, just a simple, straightforward currency capable of handling consumer exchanges of value. Daily trading volumes are in the millions or billions, depending on which token you select, but these transactions are primarily of the buying and selling type, not basic settlements for items at the point of sale. Each coin system behaves to the tune of its own nuances related to blockchain technology, and, based on latest estimates, there could be over 1,500 separate programs in existence.
It was nearly ten years ago that Bitcoin became the first crytocurrency to be used to buy something at a retail establishment, and from then on, the industry has catapulted forward despite ongoing wars with banks, government officials, and regulators. Early zealots shouted that Bitcoin would ignite a revolution and replace every fiat currency, along with its central bank, a situation that did not and may not ever come to pass. Up until last week, the entire system, including coin systems, exchanges, and miners, had been valued at over $400 billion. Yes, that is not a typo – $400 billion. IBM is only valued at a tad over $100 billion, to put that figure in perspective.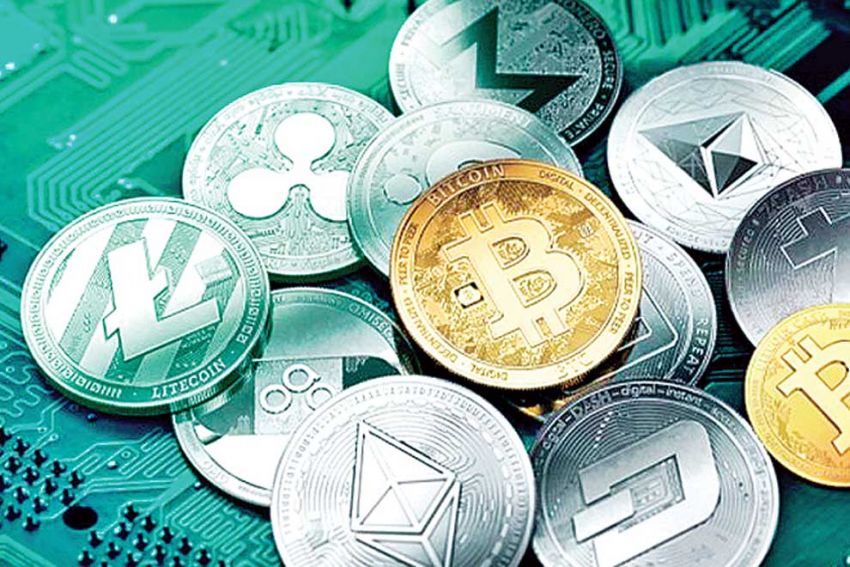 In other words, cryptocurrencies have withstood attacks from every sector that has sought to stop them in their tracks, only to grow stronger. Exchanges have popped up across the globe to support investor demand. Coinbase, the number one exchange in the U.S. market, recently raised $300 million in additional capital, thereby pegging the post-valuation of the firm at $8 billion and propelling one of its co-founders to "billionaire" status overnight. Cryptos are now big money and will not be going away anytime soon.
Governments and regulators are also grudgingly changing their respective tunes, without completely throwing in the title. There are still continuing issues like industry operating standards, pervasive fraud, and, yes, regulatory compliance that must be addressed in due course. In a recent survey, 88% of exchanges would welcome regulatory oversight and the credibility that would soon be conferred system wide, and institutional investors demand such improvements, if they are to enjoin cryptos in any significant manner.
And then "Black Wednesday" commenced and bled into Thursday and Friday. Nearly $30 billion in market cap was shaved from the coin systems alone, dropping it down to the $180 billion territory. It has recovered a bit, but everyone is scratching their heads, wondering what and why such a correction occurred so rapidly and without warning. Will it continue? Will Bitcoin, the bellwether and 53% market share leader of the entire group, penetrate the $5,000 support plateau? It ended the week at roughly $5,500, but here is one chart of the day that summarized the blows taken by the "Top Ten" coin programs: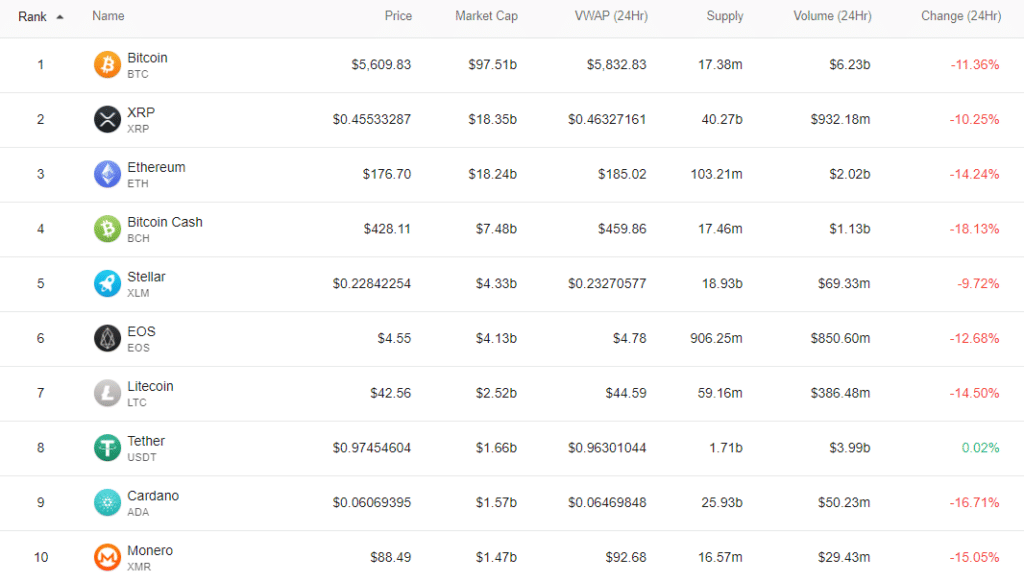 The above diagram is only a summarization for one 24-hour period. Bitcoin fluctuated just below $5,500 for the following two days, but starting Monday, it has begun to test the $5,000 psychological level. It is currently bouncing between $5,100 and $5,300, searching for support. The nature of cryptocurrencies is that they have no intrinsic value, other than what the market supports. Supplies are tightly controlled by mining protocols, such that demand is fluid. The result is the volatility we have witnessed from time to time. This Supply/Demand dynamic does not exist in any other asset class, the reason why several bankers have labeled the entire crypto arena as the greatest Ponzi scheme of all time. As long as investors have faith in the future of cryptocurrencies, then values will find appropriate levels of support.
What are the basics when trading cryptocurrencies?
In order to understand how to invest and trade in cryptocurrencies, one must first be aware that the entire crypto infrastructure has evolved during the past few years. Most all entities are young, independent, and unregulated. Exchanges have popped up in all major jurisdictions to support demand, but traditional brokers are only beginning to join in with this revolution in its infancy. In other words, a "Wild, Wild West" type of situation exists, which demands more due diligence than you would normally expend when selecting a traditional foreign exchange broker.
There are no central trading floors. Each exchange establishes its own prices, based on supply/demand dynamics created by its clients. Liquidity can be a major problem, especially when trading many "off beat" tokens. Coin systems come in two types: 1) Coins that act like a currency for exchange of value; and 2) Initial Coin Offerings (ICOs) that act more like a security in a new enterprise. Both types can be traded on exchanges, as long as you can find an exchange willing to be a market maker for the coin product. Traditional brokers are also entering the fray with trading products of their own, which could be various pairings in a more familiar sense or CFDs, where you can easily go long or sell short a given pairing.
For example purposes, we will focus on Bitcoin. The historical chart depicted below is a weekly chart that uses a logarithmic scale for price with annotations included, which de-emphasizes the asset bubble that burst in early 2018: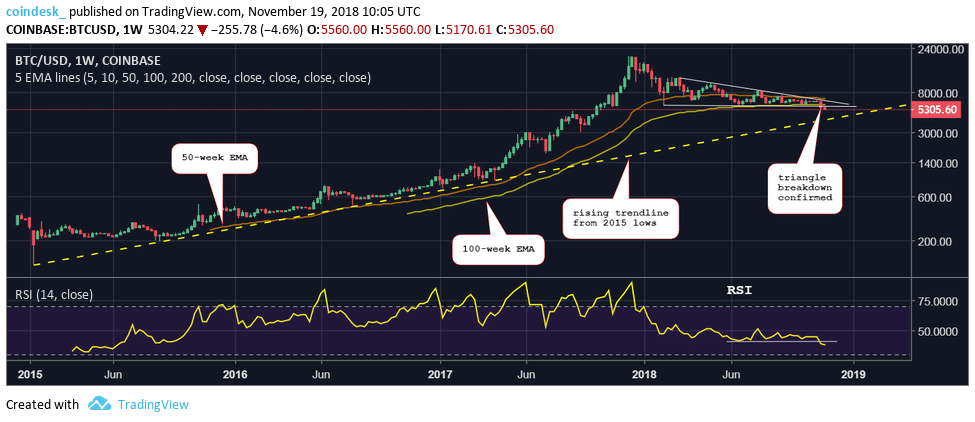 Many analysts have suggested that the converging triangle pattern, noted on the right side of the chart, indicated weakness on the part of BTCUSD (Bitcoin versus USD). In cases such as these, odds favor a breakout in the same direction as previous trends, which have been down. In addition to this opinion, other pundits claim the ongoing "war" within the Bitcoin Cash system has resulted in an uncertain "hardfork", the term given for when software updates do not have unanimous support. Uncertainty generally ignites fear-based selling in any medium, as well as in the crypto space. Lastly, Christine Lagarde, the chief of the IMF, recently espoused the opinion that central banks should control and offer their own versions of digital cryptocurrencies, a shot that signaled that regulatory battles, unfortunately, may be about to resume again.
Traders have tried to use technical tools, such as indicators, patterns, and various line configurations to gain insights on BTC price behavior and on alternative coin systems, but the infancy of the system has limited the benefits of these tools within short-term timeframes. The longer view appears to conform nicely in the above chart, but what is missing is the cadre of fundamental events that have shaped history up until this point.
If you are able to trade with a regulated forex broker in your locale, then so much the better. Regulation does bring the dual benefits of compliance with operating standards and safety of funds on deposit. Many crypto exchanges have been plagued with early software compromises. Millions of dollars in coin value have disappeared through theft, with no recourse by impacted clients. Choose your business partner wisely. It is the first and most important decision you must make before trading in this space.
After making this choice, the same prudent rules apply, as with any other trading pursuit. Trading cryptos is high risk, higher than most all forex currency pairings. Limit your coin choices, and study up on each one. Practice trading on a demo system, and develop an airtight trading strategy that will block any emotional intervention in your online process. Also adhere to wise risk and money management techniques, as well. Casualty rates in this space are high, the reason you must approach the market in a disciplined fashion.
After addressing Market Risk, do not ever forget about Fraud Risk!
If you are already trading cryptocurrencies, then the market just reminded you that volatility never sleeps in this trading arena. Dramatic swings in market prices, both up and down, will be the nature of this market for years to come. Fraud risk, however, has been and remains pervasive in the cryptocurrency field. Operating standards and regulatory oversight, unfortunately, must work through several issues before it can become a reality, although industry leaders foresee the need and would welcome working with regulators to clean up the space.
Experts claim that Blockchain Technology is fraud proof. It is; however, the peripheral infrastructure that connects to this fraud-immune software is suspect and prone to criminal compromise. Every sub-system presents its own avenue for fraudulent access. Within that framework, here is a summary of the many different "flavors" of crypto fraud:
Exchange Hacking: Hundreds of millions of $-losses have been recorded;
Account Takeover: Protect your access keys – Do not put them on a phone;
Mining Fraud: Crooks have raised millions, only to disappear with the loot;
ICO Scams: 9 out of 10 ICOs fail – a heavy proportion are due to fraud;
Trading Support: No one has the greatest trading app for cryptos;
The Big Unknowns: Check your daily news feed for the latest schemes.
Every week brings a new series of arrests, prosecutions, and revelations of clever schemes that have been foisted upon global investors. We live in a high-tech world, and organized crime is definitely equipped with the latest technology. Security and law enforcement professionals will continue to play catch-up for some time to come, meaning that you are your first and last line of defense when it comes to preventing crypto fraud. Stay aware and skeptical at all times!
Concluding Remarks
Cryptocurrency values may have escaped the October bloodbath for stocks and securities, but, for a series of reasons, the Grim Reaper has appeared in November, causing prices across the board to plunge more than 15% in a matter of days. Did you catch the downward trend, or are you still contemplating whether you want to trade in these shark-infested waters?
Whatever your choice, be apprised that fraud is still running rampant in many quarters of the crypto space. New articles appear every week, detailing the misfortune of several unsuspecting participants in the crypto world. Remain skeptical, and, if you plan to trade, always approach the market in a disciplined manner.