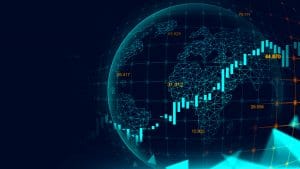 The US dollar managed to secure some small rises as trading began on Thursday.
The greenback had seen lows in recent days, with the dollar index, which assesses the greenback's performance in comparison to several major currencies from elsewhere in the world, hitting its lowest point in nine days. It reached 96.385 at one stage.
However, trouble outside of the US gave it a reprieve in some currency pairs. The GBP/USD pair dropped by 0.4% overnight, for example, given further political uncertainty over Brexit. MPs voted yesterday to rule out a "no deal" scenario, and the future of the Brexit trajectory is now hanging in the balance.
Elsewhere, the Australian dollar dropped 0.2% to $0.7081, continuing an overall trend of low performance for the currency in recent weeks.
The single European currency managed to go in the opposite direction. It went up by about 0.3% and then held firm in the EUR/USD pair at $1.1331.
With the trading week now drawing to a close, there are still some items in the diary to watch out for.
Today (Thursday), there will be a release of data on the price of new homes in Canada covering the month of January. Year on year, this is expected to remain steady at 0% when it comes out at 12.30pm GMT.
Data on the number of new homes sold in the US in January is expected to show a shift from 621,000 to 620,000 when it is released at 2pm GMT.
There'll be another vote on Brexit today as well. The UK's House of Commons will vote on whether or not to request an extension to article 50, the tool the UK is using to leave the European Union. This vote is expected at around 7pm GMT.
At the end of the day, there'll be a speech from Carolyn A. Wilkins, Senior Deputy Governor of the Bank of Canada. She is expected to speak at 10.50pm GMT.
Friday will kick off with a house price index release covering February from China. This was last recorded at 10% and is due at 1.30am GMT.
It will be followed by an interest rate decision from the Bank of Japan, which is due at 2am GMT. This is expected to show no change from its last recorded position of -0.1%.
There'll also be speeches from the Bank's Governor, Haruhiko Kuroda. One speech does not yet have a scheduled time, while he is also due to speak at 8.55am GMT.
At 10am GMT, there'll be an important data release from Europe. Core consumer price index information for February will be out, and it is due to remain steady month on month at 0.3%.
American industrial production figures for February will come out at 1.15pm GMT. Month on month, this is expected to show a change from -0.6% to 0.4%.
At 2pm GMT, the preliminary Michigan consumer sentiment index for March will be out of the US. This is forecast to show a rise from 93.8 to 95.3.