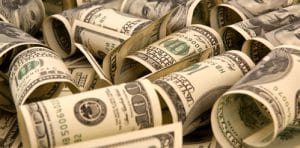 The US dollar is set to round off a mostly successful week in the forex markets today after it rose to one of its highest positions in over two months.
The next challenge for the dollar, however, will be the gross domestic product figures due out later today. With nerves around these figures rising, the dollar index, which compares the dollar's performance to that of several major global currencies, did not rise on Friday morning and sat at 96.56.
It is expected, however, that these figures are likely to be positive in nature – a development which, if it transpires, could end up pushing the greenback to an even higher position.
Whether or not President Donald Trump gives any support to a rising dollar remains to be seen. In the past, he has shown disappointment when the value of it rises.
Elsewhere, the Australian dollar saw a particularly poor performance yesterday after it hit an almost three-year low. It has not been at the position it saw yesterday for over 30 months.
Despite the dollar enjoying a largely positive day, by Friday, the euro was managing to climb slightly against it, reaching $1.1383 at one stage this morning.
As one week ends and another begins, there's a lot for the foreign exchange markets to keep an eye out for.
Next Monday will begin with a number of British data releases. Consumer credit levels for September are expected to go up from £1.118 billion to £1.150 billion, while mortgage approvals are expected to rise from 66,440 to 65,000.
These announcements will be made at 9.30am GMT.
Later in the day will be core personal consumption expenditure information for the US covering September. The year on year change is expected to hold steady at 2%.
Into Tuesday, the main event is likely to be European gross domestic product information covering the third quarter of the year, which is out at 10am GMT.
Later in the day will be important German data at 1pm. This includes the harmonised index of consumer prices for October, which is expected to show a month on month change from 0.4% to 0.1%.
On Wednesday, the German Day of Reformation holiday means that the market there may be slower as a result of closed banks.
Across the rest of the world, however, there's more to watch for. The Reserve Bank of Australia's trimmed mean consumer price index for the third quarter of the year will be out at 12.30am GMT, and the quarter on quarter figures were expected to hold firm at 0.5%.
Overall, general year on year figures are expected to show a slight rise from 2.1% to 2.2%.
Also, on Wednesday will be the Bank of Japan's interest rate decision. Currently, interest rates in the country sit at -0.1%, although analysts are currently uncertain exactly which way, if any, the Bank will go.
On Thursday, the People's Bank of China will also make its interest rate decision and it is again unclear if or how bankers there will adjust the current rate of 4.35%.