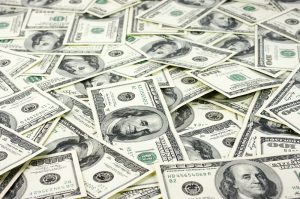 The US dollar was experiencing jitters as trading opened in Asia on Tuesday morning.
Dollar traders are nervously awaiting a decision by the US Federal Reserve on whether or not they will change interest rates. The rate, which currently sits at 2.25%, was for a long time largely expected to be moved upwards at the December meeting, which takes place on Thursday.
However, fears over the extent of US economic growth and worries around the amount and price of US borrowing have led some analysts to expect that the decision may, in fact, be made to halt rate rises, at least for now.
However, any move by the Federal Reserve could significantly affect the dollar, and previous decisions – and the run-ups to them – have had significant impacts on the currency.
On this occasion, the dollar index, which tracks the greenback's performance in relation to that of other major global currencies, was down by 0.4% to 97.08.
Elsewhere, the Japanese yen picked up some gains where the dollar lost and was up 0.3% on the greenback over the course of the day.
The Swiss franc also did well, managing to pick up 0.1%. The British pound held firm at $1.2622 against the US dollar.
There's still a lot on the agenda for those involved in the forex markets to watch out for this week.
Today (Tuesday) will see some US data, including the housing starts information for November, which is expected to show a month on month drop from 1,228,000 to 1,225,000. Building permits for November, meanwhile, are due to show a month on month drop from 1,263,000 to 1,259,000. Both of these figures will be released at 1.30pm GMT.
The New Zealand Westpac consumer survey covering the fourth quarter of the year is due out at 10pm GMT.
Japanese import and export data for November will round off the day at 11.50pm GMT. Exports are expected to drop year on year from 8.2% to 1.8%, while imports are expected to show a month on month decline from 19.9% to 11.5%.
On Wednesday, the retail price index for November in Britain is due out at 9.30am GMT. This is expected to show a slight year on year drop from 3.3% to 3.2%.
Consumer price index data for the same period will be out at the same time. This, however, is expected to show a slight month on month rise, from 0.1% to 0.2%.
Canadian consumer price information for November is expected at 1.30pm GMT. This is expected to show a year on year drop from 2.4% to 1.9%.
All eyes will be on the US at 7pm GMT when the Federal Reserve releases its interest rate decision at 7pm GMT.
On Thursday, the Bank of Japan's interest rate decision is expected. This is expected to be held at -0.1% when it is announced at 2am GMT.
There'll be more interest rate action at 12pm GMT when the Bank of England releases its interest rate decision. This currently sits at 0.75%.