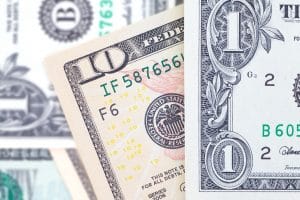 On Wednesday, the US dollar value fell as rumours spread that Canada was ready to make a concession to resolve NAFTA trade talks.
The dollar index, measuring the US currency against six main rivals, was 0.07% down at 95.185.
The dollar traded lower after news leaked about the possible movement in the long-running talks after two Canadian sources said Ottawa was going to make the United States an offer. The concession in negotiations is expected to concern the issue of limited access to the Canadian dairy market.
Canada's dairy industry is protected and that is a major issue in discussions between the countries looking to set up a renewed NAFTA-style agreement.
Meanwhile, concerns over US-China trade tensions have continued, with China likely to ask the World Trade Organization for permission to impose sanctions on the United States. The move expected next week is in response to alleged non-compliance from Washington with a ruling in a dispute revolving around US dumping duties.
Kumiko Ishikawa, senior analyst at Sony Financial Holdings, commented: "Worries about many things are still lingering so it becomes hard to shift to a mood of aggressive risk-taking."
"The dollar/yen rose yesterday, but those gains are gradually coming off as there isn't a lot of appetite to take risk," she added.
China and the United States are the two biggest economies in the world and the trade war that is rumbling on is worrying investors in both forex and stock markets across the globe.
China's offshore yuan saw a slight drop of 0.1% with the USD/CNY at 6.8857, which was a further fall from its two and a half week low of 6.8888.
Australia has a meaningful trade exposure to China so many forex experts look at its performance as a proxy for global economic growth. The country's own dollar dropped 0.3% to 0.7093 against the US dollar.
On Tuesday, it had been near a two and a half year low as concerns grew that if the Chinese economy suffered from a trade war with the US there would be knock-on effects for Australia.
Tokyo branch manager at State Street Bank, Bart Wakabayashi, said: "You can't deny that emerging markets have fallen and that has weighed on sentiment, and that has probably pushed a lot of flows to the U.S. and the dollar."
He added that the turmoil in emerging markets together with trade uncertainties has driven participants into the dollar and the yen.
Elsewhere Turkey's lira remained stable, with expectations of the outcome from a meeting of the country's central bank on Thursday looking towards a possible interest rate increase.
GBP/USD fell 0.2% to $1.3009 after hitting a one month high on Monday, and EUR/USD fell nearly 0.2% to stand at $1.1586.