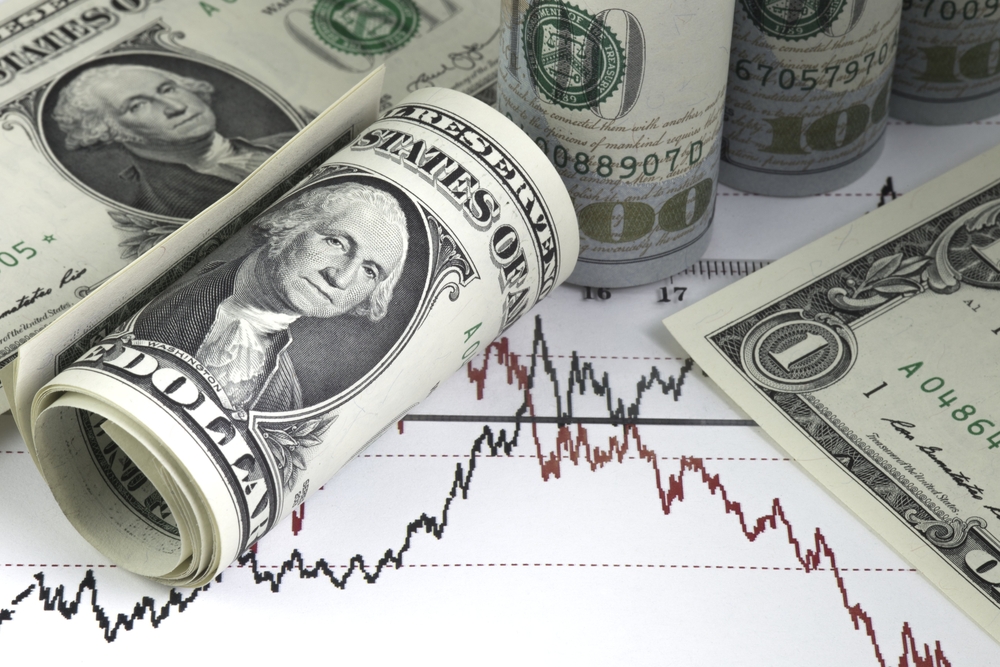 The US dollar saw a day of fluctuation on Thursday and into Friday after a series of ups and downs in the forex trading market.
The currency, which has suffered this week due to a global shift back in favour of more risky assets, rose by a slight amount earlier on Thursday.
This came after a blip on the stock market left the value of some shares down.
It was also fuelled by a decision from the European Central Bank (ECB) to avoid buying up junk bonds.
However, the greenback later dropped due to the "month-end rebalancing" process, which appeared to lead to some traders opting to sell off their dollars.
Overall, the US dollar index – which tracks the greenback's performance compared to a variety of other global currencies – was down by 0.22% at one stage.
It was spotted at 99.27.
This represents a real fall from grace for the greenback, which had previously been seen at its best position in over three years just last March.
Then, it was spotted at 102.99.
It reached this high point at a time when central banks across the globe were rolling out a range of economic stimulus packages designed to help countries deal with the economic fall out of the coronavirus crisis.
Even beyond the ECB's decision, however, central banking remained in focus as the last day of forex trading occurred in one of the most unusual Aprils on record.
The Federal Reserve, which is the US central bank, announced on Thursday that its so-called "Main Street Lending Program", which is designed to provide coronavirus-related finance to small and medium-sized enterprises, would be extended further.
This came after the central bank announced on Wednesday that it would hold interest rates in their current low position.
Friday afternoon looks set to be fairly busy in the forex markets, and the US is likely to remain in focus.
A series of ISM manufacturing indices for April will be out at 2pm GMT.
One of these will be the employment index, which is set to show a change from 43.8 to 37.
The purchasing managers' index (PMI), meanwhile, will be out at the same time and is expected to show a change from 49.1 to 36.9.
Looking ahead to Monday of next week, in China there will be a manufacturing PMI release from Caixin, covering April.
This is due to come out at 1:45am GMT and is set to show a change from 49.4 to 50.3.
In the afternoon, US factory orders data for March is expected at 2pm GMT.
This looks set to show a month on month change from 0% to -9.5%.
Trading volumes may be thinner in Japan over the coming days due to a series of bank holidays.
One of these will be Children's Day, which is scheduled to take place on Monday.
Constitution Day, meanwhile, is set to take place over the weekend.