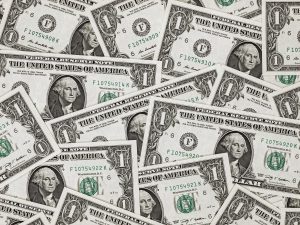 The greenback ended last week on a high note after a set of positive statistics on employment in the country.
According to statistics from the US Department of Labor, the nonfarm payroll level went up by 201,000 in the month of August.
Wages were also on the rise, with the average pay per hour going up by 2.9%.
This new confidence in the US economy led to the dollar rising against its competitors. The dollar rose 0.29% against the Japanese yen, while the euro declined by 0.5% compared to the dollar.
Positive economic news can in itself be enough of a reason for traders to focus their investments in a country's currency. However, in this case, the rise likely came from the fact that it will fuel the Federal Reserve to stick to its interest rate raising plans.
Trade, however, continues to dominate the international forex agenda. US President Donald Trump said that he was willing to add several hundred billion dollars' worth of tariffs on to Chinese goods. "The $200bn we are talking about could take place very soon depending on what happens with them. To a certain extent it's going to be up to China," he told members of the press. "And I hate to say this, but behind that is another $267bn ready to go on short notice if I want. That totally changes the equation."
This is unlikely to affect the dollar. The potential imposition of trade barriers often leads to the greenback rising in value rather than dropping, as the US dollar becomes a relatively safe destination for investment.
However, other currencies tend to lose – especially when China is involved. In Australia, which is a big Chinese trading partner, the country's dollar dropped to a two-and-a-half year low point.
This week is full of activity on the international forex trading front.
Monday sees a number of important releases in Britain, including industrial and manufacturing production figures for July as well as trade balance data – and, importantly, gross domestic product information.
On Tuesday, there'll be important monthly inflation data from New Zealand as well as business conditions and confidence information from the National Australia Bank.
Eyes will move back to Britain on Tuesday too, where average earnings data for July will come out.
Canadian housing starts data for August will be revealed at 12.15pm GMT, while over the border in the US this will be followed by wholesale inventories and crude oil stock data.
On Wednesday, industrial output data for Italy will be revealed as well as industrial production information for the whole of the EU.
American producer price index information for August is out at 12.30pm, while the Federal Reserve's "Beige Book" report, which looks at economic conditions in regions across the country, may give some clues as to the American central bank's next policy move when it comes out at 6pm GMT.
Finally, on Thursday, there'll be a batch of Australian employment data, including both part time and full time data, out at 1.30am GMT.