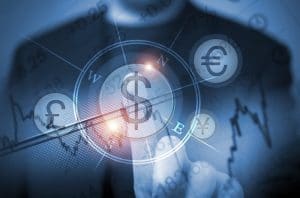 The US dollar once again managed to hold firm as the foreign exchange markets responded nervously to indications that a trade war could be back on the horizon.
The dollar index, a tool used to measure the performance of the greenback in relation to other currencies across the globe, went up to 97.42 – meaning it is close to its year-high of 97.69.
This comes after Donald Trump suggested that higher tariffs on Chinese goods were likely in the coming weeks and months. A rise from 10% to 25% is expected.
It also follows after the Vice Chair of the Federal Reserve, Richard Clarida, said on Tuesday that more interest rate hikes were still a good idea – provided that US economic data supported such a move.
For the most part, the dollar's rise spelled problems for other currencies. The Japanese yen didn't manage to secure any gains against the dollar and is currently near its two-week low point.
While the EUR/USD pair did manage to see a small rise, this was only of 0.07% – and in the context of its value dropping by 1.5% overall in recent times, this rise is negligible.
Today sees a variety of important events for forex traders to look out for.
At 1.30pm GMT, the US core personal consumption expenditure statistics will be released. These preliminary, annualised figures cover the third quarter of the year, and are expected to show no quarter on quarter change and remain at 1.6%.
New homes sales data for October will be out at 2pm GMT. Month on month, this is expected to jump from -5.5% to +3.7% – a development which, if it transpires, would be a major indicator of health in the US economy.
Mark Carney, the governor of the Bank of England, will speak at 4.45pm GMT. While, at 5pm GMT, his central banking counterpart in the US, Federal Reserve chair Jerome Powell, will also speak.
A series of Japanese data releases will round off the day. Foreign investment in Japanese stocks covering the period around November 23rd will be announced at 11.50pm GMT, while retail trade levels for October are expected to jump from 2.2% to 2.6% when announced at the same time.
Into tomorrow, Australian data on business confidence, activity outlook and more from the ANZ bank will be out at midnight GMT.
Retail sales information from Spain covering October will be out at 8am GMT, as well as the consumer price index for November. More potentially euro-shifting information comes at 10am when Europe-wide consumer confidence figures for November come out. These are expected to stay at -3.9.
American core personal consumption expenditure data released from the US Bureau of Economic Analysis is due at 1.30pm GMT. This is expected to drop slightly, from 2% to 1.9%. The minutes of the US Federal Open Market Committee are due at 7pm GMT as well.
On Friday, the markets will no doubt be sensitive to the G20 meeting bringing together leaders from around the world.