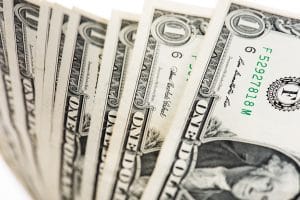 The US dollar's customary position as a "safe bet" currency looks to be under threat following a poor performance in yesterday's trading.
The dollar index, a measurement comparing the greenback to a basket of other currencies, dropped to its worst point in around six weeks on Tuesday at 94.35.
This comes after Donald Trump continued his programme of relentless tariffs on China, with a further $200 billion dollars' worth of imported items now facing levies.
One indicator that the safe haven status is over for now lies in the fact that currencies which are typically seen as riskier compared to the dollar found themselves performing well. The Australian dollar, for example, went up 0.3% yesterday.
However, there may be broader reasons for investor concern over the dollar. Last week, for example, the country's consumer price index release showed that inflation is slowing down – with the rise for August sitting at just 0.2% rather than the widely predicted 0.3%.
The foreign exchange calendar continues to look busy today and over the remainder of the week.
Today sees a big range of US data releases, all of which have the potential to affect the performance of the dollar. The housing industry will be under the spotlight with releases on building permits, MBA mortgage applications and housing starts all coming out.
Over in Europe, a speech by the European Central Bank's President Mario Draghi will be received with interest. While the ECB is not expected to boost rates until 2019, any indication of a potential plan will be noted by euro traders.
This evening will see a gross domestic product (GDP) data release in New Zealand for the second quarter of 2018. It is expected that the quarter on quarter change will be a positive one, with the figure rising from 0.5% to 0.8%.
Looking to tomorrow, meanwhile, Japanese yen traders will be keeping an eye on the internal leadership election in the governing Liberal Democratic Party. Incumbent leader and Prime Minister Shinzo Abe is seeking another term against his rival Shigeru Ishiba. Mr Abe is considered the favourite.
Also, on the cards tomorrow is an interest rate decision from the Swiss National Bank. The bank is believed to be ready to hold rates at their current position.
Following that will be a series of employment statistics from North America. The US' continuing jobless claims will be out at 12.30pm GMT, and it's expected that they will have risen somewhat from 1,696,000 to 1,705,000.
Over the border in Canada, employment change figures for August will be out at the same time.
On Friday, Canada will be in the news again with major releases like the core consumer price index for August and retail sales data for July.
Friday will also see Markit data releases in Europe, including preliminary manufacturing and services PMI for September released at 8am GMT.
This will follow French gross domestic product changes for the second quarter of 2018, which is out at 6.45am GMT. It is expected that this will hold steady at 0.2%.