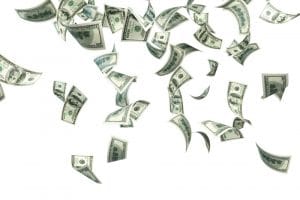 The US dollar suffered a little as global forex markets opened on Wednesday.
Risky currencies were on the rise in the dollar's wake, however, largely as a result of the news that trade talks between the US and China were planning to continue for an unplanned third day – suggesting that developments in neutralising their ongoing trade battles could be on the horizon.
The Australian dollar, which is often seen as deeply linked to the fortunes of China, went up by 0.2% against the US dollar to $0.7152.
Another success story as trading began was the euro. Despite warnings earlier in the week that an economic slowdown in Europe may be on the cards, the currency managed to rise by 0.2% and reach $1.1457.
The British pound, which has suffered in recent months due to Brexit, went up by 0.2% to $1.2742 – even in the face of Prime Minister Theresa May losing a vote in the House of Commons yesterday on an amendment related to the UK's withdrawal from the EU.
The US dollar index, which tracks the currency compared to six other international currencies, went down 0.1% and reached 95.787.
As the midweek point arrives, there's still a lot on the economic calendar for traders to deal with.
Today (Wednesday) sees a key announcement from the Bank of Canada on its future interest rate. It is likely that decision-makers at the Canadian central bank will hold rates where they currently are at 1.75% when the announcement occurs at 3pm GMT.
There'll be more central bank action at 3.30pm GMT when the Bank of England's Governor Mark Carney speaks, and at 7pm the Federal Open Market Committee releases its meeting minutes.
Into tomorrow, the European Central Bank (or ECB) will release its monetary policy meeting accounts at 12.30pm GMT.
This will be followed in the US by continuing jobless claims for the week of December 28th, which are out at 1.30pm GMT. These are expected to change from 1,740,000 to 1,714,000.
The initial jobless claims figures for the week of January 4th are also due at this time. These are expected to go from 231,000 to 225,000.
All eyes will be back on American interest rates later in the day as the Federal Reserve's chair, Jerome Powell, speaks at 5pm GMT.
The day will be rounded off by some Japanese data releases as well, which are due at 11.50pm GMT. These include overall household spending for November, as well as bank lending for December.
On Friday, Spanish consumer price index figures for December will be out, as will Italian industrial output figures for November.
At 9.30am GMT there'll be a manufacturing production release covering November in Britain, as well as industrial production information and total trade balance data.
British gross domestic product figures for November are also expected then, and they are due to remain firm at 0.1%.
At 1.30pm GMT, American consumer price index information for December (excluding food and energy) is due. This is forecast to show a rise from 2.1% to 2.2%.