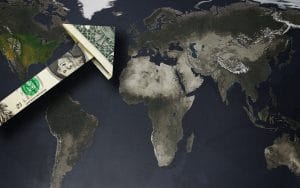 The US dollar surged ahead in the forex markets yesterday after the remainder of the international market took a hit.
The currency rose by 0.4% to 95.048 on Monday afternoon, prompting analysts at BNP Paribas to alter their forecasts for major competitor currencies such as Britain's pound and the Euro.
The resurgence of the dollar was caused in part due to changes in the global political and economic situation.
The Euro took a hit when Germany's Chancellor Angela Merkel was placed in political crisis after one of her key ministers, Horst Seehofer, threatened to resign over the impact of the migrant policy.
The value of the Euro dropped by 0.6% to $1.1615.
Since then, Merkel has secured a deal with Seehofer to increase border control with neighbouring Austria, giving the Euro some hope as the week progresses.
"After intensive discussions between the CDU and CSU, we have reached an agreement on how we can in future prevent illegal immigration on the border between Germany and Austria," Seehofer told the press.
The dollar's status as a "safe" currency for investors also experienced a boost against the Japanese yen following the release of manufacturing statistics in Japan.
The country's central bank, the Bank of Japan, released its Tankan business sentiment survey, which revealed that Japanese manufacturers did not feel quite as buoyant as they previously had.
By the end of the day, the dollar was equivalent to 111.06 yen – its highest position in over a month.
The dollar's resurgence was also partially caused by domestic factors as well. Monday saw the release of a manufacturing index from the Institute for Supply Management, and it gave a positive reading of 60.2.
Another set of statistics, this time on American construction spending, showed a rise of 0.4% in May, giving further confidence to dollar traders.
Looking ahead, the next significant moment for the greenback is likely to come towards the end of the week.
On Friday, President Trump's tariff deadline on China expires. This means that $34bn in tariffs against Chinese exports will kick in, and this could have a profound impact on the international currency markets.
Statistics on Chinese manufacturing reveal that there has been a slight drop in activity in the run-up to the introduction of the tariffs, and the value of the Chinese renminbi currency also fell to its lowest point in over half a year.
In addition, the value of the Chinese stock market decreased by 2.5%. Trends which, if they persist, could continue to spell good news for the dollar.
The dollar also performed well against currencies outside of Europe and Asia. In Canada, the local dollar fell by 0.3%, although trading there was affected by the Canada Day holiday. The Australian dollar also lost half a percentage point of value compared to the American dollar.