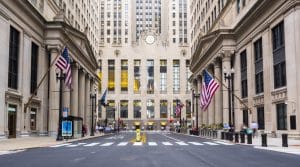 The US dollar enjoyed a spike in its fortunes on Thursday after a leading member of the Federal Reserve set out a relatively positive view of the economy's performance.
Charles Evans, who is the President of the Federal Reserve Bank of Chicago, said that interest rate rises could end up becoming necessary in order to place some controls on how fast the US economy is growing.
"It would not surprise me at all if we make a judgment to move to a somewhat restrictive setting," Evans said.
He also said that it seemed reasonable to assume that there would be upward adjustments to the interest rate at least once or possibly even twice over the course of the rest of the year – a view that is also held by many other market participants.
As a result of the developments, the dollar index, which looks at the currency's performance compared to a sample of six other major currencies from across the globe, rose to 95.6210. It had previously been much closer to the 95 end of the scale.
This came after a relatively bad week for the dollar, in which it suffered at the hands of good economic data releases coming out of China.
The economic calendar for next week, meanwhile, contains a number of significant events, data releases and more for forex brokers to take into account.
Given the interest expressed in Chinese data releases this week, it's likely that the markets will take note of further Chinese information due to come out on Monday. New loans data for July is expected to be released, for example, while foreign direct investment figures for the same month will also be revealed.
Monday also sees further news from the eurozone as the Italian consumer price index for July comes out at 08:00 GMT.
It is on Tuesday, however, that we will see the bulk of the week's early economic calendar activity. Germany's gross domestic product (GDP) for the second quarter and harmonised index of consumer prices information for July are out that day, while the business conditions and confidence data from the National Australia Bank is also likely to affect the markets.
Even more Chinese data comes out on Tuesday. Retail sales information for July will be interesting, as will the industrial production figures for the same month.
Britain will also have some figures out on Tuesday, including its ILO unemployment rate for June.
Looking ahead to Wednesday, the forex markets will need to contend with holidays for Assumption Day in major European economies like France and Italy.
Wednesday will see more British data being released, including July's retail price and consumer price indices.
After following this week's Reserve Bank of Australia interest rate decision, Asia-Pacific watchers will note that there are several major releases due from Australia on Thursday. These include the unemployment rate in the country for July, which in previous months has sat at above 5%. Also released will be employment change information for July and consumer inflation expectation data for August.