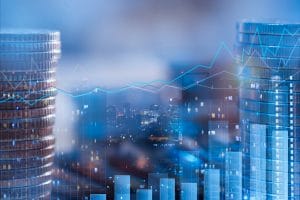 The US dollar managed to secure high rises despite negative performance in data releases at the start of the week.
Information released overnight on Monday into Tuesday showed that the March sale levels of existing residential properties in the US went down by a higher percentage than analysts had forecast.
Yet despite this, the US dollar index – which monitors how the greenback is performing compared to several other major worldwide currencies – went up to 97.39. It is now close to the 97.71 position which it last reached in early March.
The rise came in part due to 10-year US Treasury yields going up by over 20 basis points across the course of the preceding month or so. They are now at a one-month high.
Elsewhere, the dollar went up compared to the single European currency. The euro declined to $1.1243 in the EUR/USD pair.
Despite uncertainty continuing around Britain's exit process from the European Union, the pound managed to rise over the course of the day. It went up to $1.2986 in the GBP/USD pair.
There's a lot for foreign exchange traders to keep their eyes on as the trading week continues.
On today's (Tuesday's) economic calendar, American home sales figures are due out in the early afternoon.
The overall housing price index for February is due at 1am GMT and is expected to show a month on month change from 0.6% to 0.3%.
New home sales information for March will be due at 2pm GMT. Month on month, this is expected to show a change from 667,000 to 650,000.
Early European consumer confidence data is due at 2pm GMT as well. This is expected to show a change from -7.2 to -7.1.
Into Wednesday, German IFO business climate information for April is due out at 8am GMT. This is expected to show a change from 99.6 to 99.9.
British public sector net borrowing information for March is due out at 8.30am GMT.
The Bank of Canada will release its interest rate decision at 2pm GMT. Analysts forecast that the bank will hold the decision firm at 1.75%.
This will be followed at 2.15pm GMT by a press conference discussing the move.
On Thursday of this week, meanwhile, unemployment figures will come out of the US at 12.30pm GMT.
Initial jobless claims for the dates around April 19th are due and were last recorded at 192,000. Continuing jobless claims for the previous week are expected. These were last recorded at 1,653,000.
US durable goods orders from the month of March are expected out at 12.30pm GMT. This measure is forecast to show a change from -1.6% to +0.4%.
Later in the day, Japanese unemployment rate figures for March are due at 11.30pm GMT. This is expected to show a change from 2.3% to 2.5%.
The Tokyo consumer price index excluding fresh food is expected at 11.50pm GMT. This metric, which covers the month of April, is expected to show no change from 1.1% year on year.