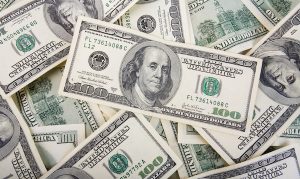 The US dollar has risen a little following a significant decision by the country's monetary policy authorities to push up interest rates again.
The Federal Reserve, the US' central bank, decided to raise the rates for the third time this year, and they rose to 2.25%.
They have been going up and up since 2015, where they sat at around zero following the financial crisis.
In early trading, the dollar index, which monitors the greenback's performance compared to six other significant international currencies, went up by 0.1% to 94.293.
The Fed's move was not enough to guarantee the dollar a strong performance across the globe, however.
The USD/JPY pair barely moved, with the greenback hovering at its recent level of 112.73 yen.
The Fed also left clues that it would push up rates for a fourth time when it meets in October, as well as three further rises in 2019 and another one in 2020.
Some question marks were raised over whether this would actually happen. The Fed, which has previously used the word "accommodative" to describe its intentions, did not use it on this occasion – leading some to speculate whether this meant further rate rises may be at risk.
However, the Fed's chair, Jerome Powell, said in a subsequent statement that plans could still be considered accommodative.
The foreign exchange markets have a busy few days to come at the end of this week.
Today will see a range of European data releases, all of which could have an effect on the euro's position. Services sentiment data for September will be out at 9am GMT, while industrial and consumer confidence information will be out at the same time.
Joblessness claims both initial and continuing in the US will be out at 12.30pm GMT, while second-quarter data for core personal consumption expenditures will come out at the same time. This is expected to hold steady at 2%.
American pending home sales data for August will follow at 2pm GMT. The day will be rounded off by a speech from Bank of Canada governor Stephen Poloz at 9.45pm GMT.
Japan will dominate global forex news headlines later in the day with a range of major releases scheduled. The Tokyo consumer price index for September (excluding food) will come out at 11.30pm GMT, while the unemployment rate for August will be revealed at the same time. It is expected that this won't change on its previous status (2.5%).
Looking to Friday, the day will begin with further Japanese releases at 5am GMT, including housing starts and construction orders data for August.
Spanish gross domestic product information for the second quarter of 2018 will be out at 7am GMT. This is expected to dip quarter on quarter from 0.7% to 0.6%.
British gross domestic product data for the second quarter, which follows at 8.30am GMT, is expected to stay the same at 0.4%.
At 12.30pm GMT, meanwhile, American personal spending data for August will be out with a dip from 0.4% to 0.3% expected.