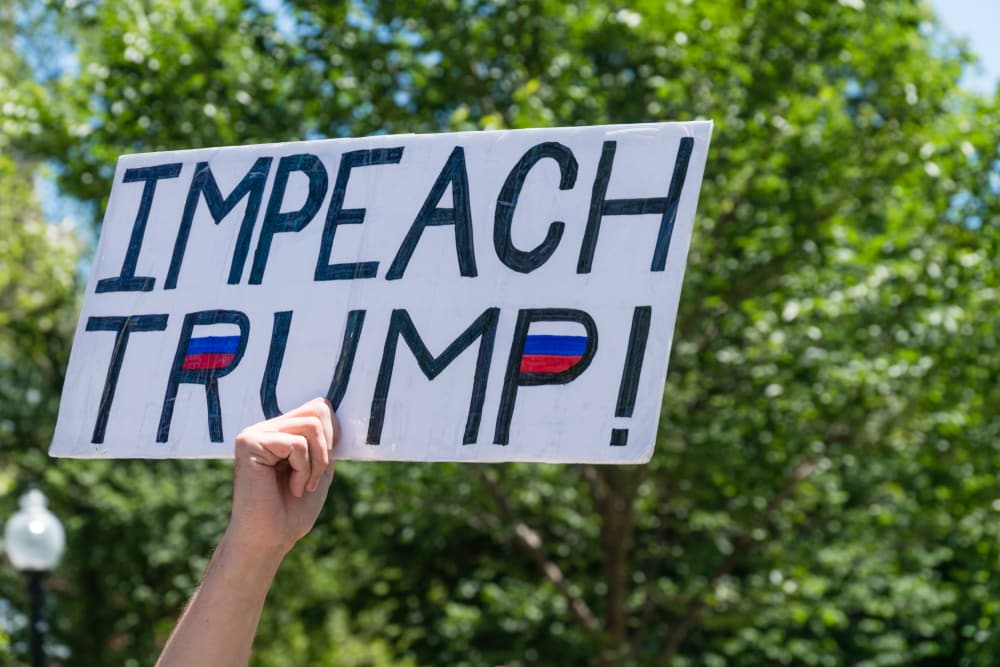 The US dollar was strong on Wednesday despite one of the most significant days in recent political history being set to occur.
Wednesday looks set for there to be a vote in the House of Representatives, which is the lower chamber of the US Congress, on whether or not to impeach President Donald Trump over what they claim are crimes related to his dealings with Ukraine.
The House, which is controlled by Trump's opponents the Democratic Party, is all but certain to vote in favour – meaning that Trump will become just the third US president in history to be impeached.
The most recent president to be impeached was Bill Clinton.
However, the Senate – which is controlled by Trump's Republican Party, and who would have to vote in favour of the move in order for Trump to be forced out of office – is expected to acquit him in a trial in early 2020.
This did not seem to have any effect on the US dollar, however.
The dollar index, which monitors how the currency is doing compared to six others from across the globe, went up to its highest point in six days at 97.343.
Some of its competitors declined in relation to it as well.
The single European currency, for example, was down by a fifth of a percentage point, and reached $1.1132 at one stage.
The dollar also managed to hold on despite a new setback for free trade.
It was announced on Tuesday by US Trade Representative Robert Lighthizer that the US was debating whether or not to hike up tariffs on a number of goods from the European Union.
It is considering doing so to tackle what is perceived by the US to be a bad trade deficit between the country and the wider continent.
While the US appears to have got over the worst of its problems with China thanks to a preliminary trade deal, there are still fears in many quarters that the US will increase the level of anti-free trade measures it takes elsewhere.
In other economies around the world, the pound appeared to continue to suffer following the fallout from Prime Minister Boris Johnson's announcement that he would treat the end of 2020 as the ultimate Brexit deadline.
This has created some perceptions that a hard Brexit, or a no deal Brexit, could occur – with many now worried.
This rekindled uncertainty, which came after a decisive win for Johnson last week in the general election, caused the pound to slide.
It was down by 0.3% in the US dollar pair and was seen at $1.3099 at one stage – although even that was an improvement on $1.3074, which was its worst position since the election result was announced.
The New Zealand dollar also did badly, perhaps due to renewed fears around whether or not free trade can be preserved in the long term.
It was at its lowest position for a week against the US dollar and was seen at 0.6555 at one point.