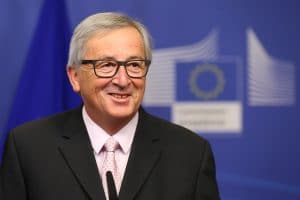 The US dollar suffered a forex market setback on Wednesday after President Donald Trump agreed to a major tariff reduction plan with European leaders.
Despite threats in the past that he would levy a 25% tariff on car imports from Europe, Trump appeared to go back on that during the meeting with Jean-Claude Juncker, the President of the European Commission.
"We agreed today, first of all, to work together toward zero tariffs, zero non-tariff barriers and zero subsidies on non-auto industrial goods," President Trump said after the discussions.
"We will not go against the spirit of this agreement unless either party terminates the negotiation," he added.
The EU, for its part, said it would boost the amount of liquid natural gas and number of soybeans it bought from America.
Juncker, who is from Luxembourg but whose role at the European Commission covers the whole of the European Union bloc, emphasised that both Europe and the US would "hold off on other tariffs" during further negotiations.
The USD/EUR pair declined in value after the news broke, with the euro going up in value to $1.173 – a rise of 0.4%.
The dollar's performance against the basket of six currencies also dropped by 0.44%. However, this basket is particularly sensitive to the performance of the euro, which potentially skews it.
However, the dollar also dropped in value against other major currencies too, suggesting that the deal with Europe was having wide-reaching effects.
The USD/JPY yen pair, for example, fell by 0.24% to 110.92 yen, a move which was also in part fuelled by the possibility that the Japanese central bank may slash some of its monetary policy stimulus plans.
And in China, where US tariffs have also been a hot issue, the offshore yuan was able to make some gains following the news that trading with America was about to become a little easier.
China and the US have been engaged in a trade battle for several months now, and each side has levied tariffs of $34bn on one another's key imports.
As the end of the week approaches, there are still some critical events to look out for on the economic calendar.
Thursday afternoon will see a range of data coming out of the US, including statistics on durable goods orders for June as well as the June goods trade balance.
In Europe, meanwhile, Thursday will see a range of key European Central Bank moves including an interest rate announcement, deposit rate decision and monetary policy statement.
On Friday, producer price indexes are on the cards from Australia and Italy, while second quarter gross domestic product data will come out of the US.
Next week also brings a range of events to watch out for. Month-on-month personal income figures in the US are due on Tuesday, while the Bank of England will release its interest rate decision in Britain on Thursday morning – a move which is likely to be watched particularly closely by forex investors.