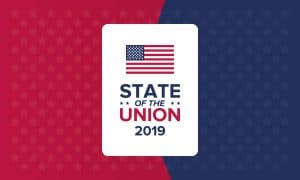 The US dollar wasn't in for any surprises as Donald Trump made his annual State of the Union address in front of the US Congress.
He used the speech to emphasise his plans to create a wall on the border between the US and Mexico, but there were no curveballs to worry dollar traders included in the address.
Analysts believe that markets are now more oriented towards pricing in the impact of potential monetary policy shifts rather than looking at political circumstances.
Earlier this week, for example, the Reserve Bank of Australia suggested that it might opt for a reduction in interest rates in the future.
Despite holding the rates steady for now, it is believed that the Bank may opt for this change in the months to come.
Elsewhere yesterday, the British pound dropped to $1.2923 against the US dollar – a significant low point for the currency which hasn't been reached for several weeks.
With the midweek point now here, the economic calendar remains full for the next few days.
This afternoon will see some key data releases out of the US. Data on preliminary nonfarm productivity levels for December will be released at 1.30pm GMT, and it's expected that these will go from 2.3% to 1.7%.
Preliminary unit labour costs, also for December, will be released at the same time. These are expected to show a rise, from 0.9% to 1.7%.
Several global central bankers will make speeches over the course of the day. Timothy Lane, the Deputy Governor of the Bank of Canada, will speak at 1.35pm GMT.
Randal Keith Quarles, who is the Vice Chair for Supervision on the US Federal Reserve Board of Governors, will speak at 11.05pm GMT.
Looking ahead to tomorrow, Jerome Powell, the Federal Reserve's Chair, –– is due to speak just as the clock strikes midnight in the GMT time zone.
At 5am GMT, Japan's preliminary leading economic index for December is due. It's likely to show a change from 99.1 to 97.9.
French trade balance information is expected at 7.45am GMT. The overall European trade balance for December is expected to show a change from €-5.1 billion to €-4.1 billion.
The Bank of England is due to meet at 12pm GMT in order to make its interest rate decision. It is likely that this will remain steady at 0.75%.
On Friday, another central banker is scheduled to speak. At 12.30am GMT, President of the Federal Reserve Bank of St. Louis James Bullard is expected to make a speech.
German economic data is out at 7am GMT, and it is widely expected that the country's trade balance for December will shift downwards slightly. It was last recorded at €19 billion, but it is expected to be recorded this time at €18.1 billion.
Canadian employment data will be out at 1.30pm GMT. The January unemployment rate is also expected. This rate was last recorded at 5.6%.
The January participation rate will also be released, and this was last recorded at 65.4%.