Shouts that the sky is falling and that this Bull market is about to crash and burn have been with us for several years now. Most of these clarion calls have been ignored or fully discounted, even when the logic and clever charts warranted a more serious review. Yet, the shrill warnings have continued, perhaps, gaining some semblance of a following, as the volume knob rises and falls. Recently, there has been a smattering of well-respected investment analysts that have joined the fray, but smiles turned to frowns this week when Bloomberg News picked up on a Goldman Sachs "research piece warning of the adverse consequences of today's high stock-bond valuations."
Goldman Sachs and Bloomberg News? "Please, Joe, tell me it ain't so!" Is the world as we know it finally coming to an end? Before you run to your computer screen and begin closing positions, take a deep breath and accept that the timing of any potential crash is not on anyone's present radar screen. As has been the story for several years, the expected meltdown will occur "next year", a repeating phrase that has been trivialized to the point that parentheses must be place around it. The unmistakable fact remains that there are asset bubbles all about us in nearly every sector. The following graphic reminds us that valuations rise and eventually fall: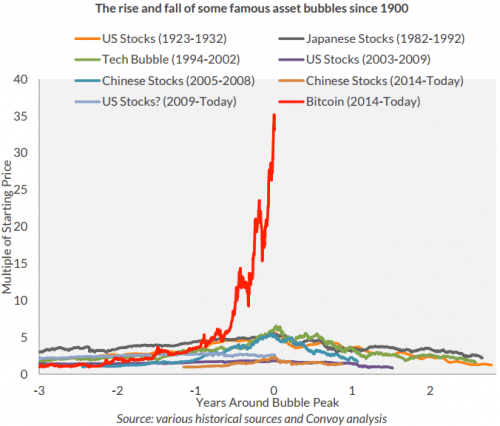 Bitcoin may be the most extreme example of today's asymptotic valuation curves, but at some point, reality must return. Even Sir Isaac Newton in his day gained and lost a fortune with his investments, when even he ignored the Law of Gravity. The Goldman research piece was intended for its private subscribers, but Bloomberg wrote about it in an article entitled, "Goldman Warns Highest Valuations Since 1900 Mean Pain Is Coming."
The opening salvos from Goldman went something like this: "A prolonged bull market across stocks, bonds and credit has left a measure of average valuation at the highest since 1900, a condition that at some point is going to translate into pain for investors, according to Goldman Sachs Group Inc. It has seldom been the case that equities, bonds and credit have been similarly expensive at the same time, only in the Roaring '20s and the Golden '50s. All good things must come to an end, and there will be a bear market, eventually."
In other words, all asset sectors cannot continue to rise together indefinitely. At some point, "there will be a bear market, eventually." What will be the trigger, and what will be early symptoms of "pain for investors"? Goldman's thesis is tied to the Fed pulling back on liquidity and pursuing a program of quantitative tightening. This normalization process of raising interest rates and reducing the bloat in it s balance sheet will lead to two symptomatic situations in the market:
"Returns likely to be lower across all assets in medium term"; and
"Risk scenario sees inflation jump that ushers fast pain."
The first symptom arises when the Fed pulls back on quantitative easing, thereby increasing the premium paid for longer-term securities. The first companies that will be affected the most will be the marginal and weaker of the lot. When inflation finally does kick in, certain stocks will be the better investment, much more attractive than bonds, but investors will have to search for the equity performers with positive forward cash flow, as the better hedges against rampant inflation.
Read more forex trading news
Per Louis Gave: "Today's Market Has 'Few Historical Precedents'"
Louis Gave, a well-known money manager, is convinced that asset bubbles are everywhere. His latest musings contend that, "We are in a bull market in everything and this is the first time in my career that everything is going up at once. I think history would show that this usually doesn't last forever and so we should probably expect in 2018 at least some of these asset classes to start feeling a little heavier."
He sees craziness everywhere he looks: "Bitcoin going from $1000 to $10,000 in the space of nine months-that's obviously bubble-like behavior. If you look at the debt market, you've got high yield in Europe that is now yielding less than US Treasuries. You've got a company like Veolia Environnement…rated BBB+ and it just issued debt for the next three years at a negative yield and it was three times oversubscribed. People were lining up to lend money to a private company in France with a guaranteed loss."
The "Few Historical Precedents" comment arises from Gave's take on the major companies of our modern time. "7 out of the top 10 are tech stocks, 5 out of the top 10 didn't even exist a generation ago." The rapidity that these entities have accumulated wealth is the part without precedent. When will he back away from the market: "The first place to crack will be the bond market of the coming year… Once you start to see spreads widen, bond yields start to go up, it'll probably be the sign to take chips off the table."
If rapid change is imminent, how does anyone prepare for the inevitable?
The message of doom is being heard far too many times to ignore its import: "Those frightened by today's over-inflated asset prices fear how quickly the current bubbles throughout our financial markets will deflate/implode. Who knows when they'll pop? What will the eventual trigger(s) be? All we know for sure is that every bubble in history inevitably found its pin." And history has shown us that central banks create these bubbles by inflating the money supply. This time around, the bubbles are the most massive in recorded time and destined to be the most destructive when they break.
Is anyone prepared financially, physically, and even emotionally for what may happen? As one analyst contends, "Millions of households will lose trillions of dollars in net worth. Jobs will evaporate, causing the tens of millions of families living paycheck to paycheck serious harm." The harsh reality is that more than a majority of investors will be unable to get out of their positions in time. Those in the know suggest that 90% is a realistic estimate, which means that an incredibly large sector of the population will be injured fatally by the coming crash. Many will not be able to withstand the emotional shock.
The best way to put all of this doom and gloom in perspective, of course, is with an appropriate chart. Here is one that associates the potential damage with wave sizes: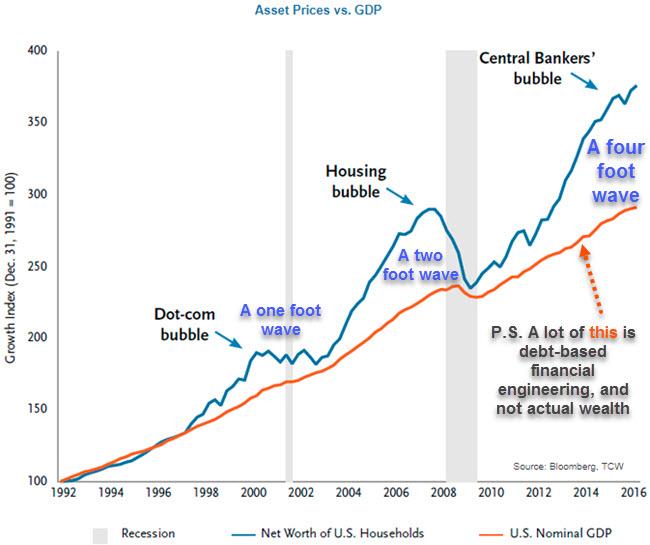 As we have seen from the destruction that comes with a tsunami, as the height of the wave grows, the force behind it grows exponentially. The significant consideration highlighted within this portrayal is that bubbles are created when the Net Worth of Households seriously diverges from Nominal GDP Growth. The degree of the divergence is another way of assessing how destructive the "wave" could be when the big rock hits the pond, so to speak.
The amazing thing is that we have had two major meltdowns in less than a decade's time, well within the parameters of a single generation, yet everyone's memory seems to be foggy at best. The Dot-com bubble hurt. The Housing bubble hurt much more. In fact many consumers have never recovered fully from that last hit. And now we are staring at an even larger wave, yet the investing public is rushing, as if driven by fear, to get in on the easy-return caravan. Is everyone blind to the situation at hand? Does everyone believe that they can cash in before the last fool is left holding the bag?
It does not take a genius to see the signs of potential damage to come. Retirees are being asked to take cuts or lose their pensions altogether. There is no way that Puerto Rico will ever be built to its former standards. The siren call of shale oil and gas drew billions of capital that would have been justified if oil prices had remained above $50 a barrel. Near-zero interest rates created that capital allocation tragedy, which will be one of the first to play out. Lastly, a generation of young graduates is now saddled with over $100,000 in loans apiece, which, even if forgiven, will become taxable income under tax reform legislation about to be signed. Cracks in the dam are already present.
Is a recession imminent?
The best recession model out there is not signaling a recession anytime soon, or so the chart below predicts: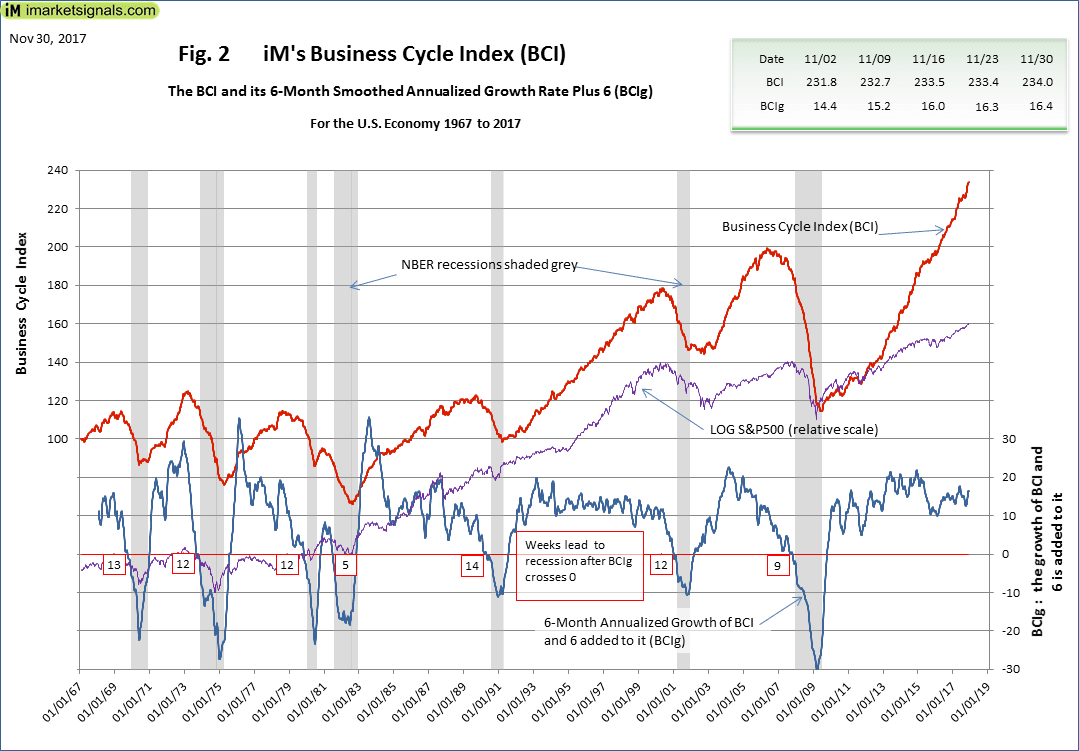 The "Blue" line in the bottom half of the chart is the one to watch. If it crosses zero, then batten down the hatches. As good as this indicator has been in the past, we must remember that we are living in unprecedented times. The worrisome part of the chart is the asymptotic slope of the "Red" line in the diagram. As you can see, we are in uncharted territory. The concern is that central banking machinations have so contorted market forces on a global basis that, if a single misstep is encountered, then a massive dive off a cliff is likely to be the course of the tell-tell "Blue" line.
What is the posture of the Fed's thinking before its next meeting?
Janet Yellen delivered her last address to Congress and espoused the general comments that Jerome Powell, her newly nominated replacement, stated at his confirmation hearing. She noted that, "The economy continues to expand, inflation remains low, and, for the time being, it appears as if little can be done to change this picture. The two major determinants of growth, the number of workers and the productivity of the average worker, are rising slowly. The Fed estimates that the economy is already growing at something close to the maximum sustainable pace."
For all intents and purposes, it appears that members of the Fed remain confident in continuing on their telegraphed path of normalization. Since the end of September, data shows that the total assets on the Fed balance sheet have dropped by $18 billion. In other words, the Fed has stuck to their guns this time and has been reducing their portfolio over time. Will they raise interest rates at their December meeting? A few Fed officials are concerned over current yield curve warnings, but, according to The New York Times, the Fed is determined to follow through on its plan to hike rates.
Concluding Remarks
December may be a very interesting month for more than the normal reason. The Fed is set to continue qualitative tightening, the one action that gives Goldman Sachs pause for concern.
Prepare, as you feel appropriate!