It is amazing how quickly the financial press can leap from a week of euphoria to suddenly hit the skids when one of the known fault lines suddenly shakes everyone out of their apparent alternate reality. Turkey is on the skids and has been since the first of the year, but here are just a few of the comments screamed from the analyst community:
The crisis in Turkey accelerated on Monday, with the lira adding to last week's losses.
Low interest rates have fueled an asset and credit bubble in Turkey, which will pop as interest rates surge.
Turkish President Recep Tayyip Erdogan's rhetoric over the weekend was obstinate even by his standards, and he tripled and quadrupled down on the defiance in a speech in Ankara on Monday.
There are eerie similarities between Thailand 1997 and Turkey 2018.
Turkey's most pressing issue is to stem the capital flight out of the country. The Lira is in trouble, and Turkey has insufficient reserves to defend the currency.
Emerging market currencies took a severe beating, and the market was awash with commentary on potential spillover risk.
The S&P fell for a fourth consecutive session on Monday, marking the longest losing streak since March, but that's really beside the point.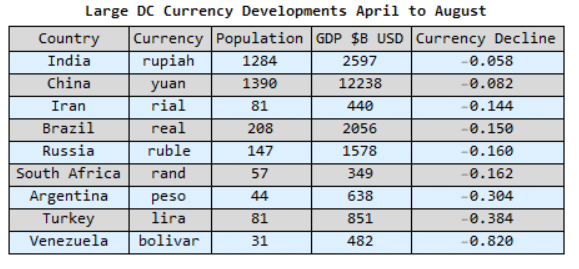 Can anyone spell "contagion"? Developing country currencies are in a downward spiral:
We have commented in previous articles about the recent broadening of yield margins in U.S. Treasuries between 2-year and 10-year offerings, alluding to the fact that capital had been flying out of developing countries in search of safe havens. Rising interest rates ignited this fire, which actually began back in April. We have also noted various fault lines in the global economy, which might snap at anytime in Italy, Brazil, or China, but Turkey has suddenly demanded center stage attention. The Lira has collapsed: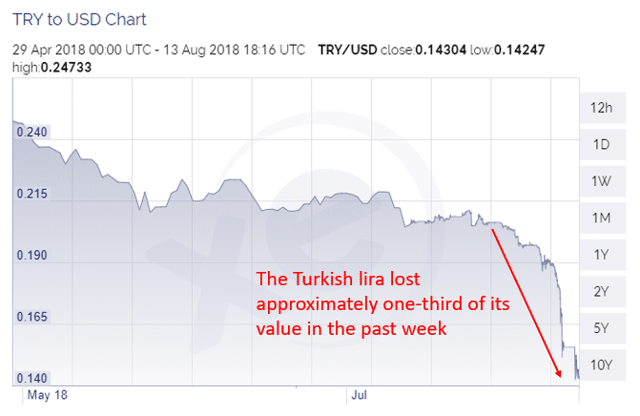 Finger pointing has ensued. Did U.S. sanctions cause the problem, or was it a stronger Dollar? By the sound of Turkey's autocratic president, Recep Tayyip Erdogan, one could easily surmise that he blames the U.S. and Donald Trump for everything. Insiders, however, say that problems have been building for months. Turkey has benefited from a booming economy for over a decade, but it has been built on shaky foundations. A low interest rate environment, along with additional government spending and falling foreign reserves, had fueled a number of asset bubbles in the economy from housing to you name it. In other words, Turkey's economy had become reliant on cheap credit. It is ill equipped to respond to rising interest rates, a new reality over the past few months.
One commentator summarized the situation as follows: "Extremely loose global monetary conditions after the Global Financial Crisis led to a "tsunami of liquidity" that flowed into emerging economies such as Turkey, which caused interest rates to fall well below normal historic levels. Now that the U.S. and other countries have been ending their QE programs and raising interest rates, emerging market currencies and bonds have been taking it on the chin." We forget that, as central banks in developed countries increased their respective domestic money supplies, investors pushed the capital overseas to countries like Turkey, where the potential return on capital was much greater.
Erdogan is not going down without a fight. He has threatened to seize bank deposits of foreign corporations and convert them to USD at a rate of his choosing. He has been counseled to approach the IMF for emergency funding, but to do that would require him to curtail favored government programs, cut spending, and institute controls that neither he nor his countrymen want. Without outside friends and support, the path forward is bleak. The ECB may be a willing "friend", but only if driven by the fear of contagion, which Erdogan will surely hype to the hilt. Desperate times demand desperate measures.
Is the Turkish situation eerily reminiscent of Thailand in 1997?
History has a strange way of repeating itself. Its lessons are often forgotten, only to be taught again at a later date. How many of us remember the Thai Baht debacle back in the nineties? The Asian Financial Crisis of 1997, as it has become known today, was fueled by a great flood of investment capital from investors across the planet. Thailand's semiconductor industry was booming. Inflation was low, and the government was managing fiscal and monetary policy in an efficient manner. Such a stable environment drew foreign investors like bees to honey.
But all was not perfection. Per one account: "Unfortunately, Thailand did not make the most of the opportunity, and a combination of self-inflicted problems and external luck eventually caused the downfall of the country. Thai banks lent recklessly and the economy ran up large amounts of debt. When world demand for semiconductors fell in 1996, combined with the emergence of China as a competitive destination for foreign investment, the Baht found itself under increasing selling pressure." The Baht was floated and lost 50% of its value. Investors rushed to the exits. The IMF came to the rescue to halt the crisis.
Here are a few other similarities to take note of:
Thailand's external debt stood at $100 billion, about 55% of GDP. Turkey's external debt is $460 billion, roughly 55% of GDP;
Thailand's foreign reserves stood at 20% of GDP and were falling. Turkey's foreign reserves are 15% of GDP;
Both Thailand and Turkey had and have a current account deficit;
Both countries had and have experienced a significant currency meltdown;
Both countries were and are heavily dependent upon foreign investment.
As with Thailand, the major problem for Turkey will be capital flight, which can only accelerate, based on recent events. Inflation stands at 16%. Central Bank benchmark rates are now 17.75%, but a material increase in that rate will not stem the tide or bolster the nation's currency. Foreign reserves will not be adequate either. External "friends" will have to step forward to rescue Turkey, but who might they be? The Financial Times noted that banks in Spain, Italy, and France stand to lose the most, if and when Turkey or its heavily indebted corporations default upon their respective debt payments.   The Euro took a hit, as soon as this report was released, but more on that later.
What are other repercussions of the straining fault lines in Turkish quarters?
It did not take long for the "gloom-and-doom" types to trot out their favorite recession models to declare that the probability of a global economic recession in the next twelve months had suddenly doubled. These declarations were despite the fact that most analysts were boasting that technical indicators on all fronts were suggesting that our markets had room to roam in the northerly direction, that market highs were going higher, and that this record-setting Bull market was not done yet.
As we have mentioned in previous articles, there are a host of recession models in the public domain, many of which are proprietary designs that tout the prowess of their designer. The better ones typically take between three to ten economic variables to construct a constantly changing visual diagram that matches up perfectly with prior recessionary trends. Often, a subset of these models is a probability-forecasting element meant to warn that bad times are imminent, i.e., within six to twelve months. One such model put forward this week is presented below: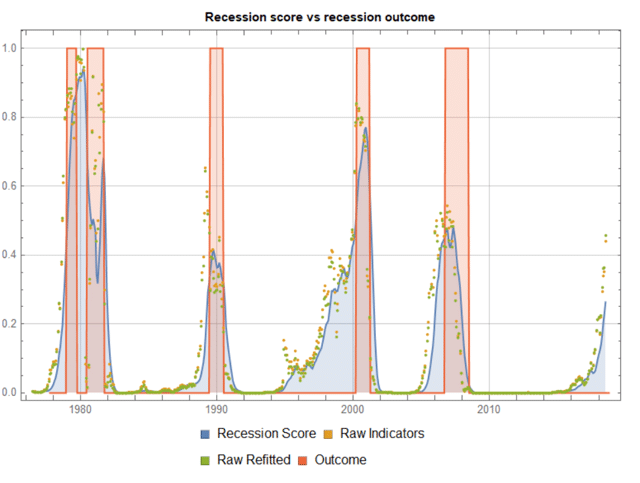 According to the author of this piece, his "Recession Score" has risen in the past three months from 16.7% to 26.4% (Follow the Blue line with probabilities listed on the left axis). As new data is released, the updated version of the model might signal within the next quarter a "risk off" condition, which the author claims when his model passes the 40% mark.
To fully understand the logic behind his construction, here are his own words: "This model is deliberately trained to spot the pattern in three indicators that prevails before an actual recession – late cycle conditions in short – and not the onset of recession itself, in the sense of economic weakness, higher unemployment, declining stock prices, worsening credit experiences, and the like. It is meant to be able to give up to a year's warning time to reduce risk exposure before those developments occur."
Remarkably, this model does not contain a proxy for global tension, i.e., the situations in Turkey, Italy, and Brazil. The model relies on various smoothing and regression techniques to arrive at a current score. The three indicators are "the yield curve defined as the spread between 10-year and 2-year Treasury notes, the headline unemployment rate, and the trailing rate of inflation, meaning CPI's year-on-year change." The author then goes through a lengthy "sanity check", as he calls it, summarizing prevailing economic conditions across the globe with emphasis on the plight of developing countries regarding capital flight. Foreign stresses are signaling a slowdown, perhaps, prematurely, but rising interest rates will only make conditions worse.
Lastly, he is not a fan of the forecasted tightening moves planned by the Fed. His final words: "Overall, my assessment is that the US economy remains strong, in typical late cycle conditions, with a well capitalized banking sector, low loan losses, and other signs of economic health. But monetary policy is now clearly set against a long continuation of the present expansion, and has gone from tailwind to headwind. The Fed is unlikely to desist from its rate-tightening course, given the uptick in CPI inflation and the drop in real rates."
On another front, the Euro has also taken a hit, due to "foreign stresses" no less: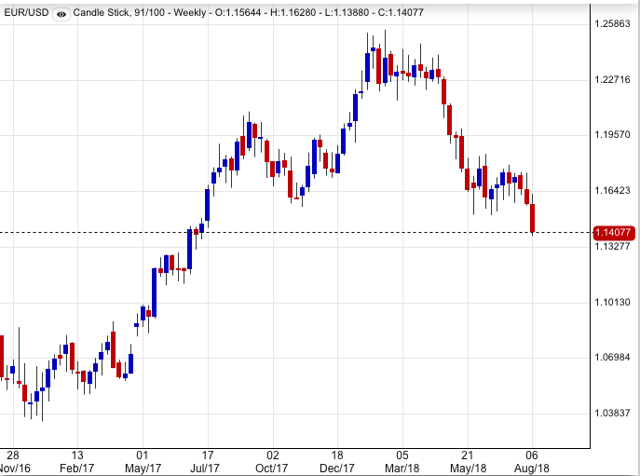 This year has not been kind to the Euro. Following a long recovery during 2017, the common currency has plummeted, finding some support at the 1.14 level. It does not take the eye of an expert to notice the "Head-and-Shoulders" formation that is now prominently displayed on this weekly chart. If the H&S pans out true to form, then the Euro could easily fall to the 1.05 region before finding support. Structural issues in the EU are now driving future outcomes, reminiscent of times gone by with Greece.
Concluding Remarks
Will Turkey be the straw that breaks the camel's back? It is the first economic fault line to break due to domestic stresses. The issue of contagion is now top of mind, as global policymakers attempt to coordinate and defuse this Turkish powder keg. In the meantime, financial models are suggesting a "risk off" alert is building. Expect volatility in the forex space, as capital shifts across the globe.
Stay tuned!
Are you ready to trade?
Sign up with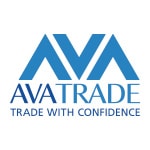 Your capital is at risk