For those people, who thought this day would never come, Election Day 2016 has finally arrived, concluding what many have described as the most contentious U.S. presidential campaign in modern history. History buffs may claim that elections from more than a century past were always rough-and-tumble, low-down-and-dirty affairs, the nature of politics in those bygone days, but both candidates never failed to disappoint pundits that needed controversy to sell their newsprint. Never have both candidates had such low favorability ratings, the quintessential definition of having to choose between two evils.
Polls have gyrated wildly, as well, almost as much as the fluctuations in our financial markets. Specific foreign exchange pairs tended to over react, like the Mexican Peso versus the USD, or the Swiss Franc, a true safe haven since its link with the Euro had been abandoned sometime ago. Gold bugs may have profited handsomely up to this point, but the expectations now are that Hillary Clinton has a sizable enough lead in key electoral states to ensure her victorious ride to the White House. Trump supporters may appear disconsolate, but they are also hopeful that polls do not necessarily reflect true voter sentiment, as happened in the infamous Brexit referendum in June.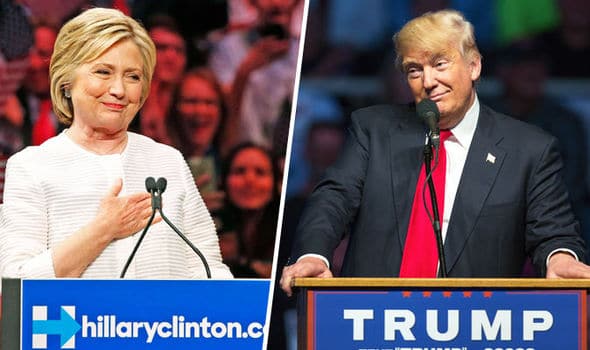 National law precludes the dissemination of any exit polling data until the closing of a state's voting stations.  To disclose such data during the day could unduly influence voters in the far west. For this reason, we may not have any idea of the final outcome until the early morning of the following Wednesday. If the votes are tight in certain key swing states, then we might have to wait a little longer. Judging from the latest action in the Mexican Peso and the Swiss Franc, many analysts are pontificating that the markets perceive a Clinton victory, but, as with Brexit, it is too early to pop the champagne corks.
Will Hillary Clinton triumph as the first woman president of the United States or will Donald Trump confound the markets and pollsters and take his populist revolt down Pennsylvania Avenue? Only time will tell, but, if you do not want to stay up until the final verdict is decided, then you might as well read about it first thing online tomorrow, either in this article or another. The intent of this article is to follow the progress during this evening's action, coupled with a bit about market sentiments beforehand. Here we go.
Where are we on major market indicia before the voting polls close?
Betting shops are posting a 67% chance for a Clinton victory, driven primarily by her effective ground game to get out the vote versus a nonexistent one for her opponent. If this outcome were an ironclad cinch, then the most profitable bets, according to the experts, would be to go long on the Mexican Peso and to short the VIX volatility index. In case you are wondering, the probability for a Brexit leave vote was roughly 47% before polls closed. The turnaround came late in the day, when populist emotions against immigration took over. The tally reached 53% in short order.
Clinton seems to have an edge leading into Election Day, although Trump has rallied of late from as low as a 15% chance of winning to nearly 30%. Predictions and preferences, however, are not the same thing. Shifts at the ballot box can occur swiftly, if emotions take over. The markets, however, seem to be betting on a Clinton victory after the FBI came out claiming there would be no further investigation of her emails. As noted, the Mexican Peso, as well as the Canadian Dollar, has gained versus the greenback. Trump has vowed to re-write the NAFTA trade agreement, which could negatively impact both Mexico and Canada. The USD also rallied against the Japanese Yen and the Swiss Franc, which have benefited from any proclamation from Trump that he would create chaos in global trade in hopes of benefiting the United States. Safe havens do not look as pretty, if and when Clinton wins the election.
Until we get past this election uncertainty risk, fundamental market drivers must take a back seat to the action. The Fed has deferred its normalization plans, as expected. A rate hike is still on tap for December, but recent meeting notes suggest that the group is looking forward to inflation shifting into a higher gear. Commodities and precious metals have also moved into tight ranges, but industrial activity appears to be heating up in China, a good thing for commodities and oil. The Aussie Dollar has reacted favorably. As for Europe, Brexit still hangs like a cloud over future prospects. Recent production data from Germany has also been underwhelming, just one more nail in the EU coffin.
The greatest concern, however, has been in the market sell off of equities. Consecutive down days are approaching double digits prior to today, and the VIX has jumped in lockstep over the past nine days from 12.7, its nominal average, to a value of 23. It has since pulled back to 18.6, but a rise during the final quarter of the year is usually a routine outcome, as yearend adjustments are made to stock portfolios at large. As many analysts are suggesting a shorting strategy on the VIX index, as are looking long for the remainder of the year.
As we wait for voting results, now roughly 2.5 hours (04:30 PM EST) before the first States close voting precincts and begin reporting numbers, the forex market is rather calm. Here are a few values at this point in time:
EUR/USD                     1.102
CHF/USD                     1.024
GBP/USD                     1.237
USD/JPY                      105.14
AUD/USD                     0.778
USD/MXN                     18.4
Status Update – 07:30 PM EST:
A few of the states have closed and begun tallying, but the nature of early data is meaningless. Early vote tallies typically come from rural areas, where votes are minimal and easy to count. The dense and heavily populated urban areas take more time. Exit polling data is available from various polling groups, but each network must work through their respective forecasting models to arrive at reasonably accurate predictions. The early predictions can be decided easily for states that have gone heavy for one party or the other in the past. Based on these early forecasts, conservatives have backed Trump in early vote tallies, but these results have not budged forex market valuations. Nearly all values are within a few pips of the 4:30 figures.
Status Update – 10:30 PM EST:
This election is now beginning to look like "Brexit – Part 2". Pundits are actually saying the presidency is now up for grabs, as votes for Trump keep mounting from unexpected places. Florida, a linchpin state, had been for Clinton by a few percentage points in the latest prevailing polls, but the Clinton camp is now showing signs of worry. Trump now has a lead in the state that appears insurmountable. As Democratic concerns grow, global financial markets are suddenly roiling to a slow boil. The Dow Jones Industrial Average had had nine losing days in a row leading up to just before Election Day, the most for quite some time, but it had recovered a bit over the last two trading sessions, based on new polling favoring Clinton. Unfortunately, the current spate of Trump regional victories has sent Dow futures plummeting more than 500 points on a base of 18,300. The Mexican Peso has weakened nearly 10% to 20.2 versus the USD. The latest news has also created more capital flight to safe havens. The Yen is up 3%, and the Swiss Franc is up 1%. The Euro has also risen 160 pips, while the Pound remains flat. Confusion reigns at the moment, and we know how markets recoil from uncertainty.
Status Update – 12:00 PM EST  – Midnight:
Political pundits are starting to discuss a Trump White House as a real possibility, but even Republican reformers admit that the GOP may be the winner in title only. To this point, no one can speak to what Trump policy directions might take. The word used to describe his administrative direction presently is "incoherent". Despite the mounting criticism and fear that the GOP will control all arms of government with Trump at the helm is almost a done deal at midnight. Trump has 244 electoral votes under his belt, and the remaining 26 votes required for victory are within his grasp. Dow futures continue to plunge, down now 750 points. The USD continues to deteriorate on global markets. Surprisingly, the Aussie Dollar has weakened nearly 200 pips, ostensibly because trade deals with China may suffer. Trump is against the TPP trade deal and has vowed to take jobs back from China. On both fronts, Australia would be caught within the crosshairs. More capital has moved to safe havens. The Mexican Peso stands at 20.7, and the Euro has topped out at 1.125.
Status Update – Early Morning of November 9th:
It's official! Donald Trump will be the 45th President of the United States. "Brexit – Part 2" is now a reality. The next election stops are in France and Germany. Will this populist fervor continue? As with the Brexit referendum, no one is quite sure what the next steps will truly be. Yes, there is a process for the transition of power, but the incoming president to be has stated that he is not a politician and never wants to be one. His critics have labeled him a "carnival barker", and that nickname is one of the nicer ones. Financial markets may come back in due time, but for now, they are in disarray. Volatility is up, as expected, and the uncertainty of it all will make the search for a new equilibrium that much more difficult to come by. Here is a recap of the changes in forex valuations for the major currency pairings presented at the beginning of the evening:
Start                End                  % USD Down
EUR/USD                     1.102               1.110                    0.73%
CHF/USD                     1.024               1.029                    0.49%
GBP/USD                     1.237               1.244                    0.57%
USD/JPY                      105.14             103.1                    1.64%
AUD/USD                     0.778               0.769                   (1.16%)
USD/MXN                     18.4                 19.9                     (7.54%)
Concluding Remarks
Never underestimate the power of emotions when it comes to making a statement at the voting booth. As with Brexit, an undercurrent of anger and disgust with our institutions, from government to the media, has lead to an unexpected outcome, one that financial markets have not wanted, but now must accommodate. In a way, it is a paraphrase of the refrain from the old Hollywood movie "Network" – "We're mad as Hell and we are not going to take it anymore!" The past fifty years have reshaped the wealth distribution of the world to such a point that the inhabitants of developed countries are demanding change from Europe and now from the United States.
What will the form of change be? Will the status quo resist any attempts to change it? Will our financial markets recover? A few analysts are grudgingly claiming they will, but when and by how much? Will unrealistic campaign promises fall flat in 2017? Is a global recession in the cards for the coming year? These are just a few of the questions that are being asked this morning. Many more will follow. Whatever happens, Donald Trump has promised change on a grand scale, and with change will come global financial impacts, especially within the forex market. It's time to buckle up our seatbelts!