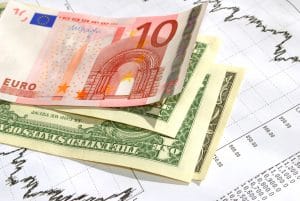 The euro experienced a fall in the foreign exchange markets yesterday after Germany's long-standing head of government announced that she planned to step down.
Angela Merkel, who has served as Chancellor of Germany since 2005, has been a driving force in European politics and economics over the last decade.
Merkel will not seek re-election as chair of the Christian Democratic Union, of which she has been in charge for 18 years. However, it is possible that she will stay on as Germany's head of government until 2021 – by which time she will have led the country for 16 years.
As a result of the upheaval, the euro dropped 0.4% against the dollar, reaching $1.136 at one stage. However, it did manage to return to $1.14 later on Monday.
The dollar index, which assesses the greenback's performance compared to a number of international currencies including a heavy weighting towards the euro, continued its good run. Overall, it went up 0.2% to a strong performance of 96.670.
Elsewhere in the forex markets, the Japanese yen remained static at around 111.96 per US dollar. This follows a particularly strong rise of 0.6% last week.
This week is continuing to look busy for foreign exchange traders across the world.
Today sees a number of major data releases. Italy, for example, was due to release its gross domestic figures for the third quarter of the year at 9am. Analysts were predicting a year on year change from 1.2% to 0.9%.
Later in the day, European gross domestic product data for the third quarter of the year is due out at 10am. Analysts are expecting no quarter on quarter change, but the expected year on year change is likely to drop from 2.1% to 1.9%.
The German consumer price index for October will be out at 1pm, with a month on month drop from 0.4% to 0.1% expected.
Looking ahead to tomorrow, the German markets will be quieter than usual thanks to the Day of Reformation holiday. There will be some information released from the country, however. September retail sales data is expected to show a year on year change from 1.6% to 1%.
Later in the day, a speech from the Bank of Canada's governor Stephen Poloz is due at 8.15pm GMT.
On Thursday, several major European economies – including Spain, Italy and France – will have their banks closed because of the All Saints Day festival. Over the Channel in Britain, however, the Bank of England is set to reveal its interest rate decision – which is due to hold firm at 0.75%. Its asset purchase facility, meanwhile, is also expected to remain constant at £435 billion.
On Friday, the main event of the day is likely to be US employment and earnings statistics. Nonfarm payroll levels are expected by many analysts to be on the verge of rising from 134,000 to 190,000, while the overall average hourly earnings rate for October is due to show a year on year rise from 2.8% to 3.1%.