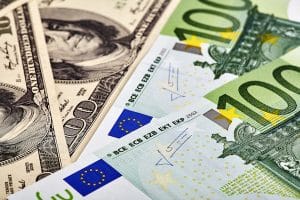 The euro was the main victim of fluctuations in the international forex markets yesterday after a row over the budget deficit in the major European economy of Italy showed no signs of abating.
A meeting was held yesterday between Matteo Salvini, who serves as Deputy Prime Minister of Italy, and the leader of the far-right French political party Front National, Marine Le Pen.
Both politicians are anti-EU, and Salvini hit out at EU leaders during the meeting.
Italy is currently embroiled in a fight with the EU over its budget deficit. The country is supposed to accept a borrowing limit of 2% of GDP, but it is pushing for a 2.4% limit instead – at least for now.
As a result of the new developments in the row, the euro dropped particularly strongly against the greenback. It went down by 0.38% and hit $1.14755 – coming perilously close to a significant low of $1.1355, which it touched during a different set of problems two months ago.
A sign of the extent to which the problems are rooted in the euro itself rather than dollar's dominance lay in the performance of the single currency against the Swiss franc.
It fell 0.3% against that currency and went down by almost one whole percentage point against the Japanese yen – to 129.890.
Today and the second half of the week both look busy, with lots of economic calendar events scheduled in.
Any fundamental analysts looking for monetary policy clues will have a lot to watch out for today. A speech from the Bank of England's Monetary Policy Committee member Dr Ben Broadbent will take place at 2.35pm GMT today, while the Bank of Canada's Senior Deputy Governor Carolyn A. Wilkins will speak at 6pm GMT.
In terms of data releases, Japanese machinery orders information for August will be out at 11.50pm GMT. The year on year change is expected by analysts to be significant, with a drop from 13.9% to 1.6% expected.
Into tomorrow, French industrial output data for August will be out at 6.45am GMT.
Over the Channel in Britain will be a series of further production-related releases, including industrial and manufacturing data for August at 8.30am GMT.
The main event, however, will be the month on month gross domestic product data for August which is also out at 8.30am GMT. Analysts now expect that this will drop from 0.3% to 0.1%. A move which could spook the currency markets.
Later in the day will be a speech in Australia from the Reserve Bank's Assistant Governor Luci Ellis at 10.30pm GMT.
Looking ahead to Thursday, the morning will be dominated by the European Central Bank's monetary policy meeting report which is out at 11.30am GMT.
At 12.30pm GMT, the regular initial and continuing jobless claims release will come out of the USA. Initial claims are expected to have dropped from 207,000 to 205,000, but continuing claims are expected to remain the same.
On Friday, Chinese yuan traders will be keen to see a range of major releases including exports, imports and overall trade balance data.
Friday will also see the preliminary Michigan consumer sentiment index for October in the US, which is expected to show a slight drop.