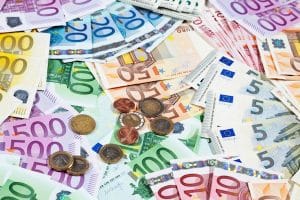 The value of the euro slipped in the foreign exchange markets early on Tuesday due to ongoing economic problems with one of the bloc's main members.
Italy, which has experienced both political and financial instability in recent months, said this week that it would hold firm on its plans to borrow more.
It is in breach of the European Union's bloc-wide deficit target of 2% but has insisted it will plough on with its own preferred target of 2.4% regardless.
Yesterday, the EU turned up the heat on Italy, but leaders held firm. "We are not turning back from that 2.4 percent target, that has to be clear", said the country's Deputy Prime Minister Luigi Di Maio.
"We will not backtrack by a millimetre", Di Maio – who is in charge of the populist party and coalition partner the Five Star Movement – added.
As a result of the battle, the euro was down significantly on Tuesday compared to previous performances. It dropped 0.41% to $1.1530 in the EUR/USD pair.
The US dollar index, which assesses how well the greenback is performing relative to six other global currencies, is up 0.23% this morning.
This week is shaping up to be a busy one for the wider forex markets.
Yesterday saw several public holidays including Labour Day in Australia, meaning that today will most likely see markets coming back to life after a long weekend.
Today sees a number of major US data releases, including the Redbook index at 12.55pm GMT and information on vehicle sales in September at 7.30pm GMT.
Wednesday will also be rich with data releases, including building permits information in Australia and September commodity price information for New Zealand.
Much attention has been focused on the Turkish lira recently, and traders operating in this particular emerging market will likely find the September producer and consumer price index data out at 7am interesting.
The month on month change in the consumer side of the figures is expected by analysts to rise from 2.3% to 3.6%.
Later in the day, there'll be European retail sales information for August, which comes out at 9am GMT.
The week is full of speeches from senior staff at the US Federal Reserve, which is unsurprising given its recent decision to raise interest rates. On Wednesday, President and CEO of the Federal Reserve Bank of Chicago Charles Evans will speak at 10.30am GMT, and this will be followed by a speech from overall Fed boss Jerome Powell at 8pm GMT.
Thursday's focus, meanwhile, will be Australia, with trade balance information out at 12.30am GMT.
Later on Thursday will be purchasing manager index data from Ivey in Canada, which is out at 2pm GMT.
The day will be rounded off by information on overall Japanese household spending for August, which is out at 11.30pm GMT
On Friday, German data on producer prices and factory orders will start the day at 6am GMT, followed by UK house price data for September out at 7.30am GMT.