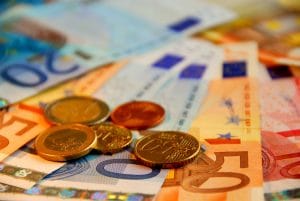 The common European currencies appeared to be on course to plummet in value as trading took place overnight and this morning.
The Italian government is steadfastly refusing to stick to the imposed budget deficit target of 2% of GDP which the EU imposes on member states. It is instead planning to set its own target of 2.4% instead.
However, the row this has caused between the EU and Italy looked set to intensify on Thursday as the EU launched a disciplinary process against the Southern European country.
The European Commission wrote to the Italian government and said that its budget was "unprecedented" in the way it flouted EU policy.
Over the course of the week, the EUR/USD pair has dropped by more than 1%. Yesterday, it hit $1.143 – which is perilously close to its two-month crash point of $1.1432.
The US dollar index, a tool which measures how the greenback is performing against competitor currencies, went up 0.2% yesterday and reached a comfortable level of 96.091.
Given that the euro covers over half of the index's weighting, this strong performance was likely related to the EU's ongoing problems.
With the Brexit negotiations now appearing to be at least part of the way towards a deal, the pound rose a little. It went up 0.1% versus the common European currency.
Looking ahead to the new week starting on Monday, there are lots of important forex-related events scheduled in on the economic calendar.
Activity is likely to be quiet in New Zealand on Monday as Labour Day takes place, meaning banks will be closed.
However, over in Europe a monthly report is due from the Bundesbank in Germany – and it is likely to give some indications about the country's current economic performance.
Into Tuesday, the Confederation of British Industry will reveal its industrial trends survey for orders covering October at 10am GMT.
This will follow Germany's producer price index for September, which is expected to show a small month on month drop from 0.3% to 0.2%.
Preliminary consumer confidence figures for October covering the whole of the eurozone will be out at 2pm GMT.
On Wednesday, all eyes will be on Japan as the day begins. The country's leading economic index and coincident index figures for August will be out at 5am GMT, and there are currently no analyst predictions in place about what these might contain.
At 8am GMT, attention will switch back to Europe where preliminary Markit manufacturing and services PMI (purchasing managers index) information for October will be out.
A series of US housing market data points will be released at 2pm GMT, including new home sales information for September. The month on month change is expected to show a slight rise from 0.629 million to 0.63 million.
However, the day's main event will be the interest rate decision by the Bank of Canada, which is due to come out at 2pm GMT. It is expected that rates will rise from 1.5% to 1.75%.
The day will finish with a series of trade balance releases in New Zealand, which are due out at 9.45pm GMT.