As bells jingle and the Yule log burns, stocks are tanking across the globe. A few analysts have noted that you have to go back to the Great Depression to find a worse December in the historical record, but things are not as bad as they seem, according to market veterans that have seen a thing or two. Why the fuss? The Fed met again this week, and true to form, it did exactly what everyone expected, even backing away from three adjustments in 2019 down to two. The dovish sentiments were nice to hear, after months of hawkish rhetoric, but "risk off" was the general theme in the markets.
A few Christmas revelers actually see good reasons for cautious optimism. Yet, the pall of pessimism still hangs over the market like a cloud. The Fed has spoken for the forth time this year, raising its benchmark another 25 basis points and backing down a bit in 2019, as it approaches what it has called a "neutral" level of interest rates. Pundits quickly grabbed their computers and began churning out opinions, one after another, as if the world needed to hear the same drivel over again. The general impression is that Powell has boxed himself in. 2019 will be problematic for the Fed, at some point, if not due to hoisting rates too rapidly, then to deflating its balance sheet too quickly.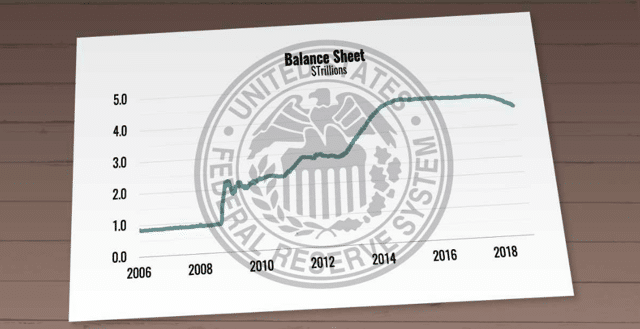 There was a sense of disappointment after the Fed's press conference on Wednesday. While the central bankers may have followed through, the market was actually hoping for something better than just "wait and see" what next year brings. There are already signs that economic slowing is happening in several key markets. The specter of policy divergence continuing on with an accelerated pace from 2018 is a bit disturbing, the reason why markets swooned afterwards.
One analyst remarked: "There is sufficient growth uncertainty in the global economy, especially in terms of the soft data which indicates a slowdown in China and Europe, to create a possibility of a confidence-led drop in activity, which might have been avoidable had Fed Chair Powell's comments suggested a more resolute focus on the risks to global growth." The economic narrative for 2019 that has been forming and that had assumed a weakening Dollar in the latter half of the year may already be in jeopardy.
And what about the Fed's normalization of its balance sheet?
The current perception is that the Fed governors were concerned enough about a global growth slowdown to modify their previous interest rate projections, but what about the normalization of its balance sheet? Almost lost in the shuffle has been a steady drop of $50 billion a month in long-term Treasury securities, the majority of them at maturation. There has been much written about this topic because the entire issue of Quantitative Easing was controversial at the time. No one knew what the consequences might be. Many economists expected rampant inflation to ensue, but it never appeared.
The question then is if loading the balance sheet was so questionable and debatable, then why isn't the act of shrinking the asset load just as exciting a topic to discuss? Does anyone really know what will occur? Powell and his minions deftly sidestepped the entire issue, almost ignoring it altogether. Should we be concerned?
One analyst believes the answer to that last question is a definite "Yes": "At a minimum the Fed should be approaching balance sheet reduction cautiously, because no one really has any idea what affect it will have. How quantitative easing (QE) worked in the first place remains a topic of extreme debate. Many thought it would lead to inflation but it did not. Others think it inflated asset prices. Some believe it had no effect at all. Economic and financial historians will be debating this policy for decades. QE was unorthodox, controversial, and remains poorly understood. How could the information uncertainty related to unwinding the balance sheet be any less controversial?"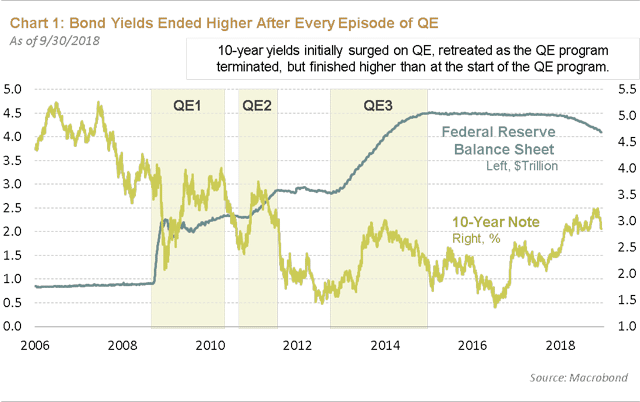 In order to gain some perspective on this issue, the above chart presents a host of data points over the past dozen years. The first noticeable pattern is that, with each QE release, 10-Year note rates dropped, then rose again, such that at the end of the representative period, the rate finished higher at the close than at the beginning. There does not appear to be enough data in 2018 to suggest what a reversal might do, but the jury remains sequestered.
What have other studies suggested might be the outcome of a shrinking balance sheet at the Fed? The now-outgoing Governor of the Reserve Bank of India opined that global liquidity was impacted, adversely affecting emerging market countries. Brandywine Global Investment Management, the group responsible for this analysis, noted: "The Fed appears to have adopted the conventional view that QE worked by depressing the level of U.S. government long-term bond yields relative to what they would otherwise have been. Numerous studies have been published both in and outside of the Fed arguing that the cumulative effect of QE operations was to reduce the term premium on long bonds by 130-150 basis points (bps). Correspondingly, bond yields should move gradually higher as the balance sheet shrinks. This has become conventional wisdom."
This group also added that, "Looking back, developments that occurred during each phase of QE provide contrary evidence to the conventional view. Between 2008 and 2016, there was the Great Financial Crisis (GFC), the European Sovereign Debt Crisis, China's attempt to deleverage its economy, and a bust in commodity and energy prices, not to mention sundry geopolitical disturbances like the Brexit vote. All these developments were deflationary and acted to depress bond yields."
Is the drop in global liquidity a valid argument? The chart below appears to refute that line of reasoning. Yes, liquidity has expanded at lesser rates, but contraction does not appear to be present to a material degree, if these data points are all inclusive: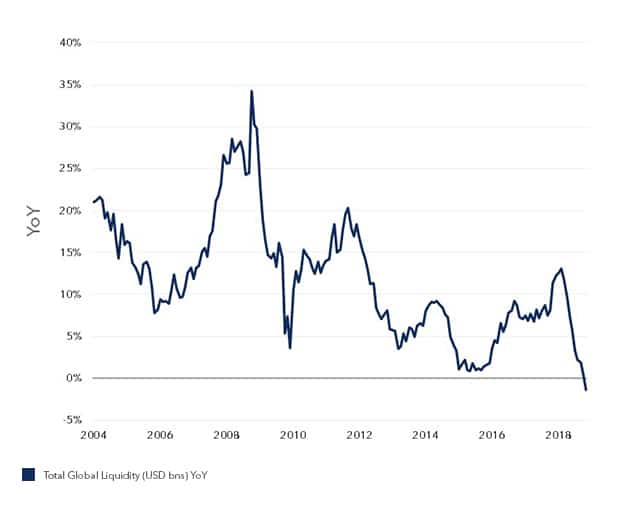 Interest rates, when adjusted for inflation, are actually near zero.
Not everyone is happy with the actions of the Fed. The Tweeter-in-Chief, Donald Trump, has often publicly blasted Jerome Powell and his Fed for interest rate hikes. He is fearful that rising rates will deflate his manufactured growth spike in the domestic economy before his next re-election campaign. John Schoen, an award-winning economics reporter for CNBC, has done his homework and determined that real interest rates, the ones adjusted for inflation, tell another story. Real rates are actually near zero.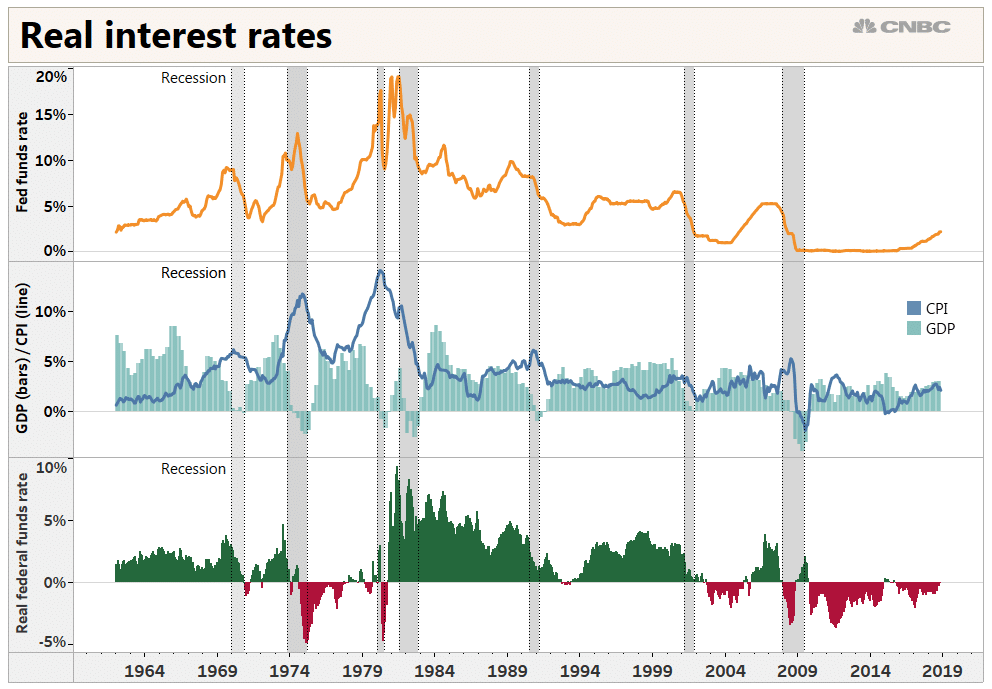 In fact, the current situation is reminiscent of the seventies, except that four decades back we were experiencing runaway inflation along with higher than normal interest rates. The period earned the label of "stagflation", a term that does not apply to the present conditions. It is also interesting to note that, when real rates were high in the 1980's and 1990's, the economy was strong.
What is different now? Unwinding QE may have more significance than previously thought. According to Schoen: "In many ways, the FOMC is navigating uncharted monetary territory. The Fed's response to the financial crisis introduced policies never before deployed by U.S. central bankers. Those policies come in marked contrast to Fed actions in decades past."
Despite rising interest rates, there are reasons for cautious optimism.
Markets have been in a violent selling mode of late, somewhat due to the overly negative sentiment that prevails at the moment. Stanley Druckenmiller of
MarketWatch explains why equity impacts seem mixed and unequal across the board: "Because if you look inside the stock market…front-end cyclicals show a completely different picture than the defensive parts to the market. Auto stocks are down 30%, they're not 10% or 11%, building stocks are down 35%, banks…are down 25%…the Russell is down 20%, retail equities are down over 20%. How in the world can the S&P 500 be down only 10% or 11%?" That's because utilities, staples and pharmaceuticals—economically defensive stocks — are up."
Investors are worried. They are fretting over slowing economic growth, Fed interest rate hikes, EU problems related to the Italian budget, riots in France and over Brexit, trade wars between the U.S. and China and others, and the crisis in emerging markets. With suck bleak prospects over the next quarter alone, it is not surprising that more favorable trends are being ignored. We seem to forget that equities are not the economy. Security prices tend to overshoot support and resistance levels, before reaching equilibrium.
While everything else was catching the public's attention, oil prices crashed in the background. It may have come as a nice Christmas surprise at the gas pump, but the market took back the gains for 2018 and more. WTI crude is now below $50 a barrel.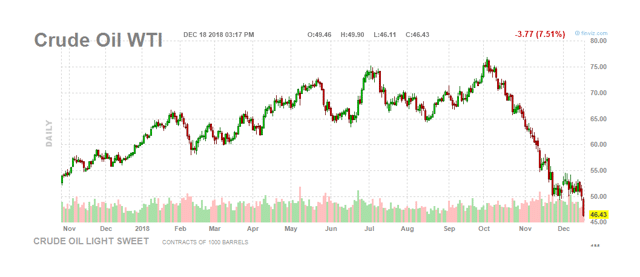 GDP growth forecasts for 2019 are being adjusted, but the consensus thinking at the moment is that the Real GDP growth for the U.S. will dip from 3.1% for 2018, down to 2.4% for 2019, and lower still the following year. The obvious slowdown incorporated in this forecast is not new news. Tax plan stimulus is waning. Corporate earnings are expected to decline, but the recent meltdown in equities suggests that the global slowdown in economic growth is already baked into stock valuations.
The folks at Shareholders Unite believe that things are not as bad as they seem: "We see some reason for a modicum of optimism as we see chances of a trade truce and the immediate threat for an Italian escalation has waned for now. We also expect the Fed to largely refrain from further rate hikes given the world economic slowdown and the oil price crash. However, nobody (certainly not us) knows how deep the slowdown will be. What the stock market seems to be telling us is that it will be quite significant."
Concluding Remarks
The Fed has spoken once again, and stocks have reacted rather violently this time around. Investors are edgy, and no one wants to be celebrating the holidays only to see their portfolio positions plummet the next day. The Fed has signaled that it is more determined than ever to do the right thing. It has tapered its forecast for rate hikes in 2019 and seems obliged to base all decisions on the prevailing data at hand.
Yes, there is much to worry about as this year comes to a close, but cautious optimism may also be appropriate at this juncture in the process. Positive economic growth is still the fact that seems to fall by the wayside when negative market sentiment takes over.
These ingredients speak to one thing in future – market volatility. Prepare accordingly!