The Fed has spoken! The last predictable event for 2016 has come and gone, and, in tune with the holiday season, Janet Yellen and her merry band of banking buddies not only did what everyone expected, but they also delivered a little surprise about how the coming year will pan out, according to their crystal ball.
In some respects, it was almost a nonevent. The script seemed eerily familiar, as if someone had taken the one from last December a year ago and changed one word. Yes, the Fed Funds Rate target was adjusted upwards by 25 basis points, but, instead of proposing four additional hikes for the ensuing twelve months, as was done last year, this austere group telegraphed that three further hikes in 2017 seemed spot on from their perspective.
Financial markets had factored in two changes for 2017, not three, so, instead of a "sell-on-the-news" response, traders rushed to their computer screens to price in an additional 100 pips for major pairings across the board. The carnage continued Friday, reaping another 50 to 150 pips in many cases. Bond yields went up, as well, in sovereign debt holdings in every jurisdiction. The "Sell" signal was bright red, a festive color for this time of year. Bond Bears were in ascendance, and emerging markets could only hold their collective breaths, as the Almighty Dollar went on another rampage.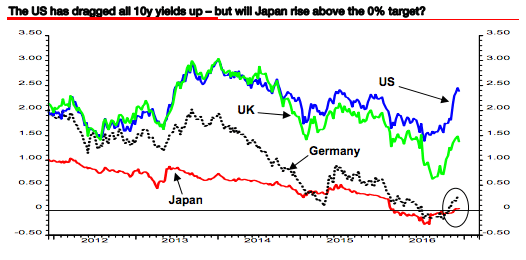 The snapshot above was taken some months back to reveal that 10-year yields have been steadily rising, especially in the U.S. and UK, where the greatest possibility for central banking interest rate normalization exists. Remember that when yields rise, the opposite is true about bond valuations – they fall to accommodate the rise in effective returns. Much has been written about the recent Bear terrorizing global bond markets, especially after Trump and Brexit hit it big, but the rise in rates has been ongoing.
After Trump's victory, the yield on the U.S 10-year Treasury shot up to 2.72, but gradually pulled back to the support levels depicted above. After the Fed raised its benchmark rate targets and surprised the investment world with its 2017 revelations, the 10-year yield quickly rose to 2.62% on early European trading. In Japan, where the BoJ has vowed publicly to maintained its 10-year return at zero, the market dragged it higher, if ever so slightly to 0.085%, yes, barely above zero, but still above. Aussie note yields also rose, topping out at 2.88%, and Chinese note yields surged 22 basis points to rest at 3.45%. Investors were dumping government bonds the world over.
See what else happened in the forex market news
What were the other immediate impacts in financial markets?
As noted, the USD was the big beneficiary. Investors wasted no time in aggressively adjusting their currency portfolios. The USD index hit its highest level since 2003, but after a weekend of calm retrospection, foreign exchange markets have reached some balance. New equilibrium support levels have formed across the board, but analysts do expect more gains to come. The Euro has dipped down to 1.043, with parity now more of a near-term reality than before. The Aussie, Kiwi, and Loonie had to each absorb over 250 pips of loss. Commodity currencies were not in favor. Lastly, the Yen also moved by 200 pips, resting just above 117.3, its highest watermark since February.
Commodities were under attack, having to deal with the whims of the Dollar, as well as with changes in demand/supply dynamics. Brent crude futures leveled out at $53.89 a barrel, but gave back any gains that had been posted for the week. Recent rises related to OPEC plans to cut back production simply dissipated in the wake of an appreciating greenback. Gold and Silver continued their slides, as well. Gold was actually down to $1,137 an ounce, its lowest recorded price in none months. In general, commodity prices have stabilized, but they remain vulnerable to what might happen next to the Dollar.
Stocks were generally down on most global indices, but the jury is still out. If Trump-onomics is truly going to boost GDP growth forecasts into a higher region, as recent political rhetoric would imply, then a jousting match is beginning to take shape between the Fed's wishes and political expectations. U.S. stocks reacted negatively, a recognition of rising costs and their impact on earnings, but global results were more mixed, depending on how trade issues and other easing programs might play out. The concern, however, is that easing programs may prove fruitless, if capital flows instead to U.S. Treasuries. Emerging markets and most of Europe are holding their collective breaths at the moment.
What was behind the Fed's thinking for a more hawkish set of 2017 hikes?
The Fed has not been oblivious to rising yields in the bond market that have taken place during 2016. In many respects, the original plan of four hikes of 25 basis points in the current year was in essence to keep pace with what it foresaw twelve months back. It is now behind the yield curve, so to speak. The concern was always that any premature interest rate adjustment could dampen the economic recovery and blunt growth dynamics in other global markets. The fact remained, however, that inflation could raise its ugly head, while the central banking community was caught flatfooted with ZIRP.
Janet Yellen was coy in her choice of words about what was to come in 2017. More about that later, but first, it is important to understand the consensus narrative for the first year of Trump-onomics. Per one analyst: "The new administration, along with its
like-minded counterparts in Congress, will be bringing pro-growth policies such as individual and corporate tax cuts, the slashing of regulations, and deficit ballooning infrastructure spending among many other goodies for the U.S. economy. The anticipated results from this transformational shift in Washington will thus be above trend economic growth and the outbreak of higher inflation."
As with all other ideas of what 2017 will bring, it will be interesting to see if any of this narrative plays out. In 2016, the accepted script was thrown out the window before the first quarter had even concluded. How did Yellen respond to the potential for fiscal policy stimulus? Her words: "I would say at this point that fiscal policy is not obviously needed to provide stimulus to help us get back to full employment." Oops!? Did Yellen just throw down a gauntlet at the feet of the new President Elect?
Maybe "Yes", maybe "No". You can almost sense a level of frustration that some other force may mess with the Fed's carefully choreographed apple cart in motion, especially from these words: "Some of the participants but not all of the participants did incorporate some assumption of a change in fiscal policy into their projections and that may have been a factor that was one of several that occasioned these shifts." If the truth be known, the Fed members are actually just as confused as we are as to how policies might change down the road. Trying to factor in the unknown unknowns just got more difficult.
The Fed may have adjusted their growth assumptions, but they left their inflation targets intact, not knowing exactly what to expect from Trump and the new Congress. As one analyst opined, "The best poker players in the world just slipped. They had no choice. Even though they didn't officially expect more inflation they did raise their rate assumptions. That's a scary move because it's a message that they don't really know where things are going (not raising their inflation targets) but nonetheless directionally they want to prepare. If the Fed flinched, we expect markets can flinch too at some point." All in all, 2017 will be a very interesting year.
What are critics of the Fed saying about its latest actions?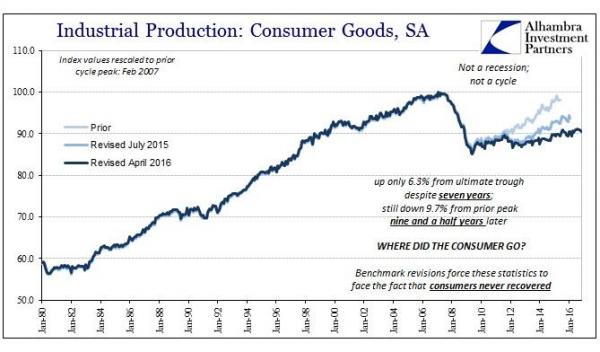 The Fed is not without its detractors. Many of these folks point to the above chart and wonder how the Fed can believe that the economy has fully recovered. Industrial Production of Consumer Goods has never recovered. It is presently at the same place it was at the turn of the century. As the chart suggests, "Where did the consumer go?" As the chart also notes, this occurrence is not a business cycle by any stretch of the imagination, yet Fed policies have done nothing to correct the situation.
These same critics argue that the Fed has doggedly believed that its actions can only produce short-term results and that the long-term trends are established outside of their temporary domain. The Fed's only comment has been that certain areas "continue to display weakness", yet monetary policy has not cured these ills. Per one critic, "The FOMC threw four QEs, six full years of ZIRP and a whole lot of promises and talk at the economy, and it just didn't respond, therefore recovery has been redefined by that lack of response!" When policies are designed to stimulate investment and the supply side of the equation, they can be ineffective if the real problem is on the "demand" side.
What might we expect in the foreign exchange market?
The debate is now about how much higher can the Dollar go before everything falls apart. The Trump administration, as it is now forming, has professed an agenda filled with stimulus ideas to boost growth into a much higher gear, but the how's and when's are in doubt. Where there is doubt, there is uncertainty, and where there is uncertainty, volatility will surely follow, a good thing for forex traders. The only fly in this ointment, so to speak, has been recent data out of the Bank for International Settlement (BIS).
In its latest the Triennial Central Bank Survey of Foreign Exchange and Derivatives Market Activity, it found that "total turnover in foreign exchange markets dipped from $5.4 trillion per day in the 2013 survey to $5.1 trillion per day in 2016." USD-pairings still rule the roost with 44% of the activity, but the decline has primarily been on the risk taking or speculation sector of the business.
Brokers have seen their market shrink, but opportunities still abound. As mentioned above, the Aussie, the Kiwi, and the Loonie appear to have over-reacted. A bounce back is very plausible. Analysts believe Euro parity with the Dollar is a near-term certainty, and the Yen may weaken for a bit, before it strengthens.
Concluding Remarks
The Fed has spoken. Now we wait for the next shoes to drop. In 2017, timing will be everything. Be patient for major trend reversals to form, then jump aboard and reap your just rewards! Happy Trading!