The long awaited September meeting of the FOMC has come and gone. Janet Yellen and her band of bankers have spoken, and as Omar Khayyám once penned many decades ago in his famous Rubaiyat, "Nor all thy piety nor wit shall lure it back to cancel half a line, nor all thy tears wash out a word of it." It is amazing how much attention is paid these days to this austere group of financial intellectuals, but one twitch of an eyebrow or curl of the lip may mean billions in international commerce, or slightly less, but just as important, in a trader's portfolio. Celebrity status has been confirmed.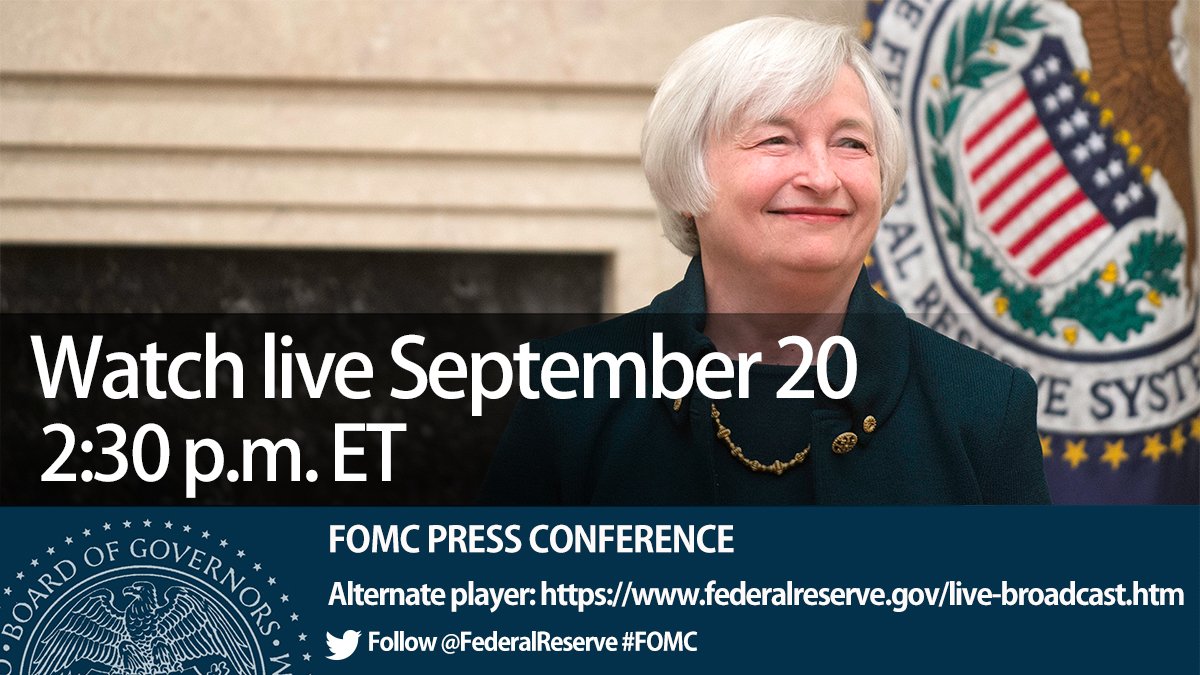 Analysts the world over have been scurrying back to their computer screens to dissect every syllable for hidden meanings, but the "net-net" from the recent proceedings of the Fed had been sufficiently telegraphed beforehand to the madding crowds, a form of transparency, as some would put it. Janet may be grinning like a Cheshire Cat in the picture above, but it is for good reason – The Fed actually did what it had said it would do, even after severe hurricanes, atomic blasts in North Korea, and a plethora of Trump tweets that were full of sound and fury, signifying nothing.
Read more forex market news
Is transparency a good thing? Some believe there are dark undertones that are often misunderstood by investors at large. Per one analyst: "For the past decade, traders have been conditioned to expect central banks to both telegraph policy tweaks ahead of time and offer a thorough rationalization of those shifts at the time of implementation. Transparency, generally seen as a defining feature of post-crisis policy, has a dark side. It blinds investors to long-term risks by removing the incentive to consider them. Caught in the information exchange loop, markets become numb."
Markets did actually become "numb" way back in 2015. Investors, brokers, traders, and analysts were totally blindsided and were caught flatfooted when the Swiss National Bank removed its Euro-peg to the Swiss Franc in January of that year. At the time, we wrote, "The global forex community took a major broadside hit when Swiss banking authorities eliminated the forced linkage between the Swiss Franc and the Euro. The announcement caused an immediate and drastic adjustment in all "CHF" currency pairings. In some markets the move against the Euro was nearly 40% or more."
What made matters worse was that a Swiss official, in a veiled attempt at transparency, had telegraphed the previous week that its 1.20 peg to the Euro would "remain the pillar of our monetary policy." NOT! Billions were lost in a "New York minute" across the globe. Volatility skyrocketed, as a lack of liquidity demolished positions right and left. Yes, there were traders on the winning side of positions, but as was noted, "The majority of clients in a franc position were on the losing side and sustained losses amounting to far greater than their account equity." A few notable hedge funds lost billions in an instant. Brokers that guaranteed no negative balance in their contracts sustained millions in losses.
"Regardless of the content of the event, volatility is unlikely to sustain a bid."
Several experts at major banking institutions are becoming more and more concerned that the Fed's obvious ploy of transparency, regardless of the stability that it offers, has now created a type of "mass myopia" when it comes to longer-termed risks. Investors and analysts alike are too focused on the day-to-day events to look beyond the daily rabble. In other words, central banking policy has actually delayed major risks, not eliminated them. Volatility has typically been the warning sign that something is on the near-term horizon, but under today's condition, "volatility is unlikely to sustain a bid."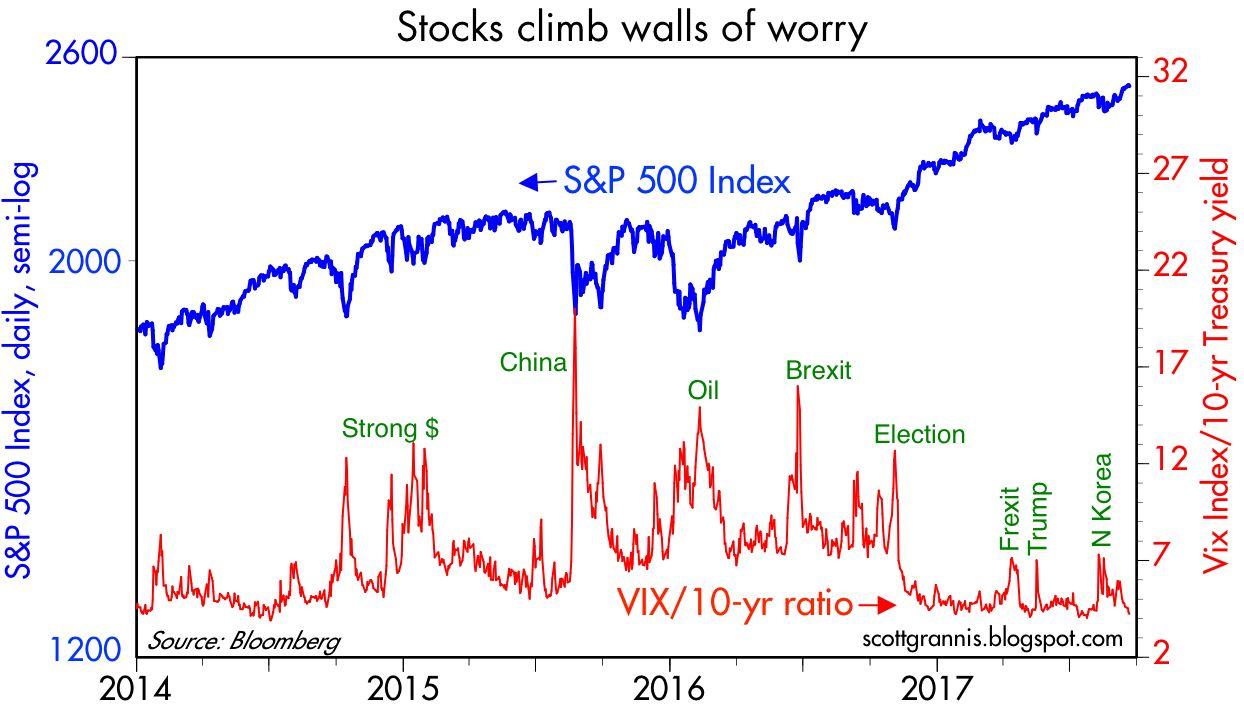 In a normal world, if there is such a thing within the context of central bank contrivances, the month of September is a time when volatility comes to life. Investors and analysts return from summer excursions, re-think their various investment strategies, and then adjust accordingly in a flurry of buying and selling activity. The summer doldrums, so to speak, soon pass, as trading screens light up with newborn activity. This year, however, the volatility needle, when correlated with 10-year Treasury yields, has barely budged, almost flatlining, as depicted in the above diagram. Equities, nevertheless, have continued to soar, oblivious to the risks that are increasing silently in the background.
One observer noted the following warning: "Transparency, as a way of stabilizing the markets, has become a tool of suboptimal control, one that reinforces the future risk in order to diffuse it — it is a tactics of delaying, rather than reducing risk. As a result of central bank accommodation, there is currently more than $2 trillion of duration parked in mutual funds, not all of it very liquid. Anything that would force a disorderly unwind of this trade presents the biggest tail risk." So-called "tail risk" is said to have triggered the onset of the Great Recession in all its fury.
"Is Janet Yellen Playing A Game Of Monetary Chicken?"
What exactly did the Fed do this time around? As we have already discussed, nothing that was announced was unexpected, although the hawkish tone employed appeared to be almost theatrical or contrived. The Fed statements touched upon two areas:
"Fed Chair Janet Yellen indicated she plans to raise interest rates one more time this year." (No surprise there); and
"The central bank said it would start drawing down its massive balance sheet in October. It plans to let $10 billion in bonds mature each month, slowly ratcheting up that number until it reaches $50 billion per month. How fast that happens will depend on economic data. But Yellen said the central bank will continue letting $10 billion mature each month no matter what the economy does." (The Fed has been promising to "normalize its balance sheet" for months – No surprise here either.)
The latter statement was viewed as "hawkish", only because it lacked even a smidgen of acknowledgement that hurricanes or geopolitical tensions would influence their decisions going forward. Hurricane damage stateside and in Puerto Rico will have to be funded with debt, and as one reporter/analyst put it succinctly, "Debt is the big elephant in the room everybody just seems to ignore, but it puts the Fed in a really tight spot. Any significant increase in rates would crush the U.S. government under interest payments."
Are Yellen and her banking buddies playing a game of monetary chicken? Again, from the same analyst, "The Fed keeps pretending to be more and more hawkish. They keep testing the market by, 'Oh, you know we're going to raise rates… we're going to raise them more. We're going to shrink the balance sheet. You know, we're data dependent.' And they just kind of ignore a lot of the bad things that are happening, and they keep kind of pushing the envelope. And the question is when are they going to push it too far?" At some point, enough will be enough. The proverbial camel will buckle its knees.
Has the interest rate fuse been lit and will rising rates cause a recession?
While the Fed announced its intension to tighten Fed policy, analysts are searching for further confirmation from the market. Transparency is not always what it pretends to be. The first place to look is the futures market, which is currently pricing in a 50 percent probability that rates will rise again during the holiday season, as has happened the past two years. Before Yellen's press briefing, the market had priced in a 20 percent chance for a late-year bump in rates.
Minimal 25 basis-point adjustments are one thing, but longer-term trends are what could be more disturbing. The current forecast for future rates from the Fed tops out at 2.1% by the end of 2018. 2019, depending on which Fed governor is speaking in public, could be in the 2.75% to 3.0% range and higher. Futures markets data are a bit below this targeted region, revealing that market expectations do not necessarily match up with the Fed's public pronouncements.
There is also another vehicle that may shed light on this topic. Treasury Inflation-Protected Securities, or TIPS, are often bought by investors to protect against inflation. By definition, "The principal of a TIPS increases with inflation and decreases with deflation, as measured by the Consumer Price Index. When a TIPS matures, you are paid the adjusted principal or original principal, whichever is greater." These securities come in a variety of maturities, but our indicator here is the 5-year TIPS model.
Per one analyst: "The real yield on 5-year TIPS is best thought of as the market's expectation for what the real Fed funds rate will average over the next 5 years. 5-year TIPS today carry a real yield of only 0.1%, while the current real yield on the Fed funds rate is about -0.15% to -0.25%. That means the market expects only very modest "tightening" from the Fed over the next 5 years."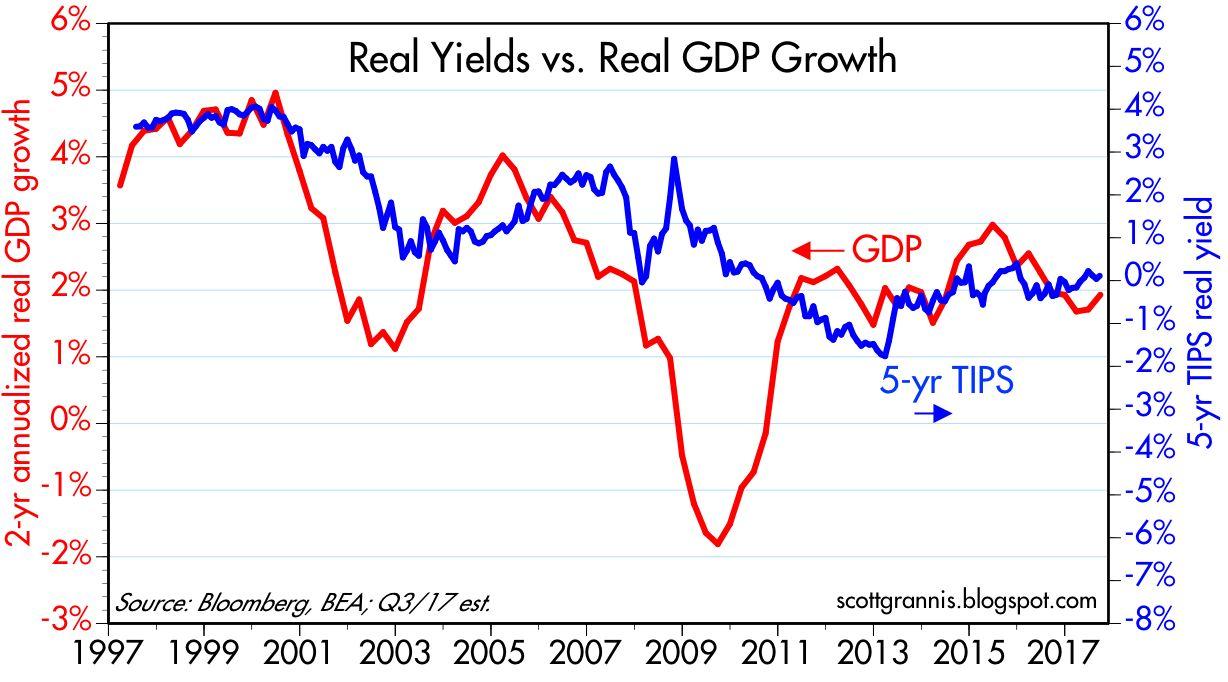 The trend of the yield for 5-year TIPS also portends that real GDP growth will be stuck in low gear, as well. If you add back inflation, the 2% growth level that has prevailed since 2009 may be with us for some time to come, despite protestations from the Trump administration. The counsel from those who focus on this type of data is that, "One thing to watch for and worry about would be the nominal funds rate exceeding the 5-year real TIPS yield. That would be the market's way of saying that the Fed is entering "tight" territory, and thus threatening real economic growth."
Will Fed tightening bring on another recession? Current recession models show no sign of an economic slowdown, and the Treasury yield curve has yet to invert, another early warning signal that a recession is imminent. The historical perspective, however, can be a bit disconcerting: "The question is whether the Fed is on track to once again satisfy a phenomenon that the economist Rodi Dornbusch described as macro homicide: 'None of the U.S. expansions of the past 40 years died in bed of old age; everyone was murdered by the Federal Reserve.'"
Concluding Remarks
The Fed's "Moving Finger" has written another chapter in its continuing saga of vane attempts at market control. Is the current state of stability a mere illusion, one that might blow up at a moment's notice? For the time being, volatility is subdued. Interest rates are still being held in check, but when will this house of cards come tumbling down?
Stay tuned!