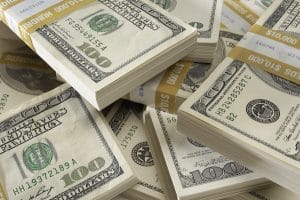 The US dollar staved off the threat of negative news in the Federal Reserve's meeting minutes when they were released yesterday.
The minutes showed that all members of the central bank's deciding committee agreed to boost rates.
The dollar index, a tool designed to track how the greenback is behaving compared to six other major world currencies, was up by 0.1% as trading kicked off on Thursday.
It sat at 95.664, which saw it edge closer to its most recent high of almost 97.
The interest rate futures markets are now expecting that there's an 83% likelihood the Federal Reserve will push up interest rates when it meets in December.
Meanwhile, the latest round of the Brexit battles in Europe saw European leaders and EU bosses meet with British representatives to attempt to agree on a deal. The day ended with Michel Barnier, who is the EU's chief negotiator, announcing that more time may need to be allocated to strike a deal.
The British pound, which is perhaps the most vulnerable currency in the equation, dropped by 0.12% versus the dollar as trading opened on Thursday – pushing the GBP/USD pair to $1.3096.
The 48-hour Brexit summit continues into today.
Most of the week may now be over, but there are still some significant events to come in the forex calendar.
The October spread index manufacturing conditions survey from the Federal Reserve Bank of Philadelphia in the US is due out at 12.30pm GMT. It is expected by analysts to show a decline from 22.9 to 20.0.
A series of important Japanese consumer confidence indicators are due out this evening at 11.30pm GMT.  The national consumer price index (CPI) for September is out, but with the CPI excluding fresh food due to show no year on year change and remain static at 0.9%, it's unlikely to affect the yen markets too much.
Friday is a particularly busy day on the markets, with lots for traders to watch out for. Chinese gross domestic product figures for the third quarter of 2018 will be out overnight at 2am GMT, and these are expected to show a decline year on year from 6.7% to 6.6% – a move that is likely to be watched closely given the ongoing trade wrangling between China and the US.
Later in the day will be a speech by Haruhiko Kuroda, who is the Governor of the Bank of Japan, at 6.35am GMT.
Looking back to North America, retail sales figures for Canada covering August are due out at 12.30pm GMT. They are set to rise from 0.3% to 0.4%.
Bank of England Governor Mark Carney is due to speak at 3.30pm. Analysts wondering whether or not an interest rate rise will be due in the aftermath of Brexit may find some clues in this event.
The day will be rounded off by another central banker's speech. This time it'll be Raphael W. Bostic, who is the President of the Federal Reserve Bank of Atlanta in the US. He is due to speak at 4pm GMT.