Just what we all need – more drama in the forex industry! FXCM, the undisputed market share leader in the United States, and its two chief executives have been summarily booted out of the country by the CFTC and fined $7 million for good measure. The crime – deliberately deceiving its customer base, misrepresenting the nature of its backroom operations, and filing false statements with regulatory authorities. FXCM was still in recovery mode from 2015's "Swiss Franc Debacle", when it sustained $300 million in losses, but this latest episode may be the proverbial kiss of death for the firm.
The exact wording of the ruling from the CFTC press release read as follows: "FXCM engaged in false and misleading solicitations of FXCM's retail foreign exchange (forex) customers by concealing its relationship with its most important market maker and by misrepresenting that its "No Dealing Desk" platform had no conflicts of interest with its customers." These evil deeds actually predate 2015. The highly questionable unethical behavior resulted in a behind-the-scenes revenue sharing of $77 million during the five-year period from late 2009 through December of 2014.
Read more forex trading news
The harsh hand of the regulator also singled out Drew Niv, the CEO of FXCM, and William Ahdout, his founding partner, forcing each to "withdraw from CFTC registration; never to seek to register with the CFTC; and never to act in any capacity requiring registration or exemption from registration, or act as a principal, agent, officer, or employee of any person that is registered, required to be registered, or exempted from registration with the CFTC." Gain Capital will acquire the firm's U.S. business.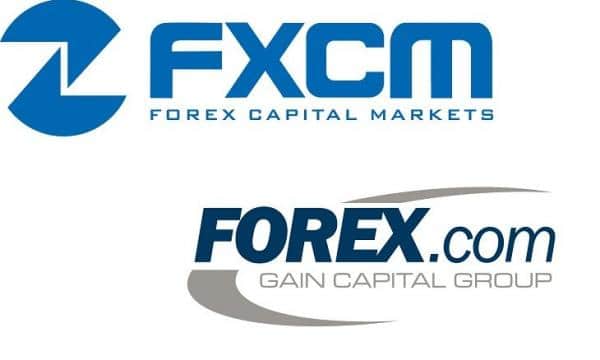 The industry fireworks commenced yesterday. Associated share prices cratered on their respective exchanges. Corporate boards convened in emergency sessions to deal with the issues at hand, and industry rags like LeapRate and Finance Magnates burned the mid-day and midnight oil, churning out a host of articles dealing with every aspect of this sea change event. In the space of a few hours, FXCM went from being the industry's courageous recovery artist to its greatest clown. Law firms are already salivating in the wings in anticipation of tons of litigation activity. It's just another fine day in the retail forex trading neighborhood.
How quickly has the forex landscape changed?
We were just beginning to put the final touches on results for 2016, when this story sent a shockwave through the U.S. domestic market. This market has been in turmoil ever since the adoption of the Dodd-Frank Act and the CFTC received expanded powers to mitigate risk in the foreign currency arena. The following chart was released recently, depicting the current state of the market share battle for supremacy in the U.S.: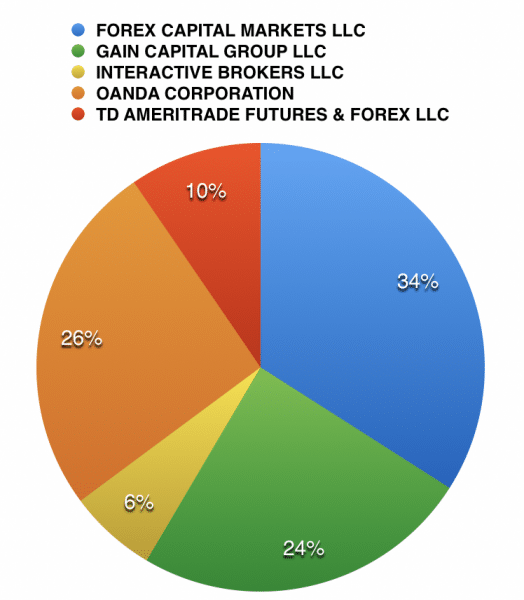 FXCM was the obvious winner by a large margin, outdistancing its two major rivals, OANDA and Gain Capital, with a share of 34%. Our forex industry is extremely competitive. Companies literally fight tooth and nail to move a single percentage point, one way or another, knowing that with increased share, the benefits of scale will multiply on a marginal basis. News reports today confirm that Gain Capital has entered into a definitive agreement with FXCM to acquire its U.S. customer base, subject to regulatory approval. Gain would then become the new "gorilla" in the room with a 58% share.
FXCM claims that its U.S. book is less than 20% of its revenue base and that it was actually losing money in this market, implying that it will be better off after the sale takes place. Any proceeds from the sale or freed up capital, said to be $50 million, will go to paying down its bailout obligations to the Leucadia Capital Group. Moving your headquarters out of the United States is one thing, but finding a new home could be problematic. Other global regulators will more than likely follow in lockstep and ban FXCM from operating in their respective jurisdictions, as well.
In anticipation of the move, 150 employees have been handed their pink slips by the FXCM management team, sans Niv and Ahdout. The FXCM board has already met in executive session to manage damage control. These layoffs come as no surprise, since it was intimated yesterday that Gain would only transfer the account base to its operating platform to realize as many cost benefits and efficiencies from the deal as possible. More power was awarded to Leucadia, compensation agreements were adjusted, and Niv and Ahdout were removed from the board of FastMatch, a business partnership that was launched in 2012 by FXCM, Credit Suisse, and BNY Mellon.
With Leucadia executives now firmly ensconced in positions of power, we can assume that the new team in town is weighing its options. It must tread ever so lightly because the threat of litigation from Leucadia shareholders is a real possibility. Over $500 million in market capitalization evaporated for the firm when this news broke, creating unknown pockets of anger that will seek retribution at some point in the future, if demonstrative action is not forthcoming. The fates of Niv and Ahdout still hang in the balance, but a plan for transition is most likely a topic for discussion at this stage.
The U.S. market has been in an extended stage of contraction after regulators put their feet down regarding lower leverage limits and higher capital adequacy levels. A wave of global brokerage firms soon exited stage left, never to return. The market seems to have bottomed out in 2016 and made a gradual attempt at a recovery in growth, as depicted by the chart below: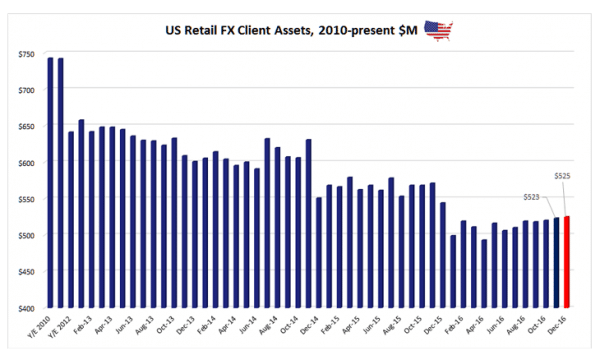 When the FCA and CySEC announced a new policy agenda for 2017 of more draconian limits to leverage, the elimination of current bonus marketing practices, and the institution of more transparency in reporting actual client trading outcomes, one has to look at this diagram above and wonder if the European market will respond in a similar fashion over the next few years. In the meantime, the CFTC has flexed its muscles and put all other brokers on alert. It will not tolerate any attempt to undermine the foundation of its consumer protections regarding risk and transparency disclosures.
What exactly did FXCM do that was so bad?
If you dive deep into the CFTC press release, the critical issue is that, "FXCM had an undisclosed interest in the market maker that consistently "won" the largest share of FXCM's trading volume – and thus was taking positions opposite FXCM's retail customers. FXCM formulated a plan in 2009 to create an algorithmic trading system, using an FXCM computer program that could make markets to FXCM's customers, and thereby either replace or compete with the independent market makers on FXCM's "No Dealing Desk" platform."
This clever "market-maker-look-alike" set of software was eventually spun off as a separate company, EFFEX Capital, but it remained closely aligned with the interests of FXCM, benefited from special loans and employee support, and rebated some 70% of the revenue derived from the FXCM U.S. client base. The amount of the rebate was disclosed as $77 million, but it is unclear if this figure only represented those fees pertaining to U.S. customers. Current records show that U.S. customers trade $2.4 billion on an average trading day. Could there also be revenue derived from the other $10 billion a day from its global client base? More questions require answers.
This algorithm "trick" would appear to have originated as a marketing ruse. The wave of the future for forex brokers back in 2009 was to shift to a Straight-Through-Processing (STP) model, where all customer orders were instantly matched with liquidity providers on the backend. Brokers could then claim the high moral ground that they were not trading in opposition to their client trades, merely acting as an impartial agent that could attract the best pricing the market had to offer.
FXCM grabbed onto the marketing wave and moved market share. Customers were none the wiser. No disclosures were made as to the shenanigans in the back office, and reports to regulators misrepresented the reality of what was really transpiring. When losses from the "Swiss Franc Debacle" triggered an onsite review, one can only suspect that CFTC and NFA officials stumbled across the deception and began asking questions. There were no court proceedings. FXCM executives have admitted no wrongdoing. The $7 million fine and harsh orders are the result of an agreement that was hashed out between FXCM and the regulators.
In many respects, FXCM was operating in a way that most banks and forex industry liquidity providers have to operate in the absence of a tightly regulated exchange. As one industry insider put it so succinctly, "I do not see how this is any different from any bank liquidity provision practices in this business. You always reject trades off market against the maker and fill the one against the client. Fair or not, it is not for me to judge but this is how FX has always functioned. If people want to change the rules, okay let's do it going forward but why any authorities would fine people for accepted market practices is beyond me."
Deception and misrepresentation, however, carry stiff consequences, if and when they are discovered, as Niv and Ahdout quickly learned. Their recklessness might be termed as "gross incompetence" in a court of law, since the livelihood of the company and investor capital were jeopardized in the process. Look for lawsuits to flood the headlines that could claim billions in damages. These could arise from angry shareholders of FXCM, Leucadia, and even Introducing Brokers, who stand to lose substantial commission revenue.
As for traders, it would be near impossible to determine if they did not receive the best market price at an instant in time. One expert noted, "While EFFEX had an unfair advantage versus other liquidity providers by knowing where other providers were pricing, CFTC and NFA could not nail FXCM for much on the effect of this setup on clients and this is why the fine is so small. In the end maybe some other liquidity providers did not get the flow because of EFFEX but EFFEX got the trades by showing the best price to clients." At the end of the day, however, clients were deceived.
Concluding Remarks
Mark Twain once remarked, "It's no wonder that truth is stranger than fiction. Fiction has to make sense," or in today's vernacular, you just can't make this stuff up. FXCM has been excommunicated from the U.S. market. Where will it end up? Will it be buried in litigation turmoil, or will it rise from the ashes, as it did once before?
Stay tuned!