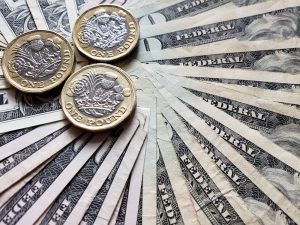 The UK managed to secure what appeared to be a tentative extension of two weeks to its Brexit negotiation period yesterday.
At first, it appeared that the European Union would be unwilling to agree on an extension unless Prime Minister Theresa May secured approval for her deal in the House of Commons next week.
Otherwise, Friday 29th March marked the supposed date of Britain's departure. However, it is now believed that EU leaders are willing to wait until April 12th.
As a result, the pound eventually rose in its pair against the US dollar by 0.25% – reaching $1.3140 at one stage. However, it did suffer overnight before rising.
The US dollar, meanwhile, had a bad session. It went down in the US dollar index, a tool designed to track its performance against six other international currencies. Overall, it declined by 0.2% to 96.314.
The single European currency saw drops of 0.33% or so over the course of the night against the US dollar. However, it later rallied – and recorded a steady position of $1.1375 in the EUR/USD pair.
The Japanese yen performed well, and the US dollar went down against it. This came in spite of a negative core consumer price index release in Japan.
A new week is on the way for the forex trading markets, and there's plenty for traders to monitor for.
On Monday, the economic calendar will kick off with a speech from central banker Charles L. Evans.
He is the president and CEO of the Federal Reserve Bank of Chicago, and a member of the Federal Open Market Committee (FOMC).
There'll be another speech at 10am GMT from Patrick T. Harker, who holds the President and CEO offices for the third district Federal Reserve Bank (Philadelphia).
New Zealand's trade balance data for February is expected later in the day at 9.45pm GMT. Exports were last recorded at $4.4 billion, while imports were at $5.32 billion.
Into Tuesday, housing starts information for February is due out of the US at 12.30pm GMT. This is expected by analysts to show a month on month change from 1,230,000 to 1,235,000.
Building permits information is also due out. This is due to show a change from 1,317,000 to 1,320,000 month on month.
On Wednesday, the interest rate decision from the Reserve Bank of New Zealand is due out at 1am GMT. This was last recorded at 1.75%.
Two speeches from major European central bankers are due in the morning. The European Central Bank's president, Mario Draghi, will speak at 8am GMT. While Peter Praet, who sits on the European Central Bank's Executive Board, will speak at 8.45am GMT.
International merchandise trade figures for January will be out of Canada at 12.30pm GMT. These are expected to change from $-4.59 billion to $-2.8 billion.
On Thursday, information on the European business climate for March is expected at 10am GMT.
Annualised American gross domestic product data covering the fourth quarter of 2018 will be out at 12.30pm GMT. This is expected to change from 2.6% to 2.4%.