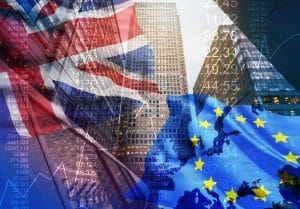 The last 24 hours has seen immense volatility for the British pound as traders tried to digest the significance of the latest news from parliament.
Members of the House of Commons voted down a suggestion that would have in theory prevented Britain from experiencing a "hard Brexit" when it leaves the EU.
However, the day also ended with suggestions that the deadline for leaving on March 29th could well be extended – possibly until around Christmas.
As a result of the developments, the pound originally dropped by around 0.7% overnight against the US dollar. However, by this morning it was back on the rise – and went up 0.2% to $1.3091.
Elsewhere, the US dollar index, which gauges the value of the greenback in relation to six other major global currencies, went down 0.1% and reached 95.732. This decline was largely attributed to the impending Federal Reserve interest rate decision.
Policymakers are largely expected to keep the current rate of 2.5% in place when they meet later today.
The euro came close to hitting its 2-week high point of $1.145 during overnight trading, although this morning it was recorded slightly lower at $1.1435.
As the midweek point arrives, there's still plenty for crypto traders to watch out for.
Today (Wednesday) sees some data releases out of the US in the afternoon. Pending home sales information for the month of December will come at 3pm GMT, with the figures expected to show a month on month shift from -0.7% to +0.5%.
The announcement on interest rates from the Federal Reserve is expected at 7pm GMT.
The day will end with preliminary industrial production figures from Japan covering December, which are due out at 11.50pm GMT. These are expected to show a change from 1.5% to -2.3% year on year.
Into tomorrow, there'll be a series of trade balance-related releases from Australia at 12.30am GMT. The import price index for the fourth quarter of the year is due, and this is forecast to show a quarter on quarter change from 1.9% to 0.3%.
There'll also be an export price index release at the same time.
At 7am GMT there'll be a German retail sales release covering December. Month on month, this is forecast to show a shift from 1.4% to -0.6% – a reflection of the ongoing worries over German economic performance.
Preliminary Europe-wide gross domestic product information for the fourth quarter of the year is expected at 10am GMT. This is due to show a change from 1.6% to 1.2%.
Canadian gross domestic product for the month of November, meanwhile, will follow a little later at 1.30pm GMT. This is forecast to reveal a month on month drop from 0.3% to -0.1%.
All eyes will remain on Canada at 5.30pm GMT when the Bank of Canada's Senior Deputy Governor, Carolyn A. Wilkins, speaks.
The day will finish with another Japanese data release. December's unemployment rate, which is predicted to show a slight fall from 2.5% to 2.4%, will be out at 11.30pm GMT.