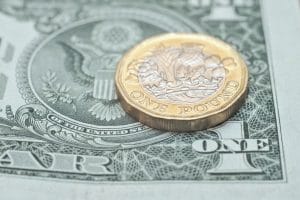 Yesterday, the British government attempted to persuade members of Parliament that it had managed to secure the necessary assurances for a Brexit deal to pass.
In a sign that the forex markets may expect political instability to go down and that the risk of an economically tough Brexit could be lessened, the pound went up to $1.3290 in the GBP/USD pair.
It came after Prime Minister Theresa May returned from negotiations in Europe with what some have described as legally binding assurances.
She has attempted to secure changes to the Irish backstop arrangements for months, but there is no guarantee that these will satisfy those in her own Conservative Party – or, indeed, the wider parliament.
Elsewhere, the Japanese yen saw a drop after the US dollar rose against it by 0.2%.
However, the overall US dollar index, which tracks how the greenback is performing in comparison to six other currencies from across the globe, went down by 0.2% and reached 97.063.
This came in part from a rise in the value of the single European currency against the US dollar. It went up by 0.15% in the EUR/USD pair and reached $1.1259 at one stage.
There's a lot still to come on the forex economic calendar in the next few days.
Today (Tuesday), there will be a major consumer price index release in the US. The overall index covering the month of February is out at 12.30pm GMT and is due to show no year on year change from 1.6%.
Lael Brainard, who sits on the Board of Governors of the Federal Reserve System, will speak at 1.45pm GMT.
At around 7pm, Theresa May will face her all-important vote in the UK House of Commons on her proposed Brexit deal.
There'll be more central banker speech action on Wednesday morning when Yves Mersch, who is a former Governor of the Central Bank of Luxembourg and who is now on the Executive Board of the European Central Bank, speaks at 8.30am GMT.
The US producer price index for the month of February will be released at 12.30pm GMT. Excluding food and energy, it is expected to show a slight month on month drop from 0.3% to 0.2%.
However, that's not the only US data release expected. A measurement of non-defence capital goods orders (excluding aircraft) for the month of January is due out at 12.30pm GMT as well. It is expected to show a change from -1% to +0.1%.
Another member of the European Central Bank's Executive Board, Benoît Cœuré, is expected to speak at 5pm GMT.
On Thursday, key events will include a German harmonised consumer price index release covering February at 7am GMT, as well as a speech from Carolyn A. Wilkins, who is Senior Deputy Governor of the Bank of Canada, at 10.50pm GMT.
Friday, there will be an interest rate decision from the Bank of Japan. It is widely believed that the bank will hold rates steady at their very low current position of -0.1%.